Fukutsu City | 鮨屋台 海の彩 (Sushi Yatai Umi no Iro)

Ample space in which to enjoy fresh sushi and a superb view, simultaneously!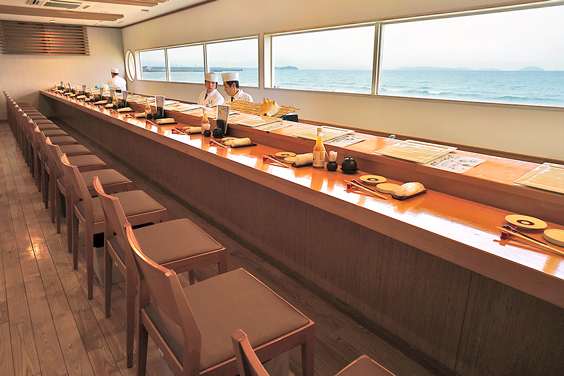 "鮨屋台 海の彩" (Sushi Yatai Umi no Iro) is a sushi restaurant-with-a-view on the coast of Fukuma, Fukutsu City. The sushi you eat whilst sitting before this superb view is made primarily using fresh ingredients caught in the Genkai Sea! A restaurant with such a gorgeous location, there might be some who feel, "the threshold might be a little high...?," but don't worry. Staff member, Mr. Nishimura says, "We want you to taste the sushi whilst listening to details regarding the fish from our sushi chefs." One attraction is that you can talk directly to amiable chef about their speciality of the day and so on. Also, we definitely want you to try eating the sushi together with their original homemade white ponzu! Just adding a little really brings out the taste of the fish. It's addictive! You can buy the white ponzu at the affiliated store, "Nico Beach," so those who want to taste it at home too, be sure to check it out!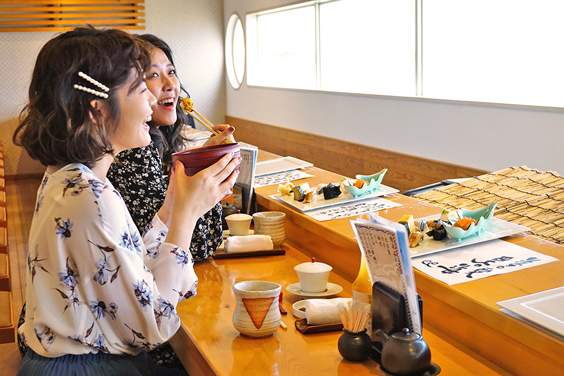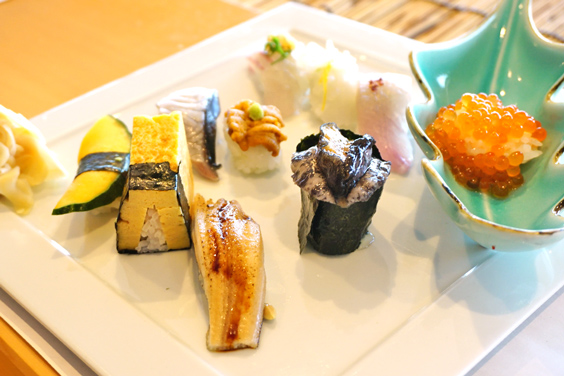 Omakase (chef's choice) nigiri, 2,500 yen (without tax) *with 茶碗蒸し (Chawan-mushi: egg and seafood custard) and miso soup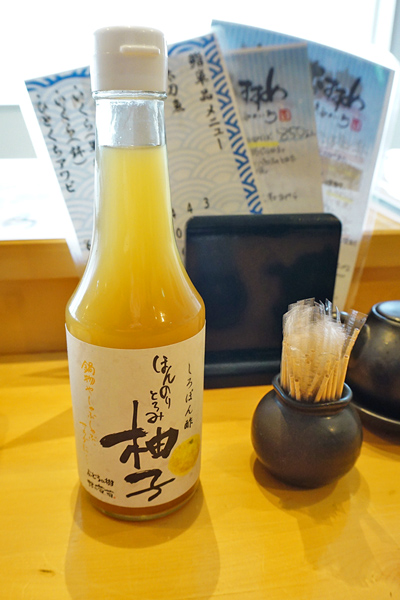 The all-purpose "white ponzu" has two types: "honnori-toromi-yuzu" (slightly thick yuzu) and "kabosudachi" (citrus fruits: kabosu and sudachi flavor).
Fang-hsuan: This is the first time in my life that I've eaten fresh sushi whilst admiring the beautiful ocean! Here, totally lost in the delicious food and the beautiful scenery, it seems like even if you have concerns or something to worry about, they would all disappear!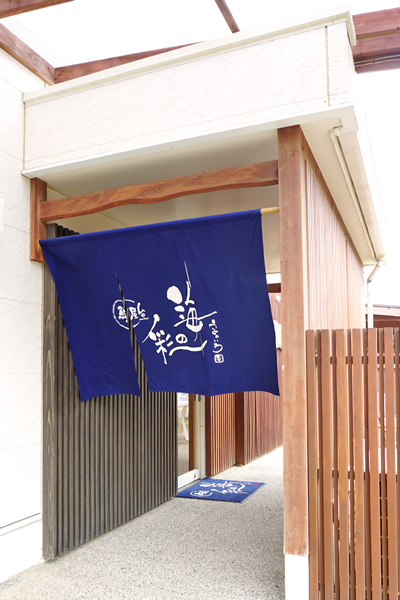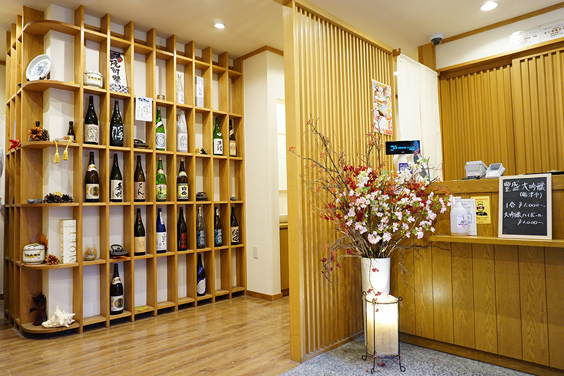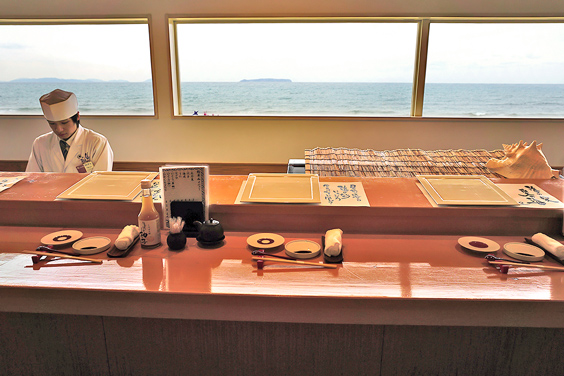 Ya-de: A really lovely restaurant awash in natural lighting. The sushi, garnished with the restaurant original white ponzu, was refreshing and truly delicious! If I had a chance to come back to Fukuoka, I'll definitely visit here!
Cafe & Brioche Nico Beach
Next to Sushi Yatai "Umi no Iro" is affiliated store "Nico Beach," which specializes in brioche. The brioche, which is baked using Kyushu-sourced ingredients, has a soft, fluffy texture, and a buttery aroma! A superb item! Recommended as desert following sushi! Other than the white ponzu that the Taiwanese Kawaii Ambassadors had in "Umi no Iro," jam, condiments, and other original products can be bought here!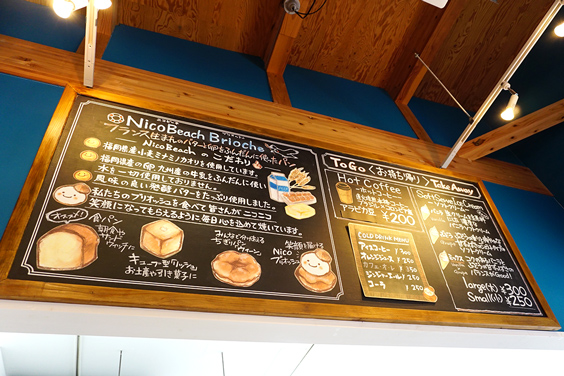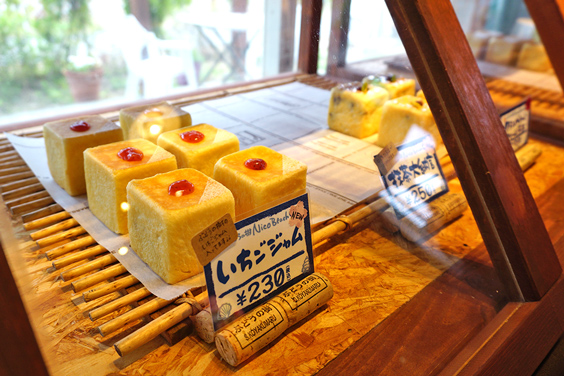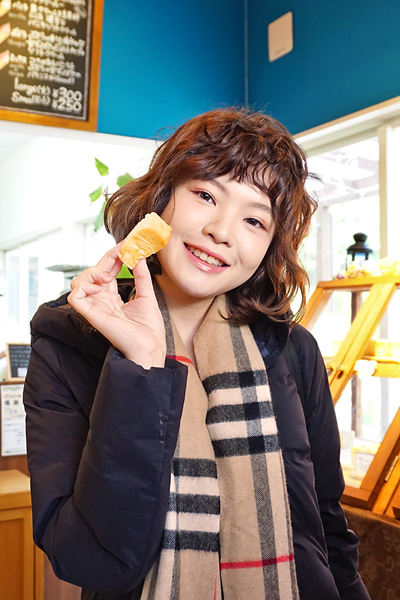 鮨屋台 海の彩 (Sushi Yatai Umi no Iro)
2019 asianbeat・FACo Kawaii Ambassador|Taiwan Kawaii Ambassadors PROFILE
(from left) Taiwan Kawaii Ambassadors: 林雅得 (Lin Ya-de) and 許方瑄 (Hsu Fang-hsuan)
The two who were selected as Taiwan's representatives in the "2019 asianbeat・FACo Kawaii Ambassadors Contest" toured around Fukuoka City and Fukutsu City! Introducing detailed information on the Kawaii Ambassadors in the pages of "[Feature] FACo2019"!
>>
here!Taiwanese Kawaii Ambassadors
■ Name: 林雅得 (Lin Ya-de)
■ Nickname: 得得, Ya-de
■ Link:
Facebook
/
Instagram
■ Name:許方瑄 (Hsu Fang-hsuan)
■ Nickname: 方方, Fang-hsuan
■ Link:
Instagram
Related Articles
External Links