Fukuoka Otaku Map-ver. 痛 (Two) - BANDAI NAMCO Cross Store Hakata

Explore 13 shops packed with official goods!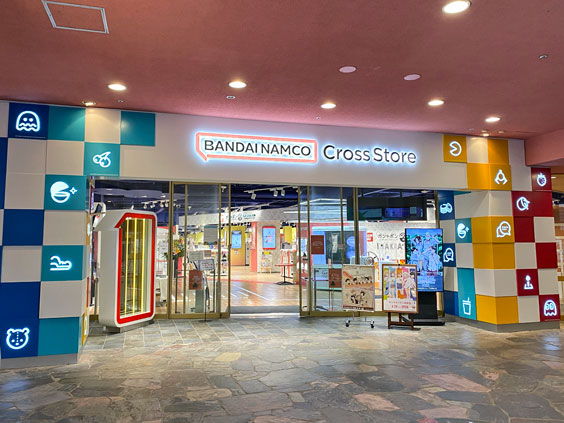 The BANDAI NAMCO Cross Store Hakata is now open in Fukuoka City! The facility, which is based in Canal City Hakata, brings together 13 official BANDAI NAMCO Group company shops. This is the second facility of its kind in Japan, following on from the opening of the Yokohama City establishment. This article aims to tell you a little bit more about seven of the shops!
Check out the "GASHAPON ODYSSEY!" There are only two Gashapon (capsule toy) machines like this anywhere in the world (Ikebukuro / Tokyo and Hakata / Fukuoka)!
SUNRISE WORLD HAKATA (* can only be found in Hakata / Fukuoka)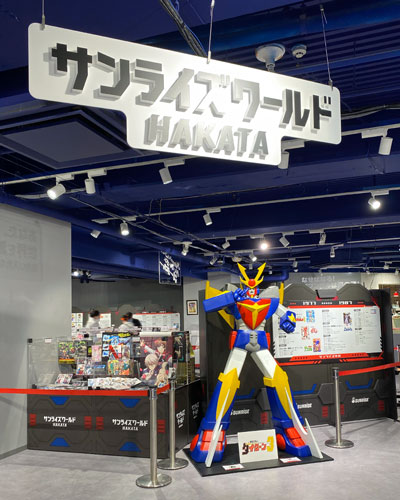 Trace the history of titles produced by SUNRISE INC. (currently BANDAI NAMCO Film Works Inc.) and view some of their previous merchandise in this large-scale exhibition space. When we visited, the displays were primarily based on eight different titles, including "Space Runaway Ideon" and "COWBOY BEBOP." Approximately 400 items, such as toys and figures that used to be stored in the company's warehouse are now out on show! And guess what? You can see these amazing exhibits for free! There are also some awesome original goods on sale that can only be purchased at the venue!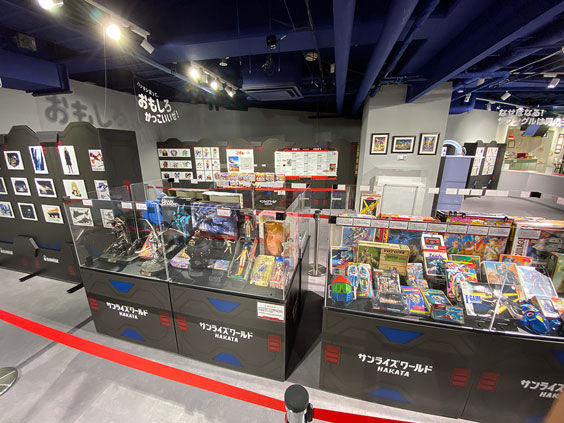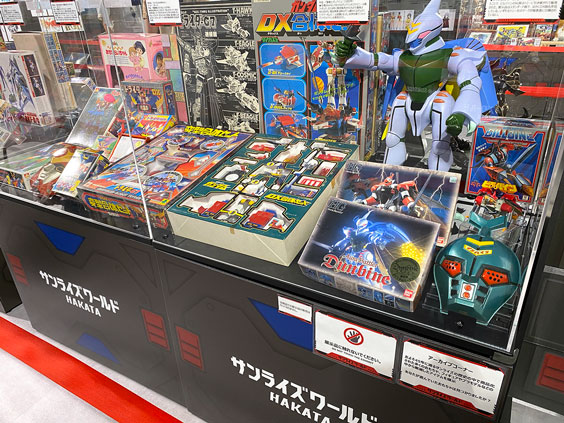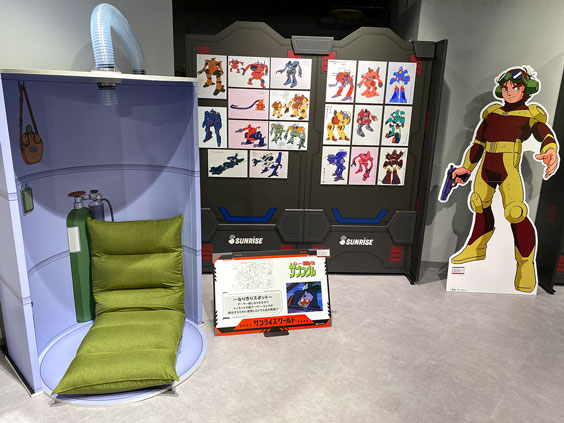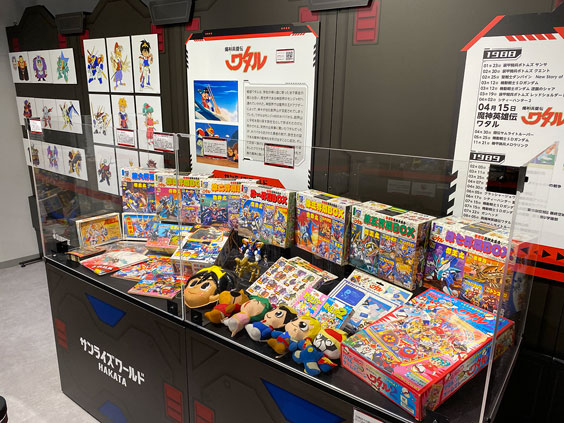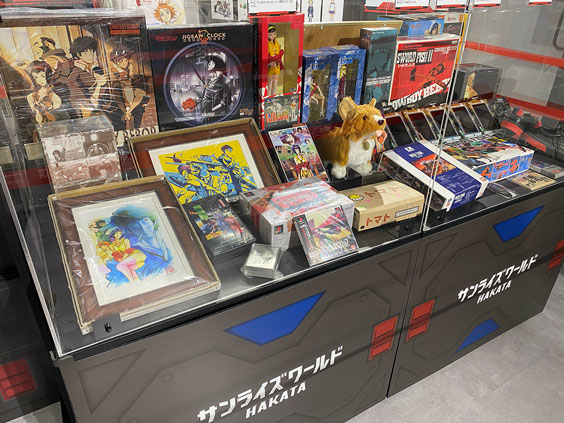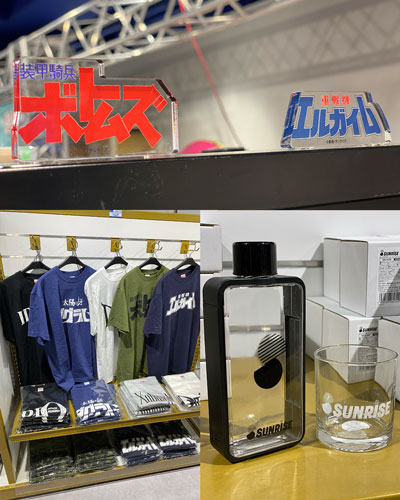 Collaborator: BANDAI NAMCO Film Works Inc.
BANDAI NAMCO Cross Store ONE PIECE CARD GAME Official Shop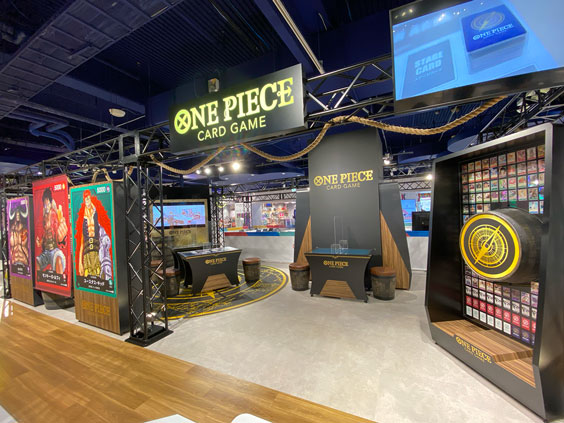 Here is the first official "ONE PIECE CARD GAME" shop! The premises are dedicated to the ONE PIECE-themed trading card game, which was released in July 2022. Visitors can purchase starting decks, participate in various card competitions or even learn how the game works from experts. There is also a space for people who just want to stop by and play!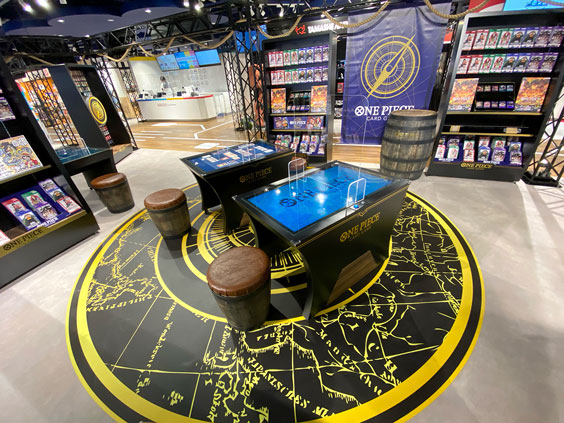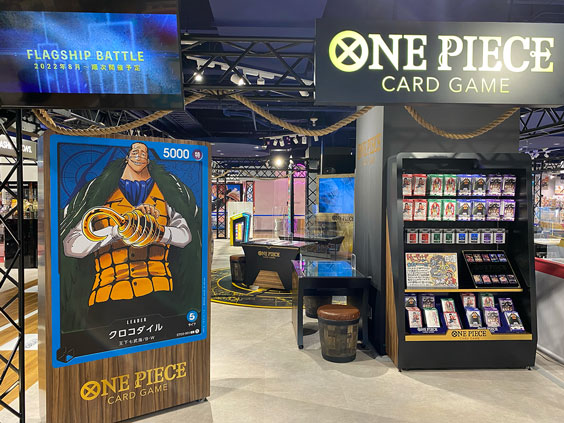 ©尾田栄一郎/集英社 ©尾田栄一郎/集英社・フジテレビ・東映アニメーション
PAC-MAN SELECT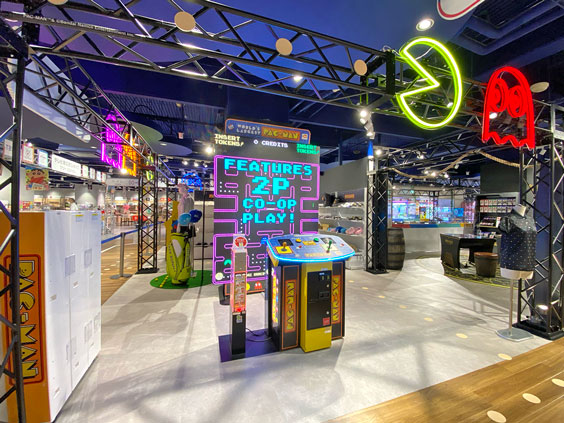 This shop sells some awesome "PAC-MAN" themed goods. The "PAC-MAN" character is symbolic of the BANDAI NAMCO Group. All kinds of merchandise from Japan and overseas are on the shelves. You can't miss the huge PAC-MAN game on the shop floor!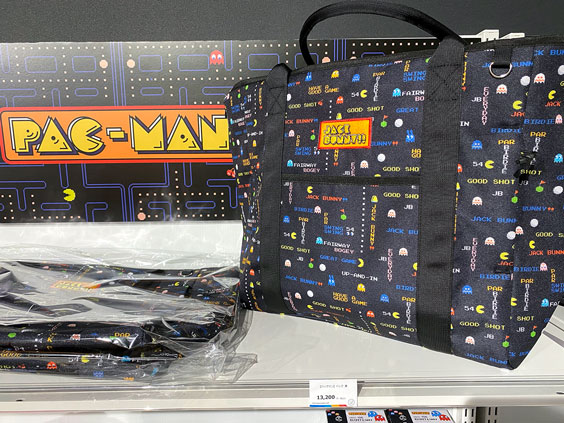 At the time of the report, the shop was selling clothing and bags developed in collaboration with the golf brand "Jack Bunny!!".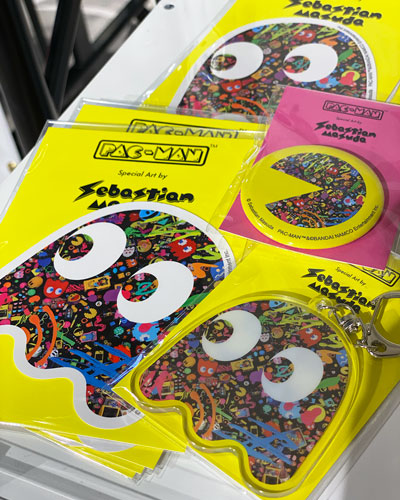 PAC-MAN™& ©Bandai Namco Entertainment Inc.
BANDAI CANDY OFFICIAL SHOP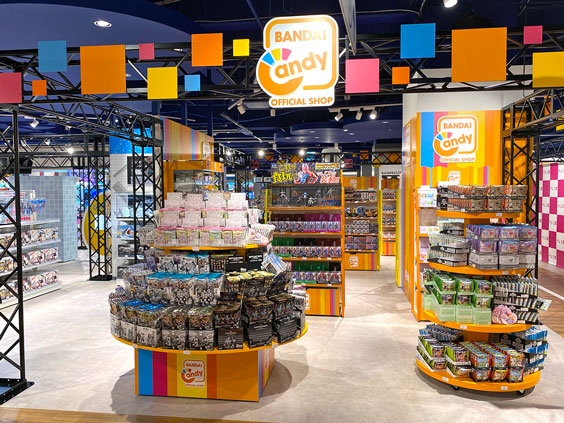 This shop stocks a wide variety of toys that come with candy, including items from the "Charapaki" and "Tsuri-gumi" series. You can also find character-related "Shokugan" (a particular candy or type of food product sold with free toy/toys, such as miniature stickers or figurines). The likes of "Kamen Rider," "Sailor Moon," and "Kimetsu no Yaiba" confectionary are all available inside! Make sure to pick up some brilliant, uniquely Japanese souvenirs during your next trip!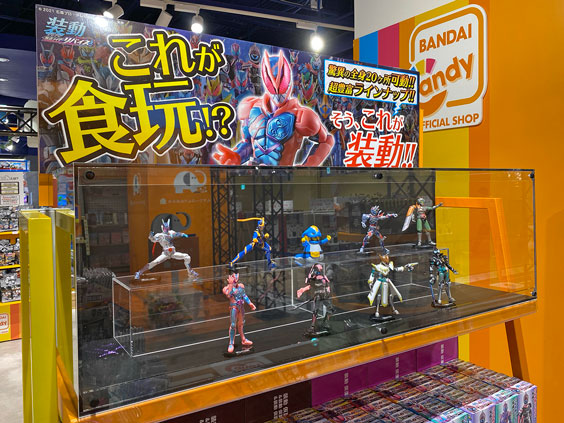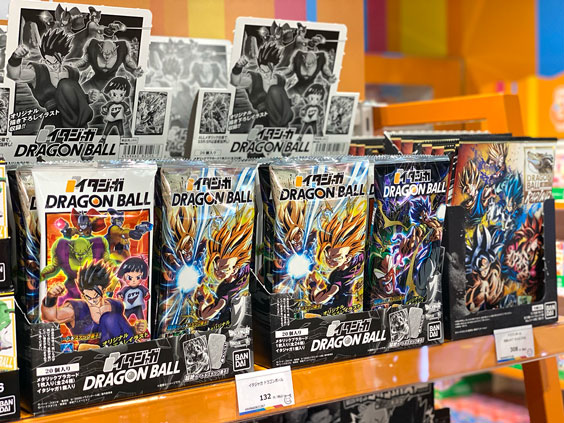 NAMCO-DOH / ナムコ堂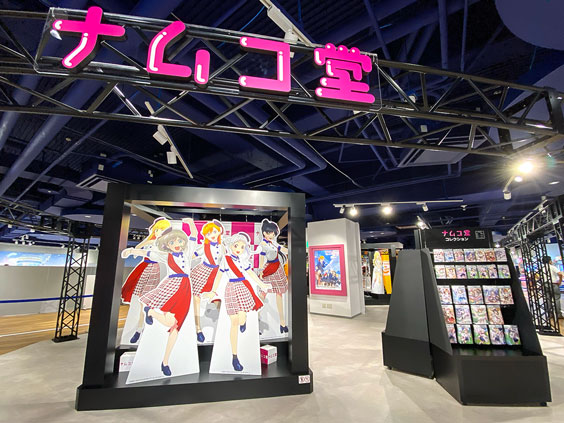 There is even a shop selling official bromide prints of iconic characters created by BANDAI NAMCO Group companies! There are some really interesting silver halide prints to check out. And the store is scheduled to receive even more new stock soon! The large panel that has been set up gives visitors the chance to take a photo beside some popular idols!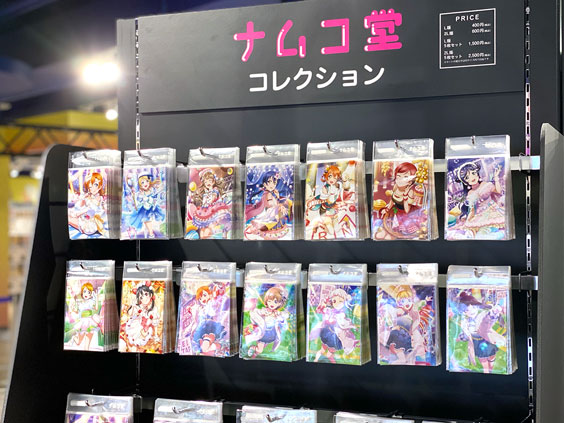 At the time of the report, the shop stocked 72 different kinds of bromide prints from three series ("LoveLive!," "AIKATSU!," and "THE IDOLM@STER").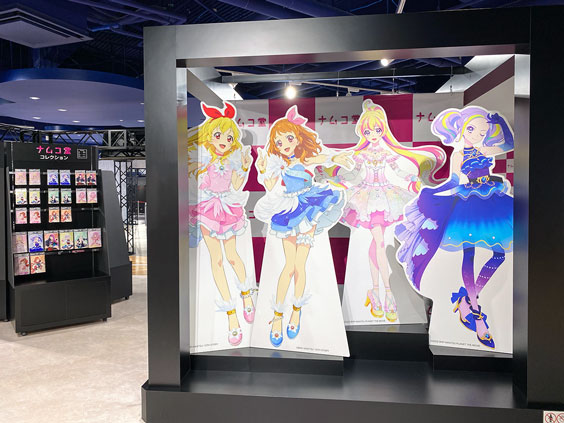 ©BNP/AIKATSU 10TH STORY
©2022 BNP/AIKATSU PLANET THE MOVIE
©2013 プロジェクトラブライブ!
©2022 プロジェクトラブライブ!スーパースター!!
BANDAI FASHION COLLECTION SELECT STORE / バンコレ!セレクトストア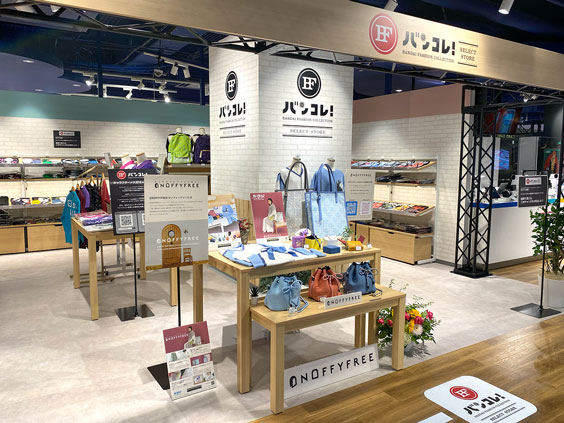 This is the first ever "BANDAI FASHION COLLECTION" shop to open! The "BANDAI FASHION COLLECTION" is a website that sells cool character-inspired fashion items for adults. There's a nice selection of stylish clothes and accessories available! Be sure to check out exciting items created by the loungewear brand "ONOFFYFREE" featuring "JoJo's Bizarre Adventure STONE OCEAN" and "Kuroko's BASKETBALL." These pieces will be available from August 2022!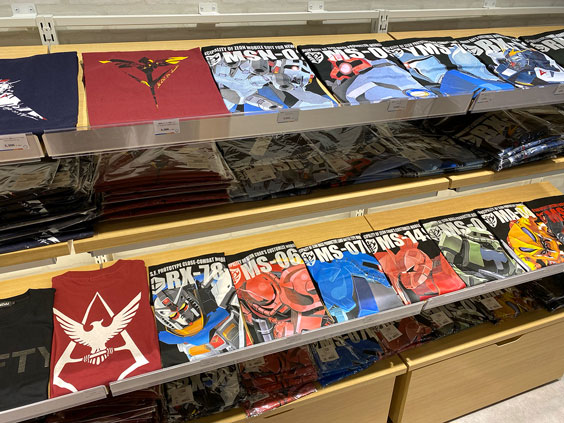 TAMASHII NATIONS in Cross Store Entry Models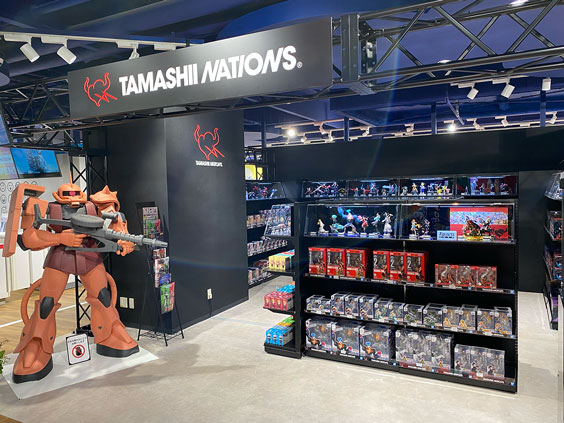 This shop stocks brands, such as "THE ROBOT SPIRITS" and "S.H.Figuarts" that produce completed figurines. There is an impressive array of high quality items on offer, including characters from the "GUNDAM," "Ultraman," "KAMEN RIDER," "ONE PIECE," and "Kimetsu no Yaiba"!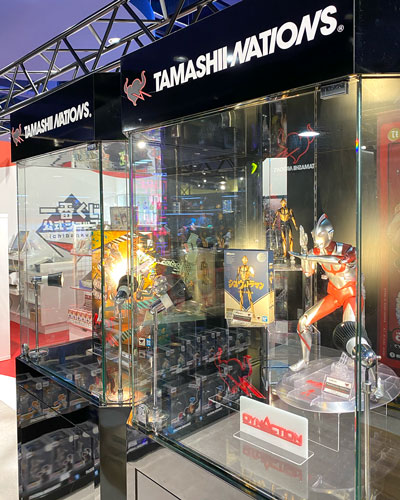 ©BANDAI SPIRITS
INFORMATION
BANDAI NAMCO Cross Store Hakata
- Address: B1 Canal City Hakata South Bldg., 1-2-74 Sumiyoshi, Hakata-ku, Fukuoka-shi, Jepang
- Official Website:
https://bandainamco-am.co.jp/crossstore/
- BANDAI NAMCO Cross Store Hakata Twitter:
@bn_crossstore_h
- BANDAI NAMCO Cross Store Twitter:
@bn_cross_store
* All information correct as of July 2022. The information for this article was gathered during a media preview that took place prior to facility's opening. There are occasions when the layout / stocks of the store differs from the current.
Related Articles

- Hot spots around this area! -