Episode.3 "もつ鍋" (motsu-nabe) & "水炊き" (mizutaki)

Speaking of Fukuoka's famous hot pots...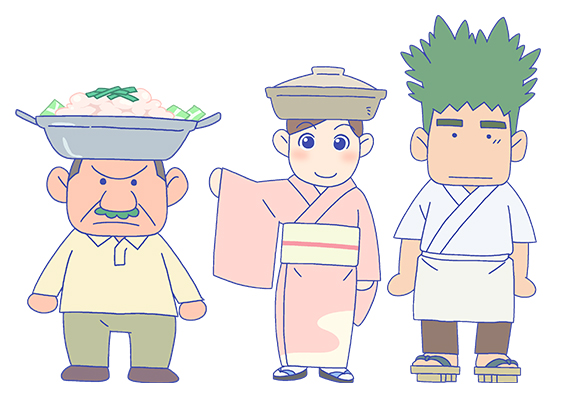 (From left) もつ鍋おやじ (Motsu-nabe Oyaji), タキ子さん (Takiko-san), and 菊次郎 (Kikujiro)
When you hear Fukuoka's nabe (hot pot), what is the first thing that comes to your minds? Aren't there many people who think of "motsu-nabe" and "mizutaki?" The third episode of the TV anime, "Hakata Mentai! Pirikarakochan" will depict the one-sided (!?) love of characters taking two of Fukuoka's beloved staple nabe dishes as their motifs, Motsu-nabe Oyaji and Takiko-san.

Springy texture of offal in motsunabe and tender chicken and rich cloudy soup of mizutaki are so addictive! Both of them are filled with vegetables, and are first-rate dishes that can be eaten deliciously all year round. By the way, what would you throw in last for your nabe? Rice? Udon? Or Hakata's staple, chanpon noodles? The real pleasure of nabe lies in enjoying the soup, in which the flavours of the ingredients have dissolved, down to the very last drop. Please be sure to enjoy a variety of last courses!
●Memo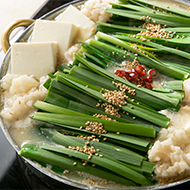 ● もつ鍋 (Motsu-nabe)
A nabe dish (hotpot) made by boiling "motsu" (offal), the springy texture of which is this dish's special characteristic, and vegetables such as cabbages, garlic chives and so on in a shoyu or miso-based soup.
This is a healthy dish, stuffed with vegetables and protein and vitamin-rich, low-calorie "motsu"!
---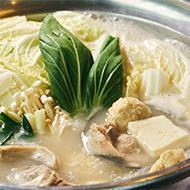 ● 水炊き (Mizutaki)
Along with motsu-nabe, "mizutaki" is also a typical Fukuoka nabe dish. The characteristic of mizutaki eaten in Hakata is a cloudy white soup with a strong and savory flavor, which is made by simmering chicken meat and chicken bones for a long time. Mizutaki is widely known throughout Japan as one of the local specialties of Fukuoka.
博多明太!ぴりからこちゃん (Hakata Mentai! Pirikarakochan)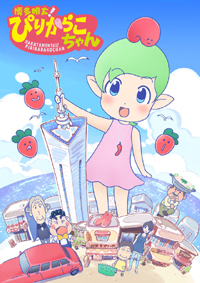 <STORY>
On a commercial street that might or might not be in Hakata, a variety of 'delicious' events occur !? A slapstick slice-of-life drama with food spirits!
<CAST>
Pirikarakochan: Hiyori Kono/Sousuke Ojisan: Kenichi Ogata/Motsunabe Oyaji: Chafurin/Baran-kun: Shun Horie/Amaou Trio: Hitomi Owada/Maya: Maaya Uchida/Caviar-kun: Natsumi Fujiwara/Shitsuji: Hironori Miyata/Koharu Obaachan: Marie Oi
■Broadcast starts from July 2019 (KBC Kyushu Asahi Broadcasting Co., Ltd.)
■Official Website:
https://en.pirikarakochan.com/
■Twitter:
@Pirikarakochan
■Instagram:
pirikarakochan_official
Related Articles