Umauma Gion branch (うま馬 祇園本店)

Safeguarding the taste of traditional Chinese-style ramen!
"Umauma Gion branch" is located in Gionmachi, a part of town that is infused with the tradition and history of Hakata. Their restaurant is said to use a method of preparing noodles that they inherited from the first yatai (food stall) in Hakata to offer tonkotsu (pork bone) ramen. Their dishes are characterized by flat noodles and a Chinese noodle-style tonkotsu soup that is quite distinct from mainstream Hakata ramen. The store has shared this local dish with the rest of the world, having already opened branches in Tokyo, Singapore, Bangkok, and Manila.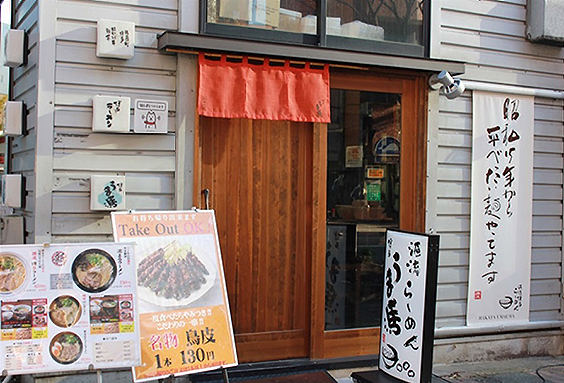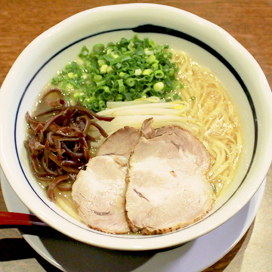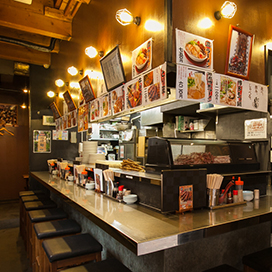 Back in 1940 a yatai known as "Sanmaro (三馬路)" is said to be the first place that sold tonkotsu ramen in Hakata. They then opened a branch known as "五馬路 (Umaro)" in 1950. "Umaro" later changed its name to "Umauma" and have been working hard for more than 50 years in their efforts to ensure that traditional Hakata ramen lives on.

Features of this original Hakata dish include a golden, almost clear soup and uniquely flat, smooth noodles. The tonkotsu is prepared with great care and attention. It is first cooked on a high heat, and then boiled over a medium flame for a long period of time, until it forms a kind of semi-emulsified state. This method, which brings out all the wonderful flavors in the ingredients over a period of about two days, ensures that the soup is clear while still maintaining the taste of pork bones.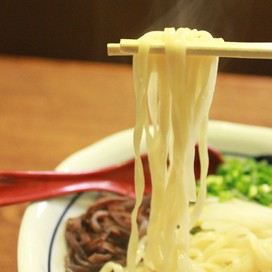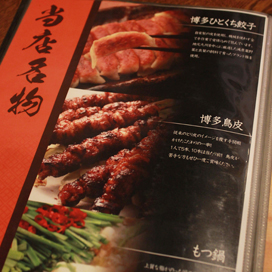 A pioneer in the "ramen dining" experience, customers can sample a fabulous range of famous Hakata and Kyushu specialties, such as hitokuchi gyoza (dumplings), motsunabe (offal hotpot), and basashi (horse meat sashimi).

As this restaurant originally started out as a yatai, you can also enjoy the authentic yatai-style experience of "drinks, snacks, and then ramen!"

Menu
Genryu Hakata ramen... 650 yen
Genryu Hakata ramen set... (five gyoza with small bowl of rice or kaedama)... 880円
Komaru ramen... 750 yen
Kaedama (second serving of noodles)…160円
Hakata hitokuchi gyoza (dumplings)... 210 yen (five pieces), 420 yen (ten pieces)
Torikawa (chicken skin) (one skewer)... 130 yen
Hakata motsunabe (offal hotpot)... 1,100 yen
And more!
Umauma Gion Branch (うま馬 祇園本店 )
Address: 1-26 Gionmachi, Hakata-ku, Fukuoka-shi, Fukuoka-ken
* Located close to exit 3 in Gion Station, Fukuoka City Subway
TEL.: 092-271-4025
Capacity: 40 seats (parties or groups: 12-14)
Opening hours: (weekdays) 11:30-14:00, (weekends and holidays) until 15:00 / 17:30-24:00 (last order: 23:30), (Sundays and holidays) until 23:30 (last order: 23:00)
Closed: Tuesdays
* All information correct as of January 2017
Related Articles