Kitakyushu Area Guide (Kokurakita-ku, Kitakyushu-shi) Brought to you by Reporter Patrick

The "This is Fukuoka" series explore the charms of Fukuoka from the points of view of foreigners living there. This time, our reporter Patrick, from Boston, USA, has visited some highly-recommended spots in Kokura, Kitakyushu City!
Map of the locations introduced!
REPORTER PROFILE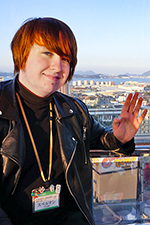 My name is Pat (Patrick), and I'm from Boston, USA. I work as the Coordinator for International Relations at Kitakyushu City Hall. We're working to build a city of cultural creation here in Kitakyushu – why not come and feel it for yourself?
---
- Favorite Kitakyushu foods: Yahata gyoza, yaki (baked) curry
- Hobbies: Film, video games, studying otaku culture
- Favorite directors: Terayama Shuji, John Carpenter, Sono Sion
- Favorite artists: Togawa Jun, Hirasawa Susumu, Sheena Ringo
- Favorite mascot: Jiimo-kun (Moji-ku, Kitakyushu-shi)