SPECIAL INTERVIEW - Mo Monchanok -(1/2)

I want to go to Fukuoka again! I'd love to pick leaves in Yame's tea fields!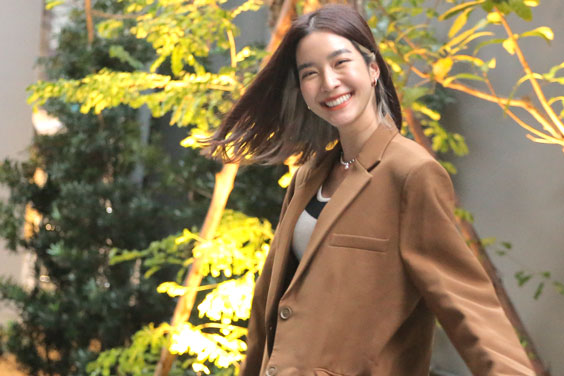 Our next guest in the "We miss FUKUOKA" series is the popular Thai actress Mo Monchanok. We met Mo at a Japanese restaurant in Bangkok, Thailand. The eatery, which originated in Fukuoka, is called "UMENOHANA" and serves kaiseki-ryori (a traditional multi-course meal). Mo spoke about her memories of Fukuoka, a dream trip to the area, and her favorite anime while sampling some tasty tofu dishes!
You can see the full interview on the asianbeat official YouTube channe!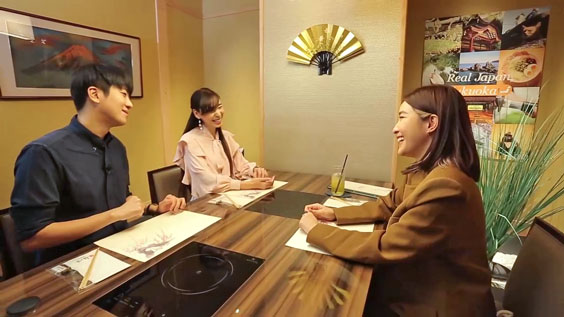 During the interview, Mo tried picking up yuba (tofu skin) with chopsticks! She mentioned that before trying it she could not imagine what it would be like but still did a great job!! We poured a little dashi shoyu (dashi soup stock mixed with soy sauce) over the yuba. A big smile appeared on Mo's face as soon as she took a bite. She said that it was super delicious and particularly enjoyed the almost milky flavor of the dish.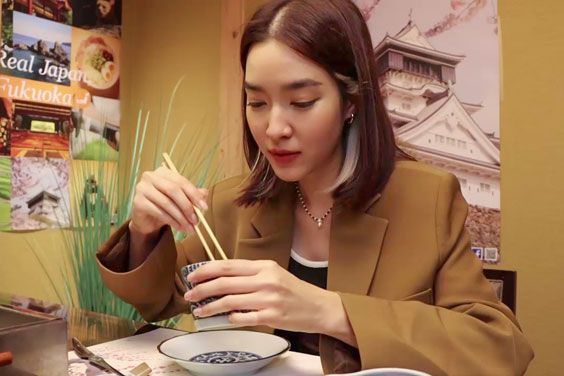 Mo then spoke about the time she spent in Fukuoka for a shoot. She told us about her trip to Hiraodai, a site known for its magnificent karst terrain. It seems that the experience left a strong impression. While discussing her desire to return to Fukuoka, she said that "when I went to film in Hiraodai it was absolutely freezing, so I'd love to go back when it's warm."

Did you know that Fukuoka is one of Japan's leading producers of high-quality tea? One of the most popular types of tea is known as "Yame-cha." When the talk turned to the topic of Yame, the area where this tea is cultivated, Mo excitedly said, "I want to visit and experience picking tea leaves by hand!" It turns out that she is a big tea lover!

We asked Mo what kind of character she would like to play if she gets a chance to shoot in Fukuoka again. She enthusiastically told use that she'd like to play a traveler. She explained "I'd love to make new discoveries and have fresh experiences as a traveler." Oh and she is also keen to do some shopping in the city!

We also had the chance to speak about anime. Mo told us that her favorite title is ONE PIECE and that she is a big fan of the character Luffy! She was also excited to talk about "Doraemon!" It was great to see how much she loves the world of Japanese entertainment! Mo then revealed her plans to return to Fukuoka. She said "I would love to visit Fukuoka again even if its not for a shoot!" You can watch the full interview on the asianbeat YouTube Channel! Be sure to check it out! >>
HERE
!
We also have some bonus material for all our readers! On the next page we have typed up some comments Mo made about the outfit she wore on the day of the interview, what she finds appealing about Japan, and what she likes to get up to on her days off. This content can only be found here, so make sure to keep on reading!
- PICK UP!: Related articles