Vol.24 AKIRA - I Want to be the Person I'm not Ashamed to be -

I'm able do what I love, I have people to support me, and a place I want to hold on to.
The thing people often say when they meet me for the first time is, "Aah! AKIRA is a cross-dresser!" And terms that often used to describe me in promotional materials are things like "
danso
model" (model who dresses as a boy), "
danso no reijin
" (beauty who dresses as a boy), and "
danso
artist" (artist who dresses as a boy).
For me personally, though, I don't consider what I do "
danso
" (a girl who dresses as a boy; female cross-dresser), and whenever I introduce myself to people I don't use the word 'danso.' The only time I use 'danso' is when I'm explaining "AKIRA" to someone who has never heard of me before because it's an easy concept to grasp. So I don't mind how people label me, and now I just think that if that's how people see me then that's just one form of evaluation. And if you're going to try and categorize me for mass culture, I also now think that what I do could be called a form of cross-dressing. In the past, though, I would always be like "I'm not a cross-dresser!" and glower at people who said so (lol).
Up until a little while ago, it would stress me out when people would tell me "You're a cross-dresser so (be more like
this
)" or "Wear something more boyish." The reason I started wearing boyish clothes was because I hated being made to wear kawaii outfits and skirts that didn't suit me just because "You're a girl," and also because I wanted to enjoy fashion freely regardless of my sex. But then people started saying things like "You're a cross-dresser, so don't wear skirts" and I was being told what I could and couldn't wear. This was the complete opposite of what I wanted. I didn't see why I had to conform to this image of me that someone else had fabricated. If I was told "Because this is your job" then I couldn't really argue any further, but I was really confused because when I was younger I said things like, "Sometimes I dress more like a boy and sometimes more like a girl. And I think that's fine for both boys and girls. I hope that it becomes the norm throughout the world." But I felt like the person I had become couldn't be further from this ideal.
As I began to stray further from my path, last year I even went all out and bought some super girly clothes. Some clothes were really fun to look at but when I tried them on and they didn't suit me and it wasn't fun at all. On the other hand, if I tried on clothes that were really plain and didn't appeal to me in the slightest but they suited me, then I found it fun. I don't think I did it because I was feeling rebellious or because I felt the need to go out of my way to dress more like a girl or a boy, I think I just reached a point where I could choose clothes that reflected the person I was at that point in time. It's common for people to wear different masks (in the figurative sense), and I think fashion is the same – it's okay to wear different styles to match how you feel on any given day. Just wear what you want to wear in that moment. I think that is what's most important. To me, fashion is one form of self-expression, and it's also a reflection of the person we want to be. To confront fashion is to confront oneself. And for that reason, it's something that will be a part of my life now and into the future.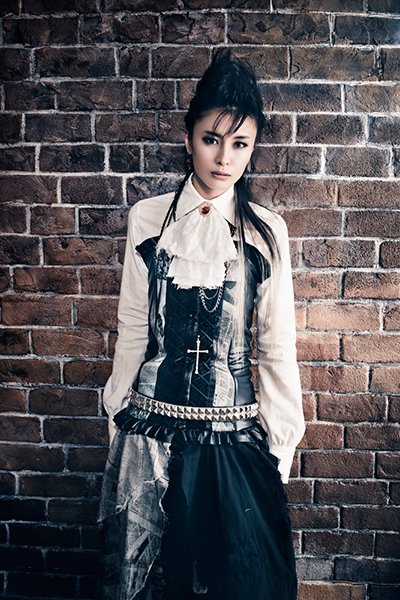 On the same level as fashion, two other things I will never cut out of my life are music and fans. I debuted as the solo artist "AKIRA" in 2014, but I have been performing as a vocalist in the band DISACODE prior to that.
I met the current band members around the time my life had reached its lowest point and I was just starting to see a glimmer of hope and slowly pulling myself back up. I appeared on the front page of the magazine KERA as a '
dokusha
model' (amateur model) and people started telling me that they were fans. A lot of fan letters I received at the time were about personal struggles and problems with human relationships. Life is full of uncertainties and things that don't work out the way we plan, but I got the impression that these young people didn't have anyone close who they could talk about these things with. I had been at rock bottom so I could relate to the content of the letters and felt quite strongly that I wanted to do something for them. So I swore to myself that I would be strong so that I might become some sort of support for others. And that's why I wanted to make DISACODE a band that people could listen to and forget about their troubles, if only for an hour, and just enjoy. I'm pushing on and living my life, so let's all push on together – that's also the message I wanted to relay to people.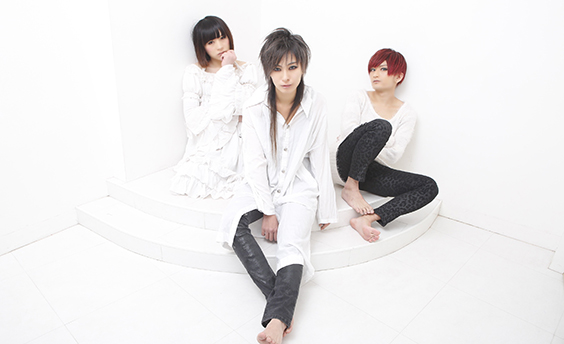 I've hit the wall along the way and even thought I had reached my limits on several occasions. The only thing that has kept me going is the support from my fans and the other band members. Even when I decided to debut as a solo artist and DISACODE went into hiatus, the other members wished me all the best and waited for me to return. Then when the band reformed, the fans were there to welcome me back. Of course there are those who became fans only after we had resumed activities, but it's their passion and the frankness in their way of showing affection that has saved me time and again.

I was the one who was trying to act all cool and be the support to others, but somewhere along the line I realized that it was me who was being supported. I'm so lame, but I really do have nothing but gratitude. Lately I've been feeling sad that everyone is all grown up and matured to the point that they don't need me anymore…I even sang some whiney songs along those lines, but then I realized that I want to be a band that can say "okaeri" and welcome people back whenever they're going through struggles.

If DISACODE is tool of communication for me and my fans, "AKIRA" the solo performer is a space that I want to reserve to challenge myself as an artist and as a creator. You might just think it's self-satisfaction, but people believe that I have still have potential to grow as an artist. I've discovered a desire to learn more about the parts of myself that are still unknown to me and to pursue my own potential. Even the things at the bottom of my heart that I don't want people to see; I want to lay everything bare. I want to be the person that the 18-year old version of myself, who quit their previous agent in tears saying I want to do music, would not be ashamed to be. I'm still trying to figure things out, but I'm determined to keep struggling my way through it a little bit longer no matter how uncool I may look doing it.

It's quite rare for me to speak openly about myself like this, but to wrap things up…life doesn't go according to plan but I'm still able to do what I love, I have people who support me, and a place that I want to hold on to. And that is something that makes me happy and I am grateful for…Even though there will be highs and lows along the way, this feeling of gratitude is something I will always try to bear in mind. And no matter what, I want to be the me that's true to myself, admit the things I like, and do what I want, openly and unashamedly.
PROFILE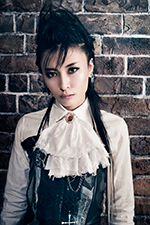 AKIRA
Debuted as a model in 2008 for the magazine "KERA." Has since appeared on the cover of "KERA" and "KERA BOKU" as one of top cross-dressing "boy style" models around. Has participated at many events overseas, such as the "Japan Expo" in France, gaining a huge following in the process. Major debut as the solo artist "AKIRA" was in the summer of 2014 with a song that featured during the closing credits for the TV anime "Kuroshitsuji (Black Butler): Book of Circus." Started producing a fashion brand called "Malus14" in 2016. Currently active and appearing in many media fields, including TV, theater, live shows and magazines.
Official Website:
http://www.akira-web.com
Twitter:
@dis1akira
PRIZE GIVEAWAY!
We have a card signed by AKIRA and a bandana to give away to a lucky asianbeat reader! The prizes come as a set, so there will be only one winner! Make sure to apply!
We're looking forward to receiving your applications!
Application period: Friday 19th May to Sunday 2nd July 2017
Winner announced: Wednesday 5th July 2017
The application period is now over. Thank you!
The lucky winner is...
Marthaberuang san
(Please note, winners will receive an email directly from asianbeat. If you don not reply with a confirmation message within a week, you application will become invalid and you will not be able to claim your prize.)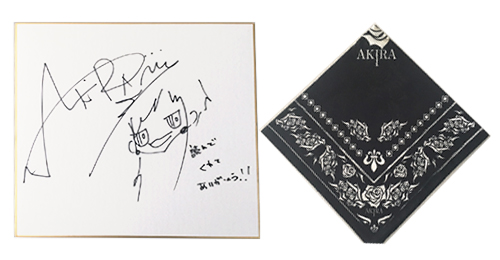 *Please be aware that the actual size of the prizes differ from the photographs above.
Related Articles
External Links
This comment section is for readers to leave opinions and comments. Inappropriate comments may be deleted, so please remember to be respectful. Thank you!