Vol.41 MIKOTO - Embracing otome-kei style! -

Otome-kei is primarily aimed at young women, but it's a style that anyone can get into!
Hi, my name is MIKOTO! I am an artist, composer, and songwriter. I mainly produce otome-kei music. By the way, have you heard of the phrase "otome-kei?" I guess a rough explanation would be that it refers to a kind of love story that features a female protagonist going through various experiences in her life while surrounded by handsome guys. It's a cultural phenomenon that has spread across all media, such as anime, games, drama CDs and such. Even though the focus is usually on love, the style is featured in all kinds of genres, including the idol world, school-themed pieces, historical works, science fiction, horror and so on. So you might think Otome-kei music is very sweet and heart warming, but it can actually be quite broad. I did not study music extensively. I am also not massively into gaming or anime. So you might be wondering how a guy playing in a fairly normal Japanese cover band got involved in the otome-kei scene! Well, I'll explain it in more detail below!
I was performing in a band, but not in any kind of professional capacity. I was just an unknown composer handing out my demo to lot of companies looking for music. Then one day, I got a response saying that they wanted to use the work as a character song in "Scared Rider Xechs!" They wanted to feature the music as a sort of leitmotif for the characters portrayed by Mamoru Miyano and Tatsuhisa Suzuki! I didn't really know anything about character songs, but I was so happy that they wanted to use my composition and that I would get the chance to make my debut in the music industry. At the time I did not even know anything about the two voice actors they mentioned to me.... And so my debut song as a composer happened to be in an unknown genre of music known as... "Otome-kei." I thought it was just going to be used as an edgy rock tune, but when I heard the final version I realized that voice artists performed the song in quite a sexy way. I thought... Oh I see... In that instant I started to understand "otome-kei" and how this style of music might appeal to female listeners' hearts!

Then I started to participate in some really unique projects. I worked for an anime production that features a female protagonist falling in love with hunky blood sucking vampires known as "DIABOLIK LOVERS" and the charming two-dimensional idol with cool, original lyrics "MARGINAL#4." I was really able to gain a deeper understanding of Otome-kei. Initially, I was involved with the production side of things for Otome-kei style music, but I finally got a chance to contribute as a vocalist. So, how did this differ from the work I had been doing behind the scenes? Until that point I had done some work with the chorus. I thought laying down the vocals for a track would pretty much be the same regardless of your role. However, providing the main vocals and contributing as part of the chorus are two quite different challenges. I had to ask myself... How do you express yourself as the main vocalist? There are certain things that a vocalist needs to keep in mind whatever the genre, including the melody and how to sing the lyrics in a way that is good for the listener. This means seeking out aspects of a track that are not always expressed on the sheet music and finding a solution using your voice.

In contrast, the role of the chorus is to accompany the main vocals. It is a real craft. If the vocal is serene, the chorus is too. Similarly, you can add an emotional chorus to emotional vocals. I usually add the chorus after taking into consideration these characteristics... And then... While I was writing this, I noticed something... I listen to the main vocals when I am recording a chorus. But when you work behind the scenes on a strong, unique song for one of the handsome characters that features in an Otome-kei story, you sometimes wonder whether there is a disparity between the music and the vocals. It seems that up until now, I have been dealing with vocals that are incredibly "expressive" due to the production work that has been done on the chorus...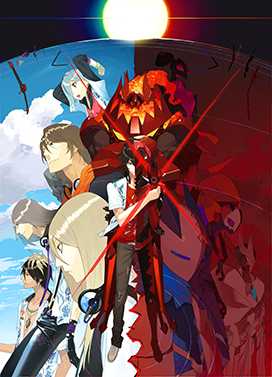 ©2016 RED/Rejet/STORY RIDERS, SRX PARTNERS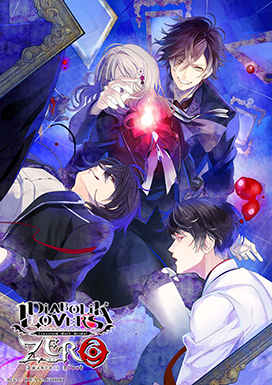 ©Rejet / IDEA FACTORY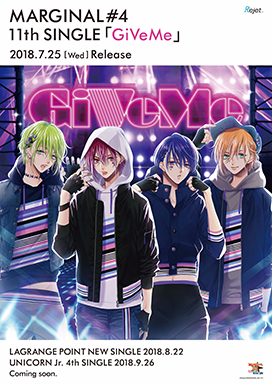 ©Rejet/MARGINAL#4 FC
It's easy to just say the word "expressive," but sometimes it involves a mix of sighing or whispering. Other times you have to play cute, or it may involve shouting and screaming! Otome-kei songs employ so many techniques to appeal to young girls! By harmonizing with the vocals you almost unconsciously draw from these various techniques. It might be evident in my expressions or reflected in the vocals I produce as an artist. This is something that has come back into my mind recently.

My debut single "Accepted Blood" was used as a theme song on the CD that was produced for the situation drama "Meiji Kyuketsu Kitan Tsukiyasha (明治吸血奇譚 月夜叉)." My second single "Gekka no Uta wa Kage Yori mo Kuroku (月下の唄は影よりも黒く)" was featured as a main theme song for the PS VITA game "Hyakka Hyakurou ~Sengoku Ninpouchou~ (百花百狼 ~戦国忍法帖~)." And my third single "Akatsuki no Karma (暁のカルマ)" was used as a main theme for "Meiji Kyuketsu Kitan Tsukiyasha Kurenai (明治吸血奇譚 月夜叉 紅)." My tracks have been performed by many voice artists and been featured as theme songs for various different works. Feeling a sense of destiny and fate, I'm keep singing these songs.
I have heard that there is a difference between Otome-kei music and other genres, but I am not really conscious of that fact when I am composing a piece. There are some gimmicks that can be used, like inserting a long pause into a sequence of dialogue, but that is the same with any genre.

The characters' eccentric expressions can turn the simple, inorganic aspect of a chord or lyric into a romantic, love-infused word that pulls at the heart strings. I guess this is a major aspect of the otomo-kei genre...Maybe! However, "expressive vocalists that share the meaning of love" exist in all musical genres. Music is a form of love. A person's voice can express feelings of love, which can touch a person's heart. Or even pierce someone's heart. That is something that young girls, middle-aged people, and small kids can all enjoy. Otome-kei is primarily aimed at young women, but it's a style that anyone can get into! I think that this is something that I've come to realize recently.

I have recently had another fateful encounter. My new single "Spiral Maze" is featured in the opening credits for the TV animation "BAKUMATSU." It was originally a classic romance-themed gaming app that focused on a love affair between important figures during the end of Edo period. In the anime production, the story looks at how patriots lived during that time. This means that people who are not familiar with the world of otome-kei can also enjoy the show. When the characters from the otome-kei world venture outside (as is the case in the anime "BAKUMATSU"), I think about how much my music can touch the hearts of people who are not familiar with the genre. The abilities I have gained in the otome-kei world are currently being tested! Please keep an eye on otome-kei and what I get up to in the future!
PROFILE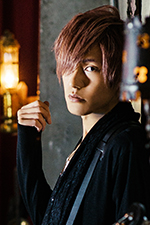 MIKOTO
Debuted in 2014 with the theme song "Accepted Blood" and track "月雪ノ音," which were featured on the CD that was created for the audio drama "Meiji Kyuketsu Kitan Tsukiyasha" (Rejet). The songs were released via the label 5pb.Records. Performed the song "Red Closer" and "Ready to Beat" at the Ultra Live Stage "時代を染めろ!伝説のウルトラ兄弟 (Jidai wo Somero! Densetsu no Ultra Kyodai)" hosted at the 2018 Ultraman Festival event. Produces highly original melodies and songs that can not easily be replicated. Actively working on creating songs for male voice artists, especially in the otome-kei genre.
- Official website:
http://5pb.jp/records/mikoto/
- Twitter:
@ryosuke000
- Facebook:
@MIKOTO-Ryosuke
- Recent Information
MIKOTO's 4th single, "Spiral Maze" (opening theme for the TV anime "BAKUMATSU," which hit TV screen in October 2018) has been released. This anime is an adaptation of the mobile game "恋愛幕末カレシ~時の彼方で花咲く恋 (Renai Bakumatsu Kareshi ~ Toki no Kanata de Hanasaku Koi ~)." This single comes with a reversible jacket. One side depicts illustrations from the anime, while the other features a portrait of MIKOTO. In addition, two new songs, "off vocals," as well as an audio drama voiced by Takasugi Shinsaku (cv. Yuichi Nakamura) and Katsura Kogoro (cv. Takuya Eguchi) are featured in this release.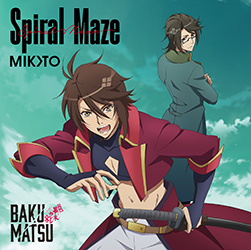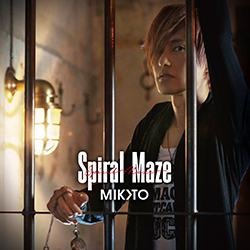 PRESENT!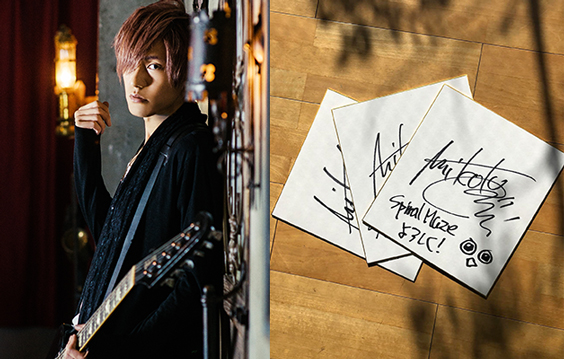 We have cards signed by MIKOTO to giveaway to THREE lucky asianbeat reader! Don't miss-out!
[Application Period from]
Friday 16th November 2018 to Sunday 6th January 2019 (Japan Standard Time)
[Winners Announced on]
Wednesday 9th January 2019
The application period is now over. Thank you!The lucky winners are ...張育榕 sanほのみ sanちかげ san......Congratulations!!
(Please note, winners will receive an email directly from asianbeat. If you don not reply with a confirmation message within a week, you application will become invalid and you will not be able to claim your prize.)
Related Articles
This comment section is for readers to leave opinions and comments. Inappropriate comments may be deleted, so please remember to be respectful. Thank you!