If you're interested in baking Japanese-style bread, why not try making "an-pan?"

There are all kinds of breads to choose from, but what's your favorite?
There's been all kinds of different breads that have been created in Japan, such as "melon-pan," "jam-pan," "cream-pan," and "curry-pan." Delicious and soft in texture, it seems that Japanese "pan (bread)" is also well received by people from overseas.
In this article we will be showing you how to bake "an-pan," a type of bread that was first made during the Meiji Period . Loved by both children and adults since long ago, you simply never grow tired of an-pan! It's the type of bread you will constantly want to snack on!

For this recipe we are going to use "kitanokaori" flour.
Using Japanese flour is sometimes said to be a bit tricky for this kind of thing, but it works really well for making Japanese-style bread.
To add a touch of sweetness, we are going to add a bit of light brown sugar.

Once you've measured the weight of all the ingredients, it's time to get started! (All the ingredients are listed below)

First, mix all the ingredients in a bowl, then knead the dough on a table or flat surface. Once the dough is smooth, place it back in the bowl so that it can rise (primary fermentation).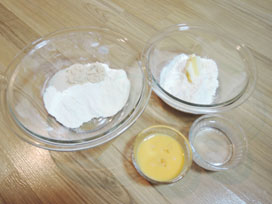 Strong flour, skimmed milk, sugar, yeast, butter, salt, eggs and water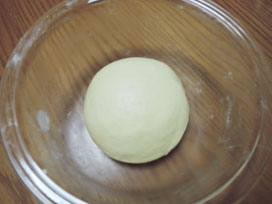 You should be able to stretch out the mixed dough like this.
Split the dough ino six and leave to rest for 10 to 15 minutes. Then fold the amount of anko (red bean paste) that matches your taste into each dough ball. Leave to rise (ferment) again, pop them into the oven and that's it! This time I molded the mix into circle and flower-shaped patterns!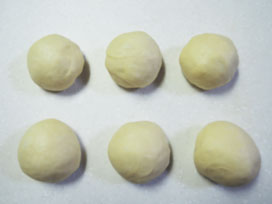 Here are the 6 dough balls resting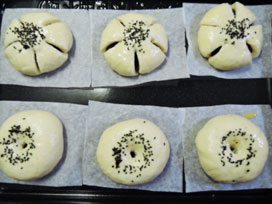 We made circles and flower shaped one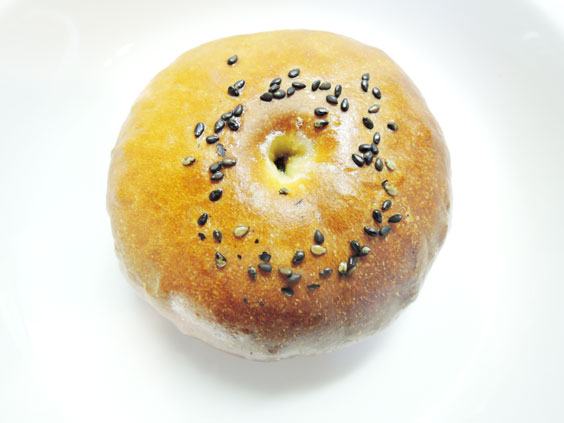 There's nothing better than the smell of delicious, freshly baked bread filling the room!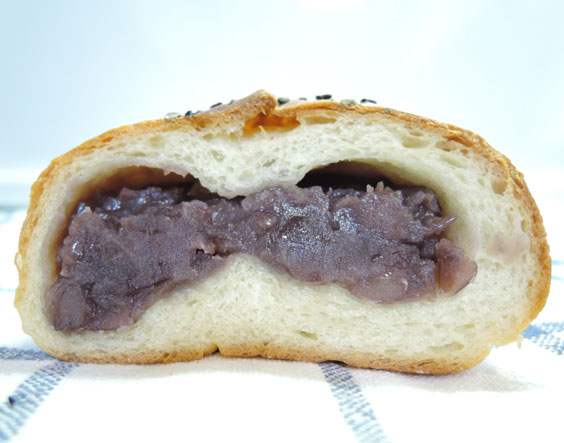 Here is the an-pan cut down the middle. As you can see we were quite generous with the amount of anko (red bean paste) I folded in!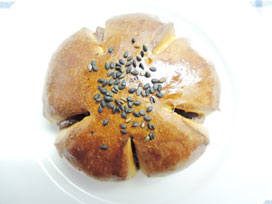 Here is one of the flower-shaped an-pan!
"An-pan" Ingredients (serves 6)
Strong flour・・・・・・160g
Dry yeast・・・・・・・1 teaspoon (tsp)
Sugar・・・・・・・・1+1/2 tablespoons (tbsp)
Skimmed milk・・・・2 tsp
Eggs・・・・・・・・1 tbsp
Water・・・・・・・・85g
Salt・・・・・・・・・1/2 tsp
Unsalted butter・・・・20g
Tsubu-an (coarse anko, otherwise known as coarse sweet red bean paste)・・・・・・280g
Black sesame・・・・・Adjust to your taste
Egg coating・・・・・・Adjust to your taste
This time I used store-bought anko (bean paste), but next time let's cook anko and try to make the paste from scratch! We only used red bean paste this time, but you can also try "shiro-an (white bean paste)," "sakura-an (sakura flavored bean paste)" and "macha-an (green tea flavored bean paste)." Please give it a go! (Editorial Dept.: kurocco)