On 2 May (Thursday, Public Holiday), an Anison specialized event "ANISON NIPPON 2019" will take place in Fukuoka!

Gather, Anison lovers! 1 DAY EVENT where you can enjoy Anison to the full!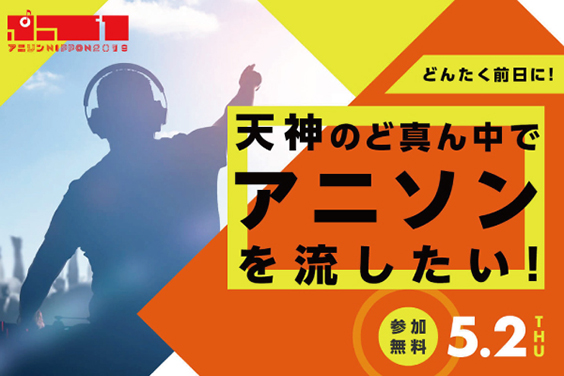 Gathering those with the passionate desire that they "want to do more to disseminate Anison culture within Fukuoka", ANISON NIPPON 2019, an oudoor DJ event, will be held for the first time, at IMS Square in the heart of Tenjin, Fukuoka! On the day, an army of 18 Anison DJs have been invited, and it seems that they will be spinning continuously from 11 a.m. to 8 p.m. (scheduled)! Not to mention Anison fans and music lovers, but everyone, let's get together and have some fun! For those who have no plans for the middle of Golden Week, how about spending it in deep 'Anison Time' in the centre of Fukuoka? Those who want to know more about this free Anison-specialist event, which anyone can participate in, please check it out here! (>>
*Event Information
!) (Editorial dept.: Gon)
Related Articles
External Links
PRESENTS
All the info. on asianbeat's present campaign!