Experience the theatrical version of DETECTIVE CONAN's world! Exhibition "DETECTIVE CONAN THE MOVIE-Ten-Ginmaku no Kaikoroku (Memoir)" is coming to Fukuoka City!

Let's relive "DETECTIVE CONAN"'s experiences through multitudes of memories!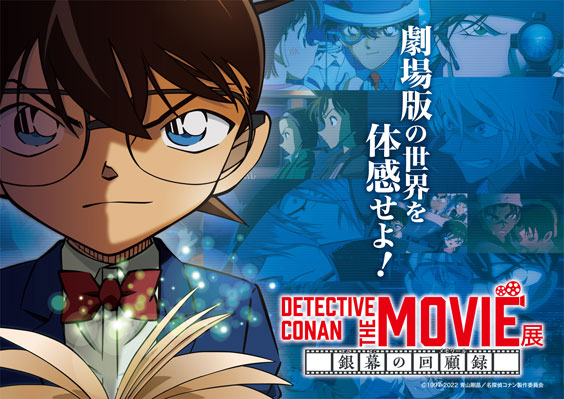 From the first memorable movie "DETECTIVE CONAN The Time-bombed Skyscraper" (1997) to the latest movie "DETECTIVE CONAN The bride of Halloween" (2022) the stories of Detective Conan have captivated the world. Many fans have been fascinated with various stories, actions and mysteries over the years and now you can experience a recollection of them by visiting the large scale exhibition "DETECTIVE CONAN THE MOVIE-Ten-Ginmaku no Kaikoroku (Memoir)". It will be held from November 12th (Saturday) to December 11th (Sunday) at JR Kyushu Hall, Fukuoka City.

The venue consists of 4 areas, beginning with an introduction, showing all the famous scenes from the movies. In the Main area you can experience three-dimensional exhibits from movies like "DETECTIVE CONAN The Darkest Nightmare" that will make you feel like Conan movies' characters jumped right out of the screen! Take photos with colorful objects of Conan and Amuro Toru in the photo spot area. In addition to all that you get surrounded by 360 degree screens in the ending-movie area. Enjoy the powerful projection mapping before you have the opportunity to buy some original goods such as T-shirts, metal badges and acrylic key holders. Don't miss this exhibition to experience the world of "DETECTIVE CONAN" from all angles! (Editorial Dept.: Nika)
INFORMATION
DETECTIVE CONAN THE MOVIE 展 ~銀幕の回顧録 (メモワール) ~』
"DETECTIVE CONAN THE MOVIE-Ten - Ginmaku no Kaikoroku (Memoir) -"
- Venue: JR Kyushu Hall (9F JR Hakata City, 1-1 Hakataekichuo-gai, Hakata-ku, Fukuoka-shi Japan)
- Event Date: Saturday 12th November - Sunday 11th Decemebr 2022
- Official Website:
https://conan-ginmaku.jp/
- Please check the official website for more details and ticket information.
- Twitter:
@conan_ginmaku
PRESENT!
THREE lucky asianbeat readers will win a pair of tickets to "DETECTIVE CONAN THE MOVIE-Ten - Ginmaku no Kaikoroku (Memoir) -" (Fukuoka Venue)! If you are interested in applying, please click the button below and fill in all the relevant information. We are looking forward to hearing from you!
[Application Period] Tuesday 27th September 2022 - Sunday 23rd October 2022 (JST)
The application period is now over. Thank you!
*Winners will be sent prizes without prior announcement.
©1997-2022 青山剛昌/名探偵コナン製作委員会
- Hot spots around this area! -