Niwakaya Chosuke Tenjin Business Center Branch / 二〇加屋長介 天神ビジネスセンター店
INFORMATION

In order to prevent the spread of COVID-19, some of the facilities might have taken various measures such as reducing business hours or temporarily closing their doors. For more information, please check the relevant facility's official website or social media account.



Check out these unique, colorful and hot new dishes!
Niwakaya Chosuke
is a udon izakaya pioneer with a concept, "Enjoying udon to go with your final drink order." Now they opened their first store in the Tenjin area of Fukuoka City! They chose the trendy Tenjin Inachika for their location inside Tenjin Business Center. High Expectations are met with delicious variations of Udon and izakaya dishes, including "
Mentai Tamago-yaki
(Fukuoka's speciality spicy cod roe "Mentaiko" and Japanese rolled omelette), Chosuke's signature flavour "
Niku-doufu
(meat and tofu)", Fukuoka Hakata region's speciality "
Gomasaba
(a sashimi dish that is made by marinating mackerel in a shoyu-based sauce)" and even truffle flavoured french fries. You can enjoy a big variety of food and drinks, standard dishes like "Chosuke Udon" which is topped with meat, processed fish Chikuwa tempura and simmered burdock, or you can find new dishes that are unique to this store only: "
Akakara-men
(lit.: Red Spicy Noodle)", Tantan udon noodles with red spicy soup, or you can go for the yellow variety that offers a curry flavour or the green variety with green chilli peppers (all these dishes are served only at lunch time). Make sure to stop by this Niwakaya Chosuke Tenjin Business Center branch and enjoy lunch there or use it as a delicious "Udon Izakaya" option at night.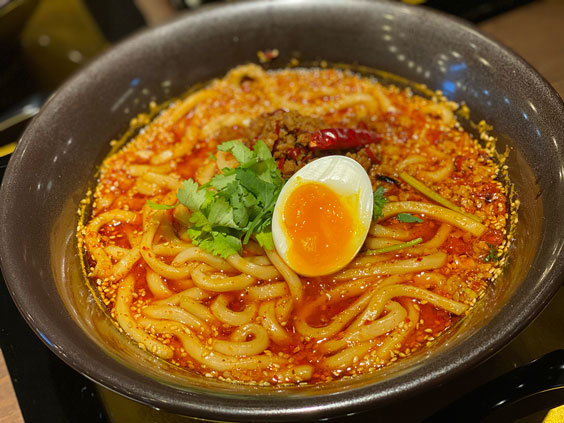 "Akakara-men", the spicy Udon variety! As with all other Udon dishes, you will be happy to hear that you are allowed to order 2 extra portions of Udon noodles!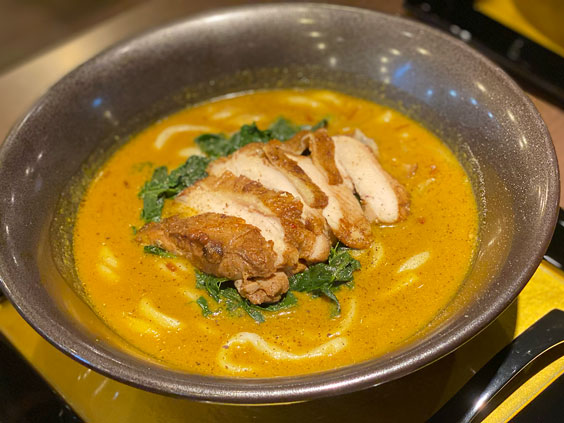 "Kikara-men"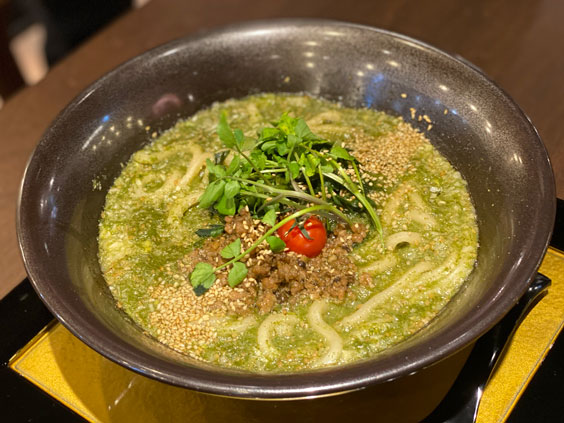 "Midorikara-men"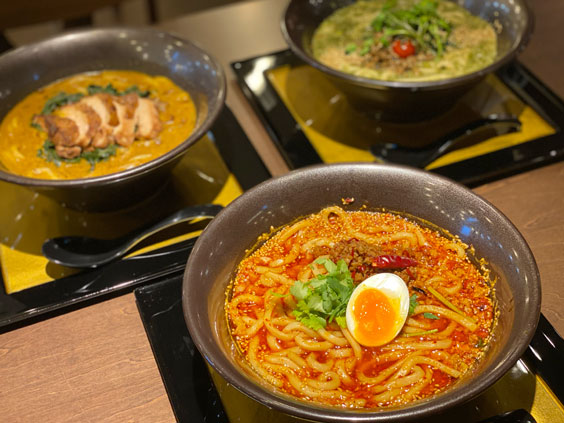 INFORMATION
Niwakaya Chosuke Tenjin Business Center Branch / 二〇加屋長介 天神ビジネスセンター店
- Address: Inside Tenjin Inachika, B2F Tenjin Business Center
- Niwakaya Chosuke Official Website (Tenjin Business Center store info):
https://www.niwakaya-chosuke.com/niwakaya-chousuke
- Instagram:
@chosuketenjin
---
Tenjin Inachika / 天神イナチカ
- Address: 1-10-20 Tenjin, Chuo-ku, Fukuoka-shi Japan (B2F Tenjin Business Center)
- Tenjin Business Center Official Website (Tenjin Inachika Info):
https://tenjinbc-shops.jp/
* All information correct as of April 2022. The information for this article was gathered during a media preview that took place prior to facility's opening. There are occasions when the layout / menu of the store differs from the current.
- Hot spots around this area! -