因幡うどん ソラリアステージ店 (Inaba Udon SOLARIA STAGE Branch)

A well-established restaurant preserving Hakata udon's classic style!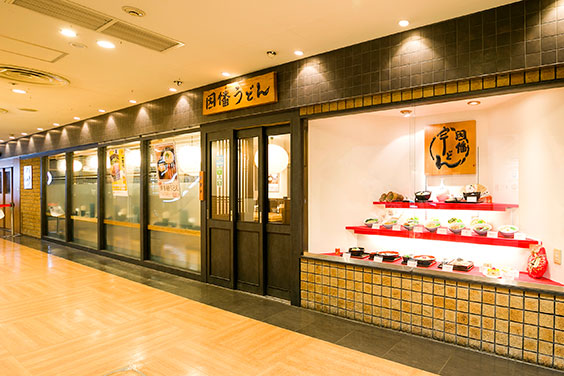 "Inaba Udon" first opened in 1951. It is now recognized as one of the oldest udon establishments in Fukuoka. Even today, visitors can enjoy classic style
"boiled udon"
and clear tsuyu soup, which is referred to as the forerunner of "Hakata Udon." The number of eateries that serve noodles straight out of boiling water has been increasing, but it is not easy to find a place that is so committed to preserving classic style of Hakata udon. There are currently five "Inaba Udon" restaurants in Fukuoka City. There is also an affiliated establishment in Hakata Station called "Shokuji-dokoro New Inaba." The dining hall-style restaurant has been designed to meet everybody's needs; offering wide range of dishes from breakfast to the Izakaya menu. The restaurant featured in the photograph is based in "Soralia Stage," a shopping complex located in the middle of Tenjin. The branch welcomes a huge number of locals and tourists.
Gobo-ten (tempura burdock)
is a topping that is almost synonymous with Hakata udon. So, for sure that the recommendation is "Gobo-ten Udon." Be sure to check it out if you get a chance! Each chain prepares their gobo-ten slightly differently. The shape of the topping also varies depending on the restaurant. The gobo-ten in this establishment is cut into thin slices at an angle. The tempura batter starts to come apart as you eat it. Bits and pieces slowly melt into the soup, helping to intensify the flavor of the whole dish.
Inaba's soft, springy home-made noodles go perfectly with their tsuyu soup. They have been using top quality, carefully selected natural ingredients to ensure the perfect balance since the very beginning. A lot of Hakata locals say that the restaurant's dishes taste like home. There are a lot of people who have moved out of the area always make sure to stop-by whenever they return home! The menu includes all kinds of delicious treats and a variety of udon dishes served with lots of great toppings. Their Ebi-ten (prawn tempura) Udon and Maru-ten (deep fried disks of smoothly ground fish) Udon are well worth sampling!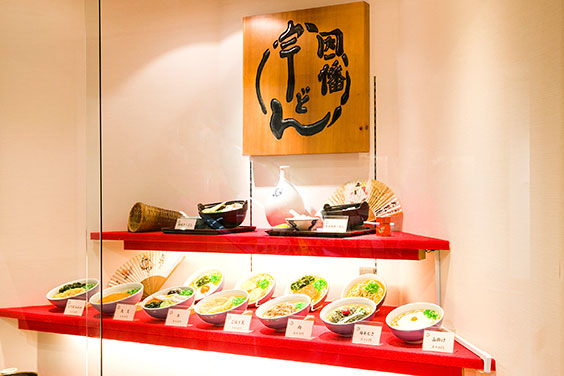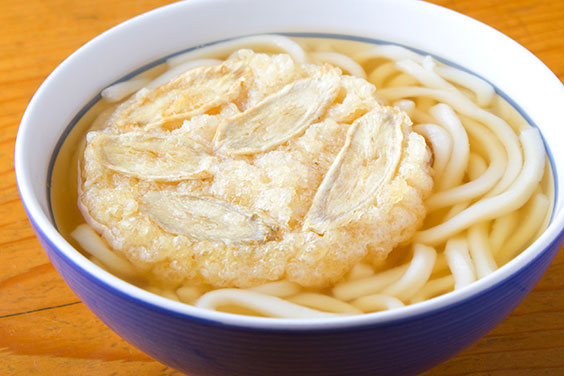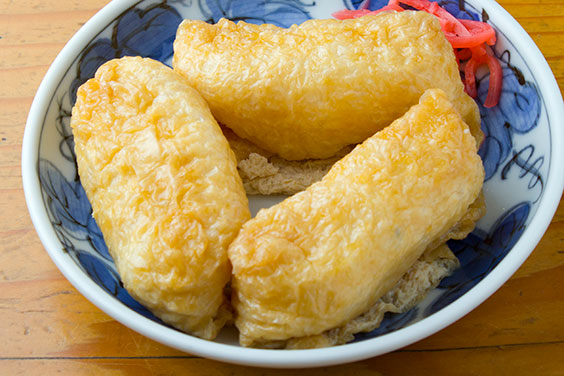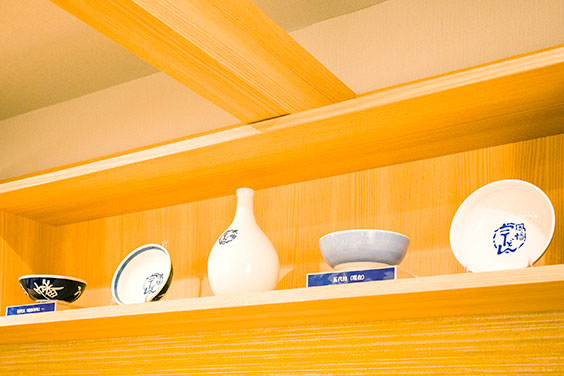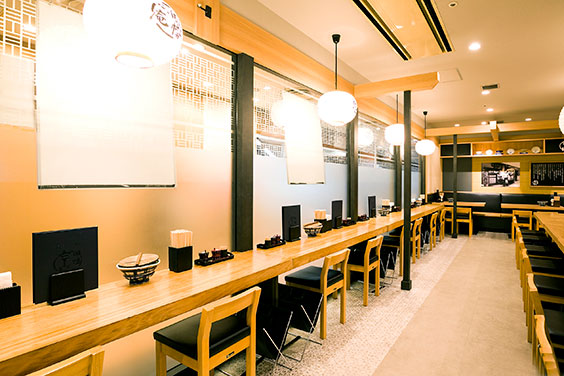 TEXT & PHOTO BY: Yuichiro Yamada
INFORMATIOIN
因幡うどん ソラリアステージ店 (Inaba Udon SOLARIA STAGE Branch)
Address: SOLARIA STAGE Restaurant Stage B2F, 2-11-3 Tenjin, Chuo-ku, Fukuoka-shi JAPAN * About one minute from Tenjin Station (Fukuoka City Subway Kuko Line) on foot
Official Website:
https://inabaudon.com/
*All information correct as of June 2019.
WRITER PROFILE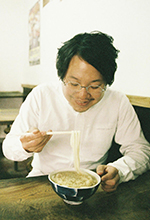 山田祐一郎 (Yuichiro Yamada)
Born in Fukuoka Prefecture 1978. Moved into the Fukuoka-based editing industry in 2003, and then began a career as a writer. Contributes articles for food and drink magazines, as well as informative Fukuoka publications. Established "KIJI" in August 2012. Became a noodle writer and started a web-based series called "Sono Ippai ga Tabetakute (lit. trans: I want to eat that bowl)" in the same year. Yamada uses the online resource to record the various kinds of noodles he samples on an almost daily basis. Published a book titled "Udon no Hanashi Fukuoka (lit.: Udon Noodle Talk Fukuoka)" that delves deeper into Fukuoka's udon culture and the local area's role as a pioneer of the food in July 2015. Also released "Noodle Writer Hizou no Ippai Fukuoka (lit.: Noodle Writer Treasured Bowl Fukuoka)" in March 2019. The book introduces the reader to a wide range of noodles (such as udon, ramen, and champon) and recommends some of the best places to find tasty dishes in Fukuoka city. Has developed the motto "One Day One Noodle a day." Now seeks out delicious noodle dishes both at home and abroad. His work has gained a considerable amount of attention from noodle fans.
■ Related sites
- KIJI:
http://ii-kiji.com/
- Web-based noodle magazine "Sono Ippai ga Tabetakute (lit. trans: I want to eat that bowl.)":
http://ii-kiji.com/sonoippai
- App version "KIJI NOODLE SEARCH": http://ii-kiji.com/app
External Links