Tsuruya Yame Honten (つるや 八女本店)
INFORMATION

In order to prevent the spread of COVID-19, some of the restaurants might have taken various measures such as reducing business hours or temporarily closing their doors. For more information, please check the relevant facility's official website or social media account.



A long-established udon place with 2 shops in Yame!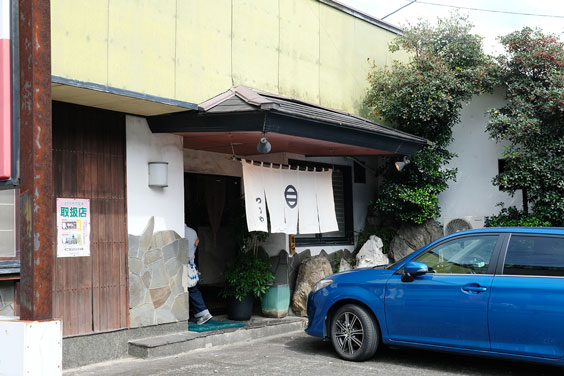 The long-established "Tsuruya Yame Honten" is a popular udon restaurant in Yame since its founding (1972). The main store is in Nishiyabara-machi, just 7 or 8 minutes drive from the Yame Interchange (Kyushu Expressway). While the other branch is located near the Yame City Hall.

Speaking of "Tsuruya", you have to try their most popular menu of all, the "Gobouten udon" (burdock tempura udon). You can hear the sizzling sound of the crispy "gobouten" when it is served to you! To my delight, it only costs 550yen. So why is it sizzling you'd ask? Well obviously, because it's freshly fried when they serve! When the "gobouten" is dipped into the udon broth, it makes an exciting sound. When you carefully widen your mouth to take a bite of this "gobouten", you'd notice the flavor of the burdock immediately fills your mouth! And the most satisfying part of all is when the flavorful oil from the "gobouten" is infused into the golden udon broth! Pure Perfection!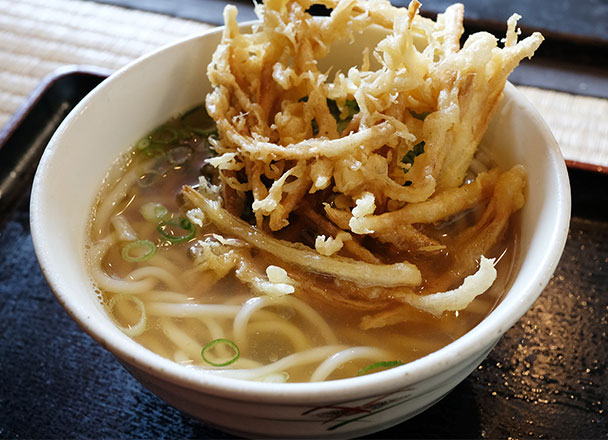 Personally, I prefer adding the "gobouten" as a topping to 590yen "Niku-udon" (meat udon). As for the udon, it is made using wheat flour from Chikugo area and compared to your typical udon, it is slightly thin. I would say that the thinness of the udon is what made the the udon visually appealing with a fine taste.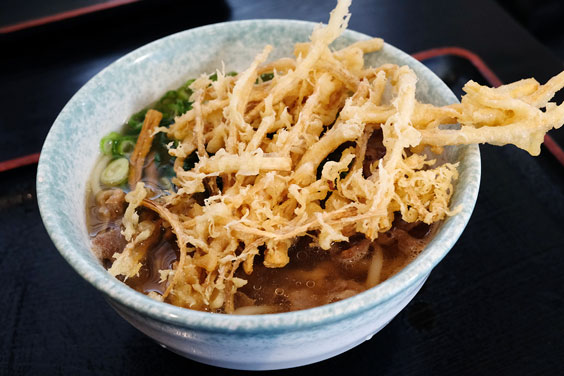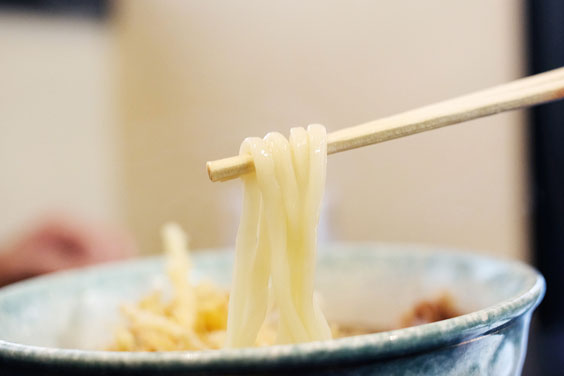 The udon set which comes with a "don" (rice bowls) such as "oyako-don"(chicken and egg rice bowl), "ten-don" (tempura rice bowl) and "katsu-don" (deep fried pork cutlet rice bowl) is very popular dish as well! In these sets, the main dish is the "don" but you will get a smaller bowl of the udon and a side dish, so they are well worth checking-out! And of course, you can also order the "don" as a la carte!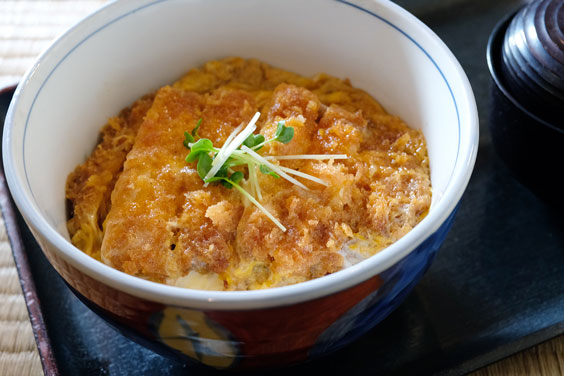 The restaurant provides counter seats, koagari seats (raised tatami-floored seating area), and table seats. Dining alone or with a group are both welcomed! The friendliness of the shop is maybe one of the reasons why Tsuruya have captured many people's heart!
TEXT & PHOTO BY: Yuichiro Yamada
INFORMATION


Tsuruya Yame Honten (つるや 八女本店)

- Address: 417-1 Nishiyabara-machi, Moto-machi, Yame-shi, Fukuoka-ken Japan
- TEl.: 0943-23-3379
- Capacity: 50
- Opening Hours: 11:00-15:30, 17:30-21:00
- Closed: Monday

* Please Note: Business hours and closing days may differ due to the COVID-19 outbreak.

* All information correct as of February 2022.
WRITER PROFILE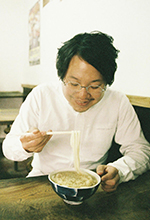 山田祐一郎 (Yuichiro Yamada)
Born in Fukuoka Prefecture 1978. Moved into the Fukuoka-based editing industry in 2003, and then began a career as a writer. Contributes articles for food and drink magazines, as well as informative Fukuoka publications. Established "KIJI" in August 2012. Became a noodle writer and started a web-based series called "Sono Ippai ga Tabetakute (lit. trans: I want to eat that bowl)" in the same year. Yamada uses the online resource to record the various kinds of noodles he samples on an almost daily basis. Published a book titled "Udon no Hanashi Fukuoka (lit.: Udon Noodle Talk Fukuoka)" that delves deeper into Fukuoka's udon culture and the local area's role as a pioneer of the food in July 2015. Also released "Noodle Writer Hizou no Ippai Fukuoka (lit.: Noodle Writer Treasured Bowl Fukuoka)" in March 2019. The book introduces the reader to a wide range of noodles (such as udon, ramen, and champon) and recommends some of the best places to find tasty dishes in Fukuoka city. Has developed the motto "One Day One Noodle a day." Now seeks out delicious noodle dishes both at home and abroad. His work has gained a considerable amount of attention from noodle fans. Currently, Yamada has taken over his father's noodle-making business and works on making noodles as a representative of the noodle factory "Yamada Seimen".
■ Related sites
- KIJI:
http://ii-kiji.com/
- Web-based noodle magazine "Sono Ippai ga Tabetakute (lit. trans: I want to eat that bowl.)":
http://ii-kiji.com/sonoippai
- App version "KIJI NOODLE SEARCH": http://ii-kiji.com/app