Interview Now - Flower -(3/3)

We want to follow their lead and really think about delivering performances that will expand our horizons to include the Asian region.
ab: Is there any food that you simply have to eat when you are in Fukuoka? What is your favorite food from around here?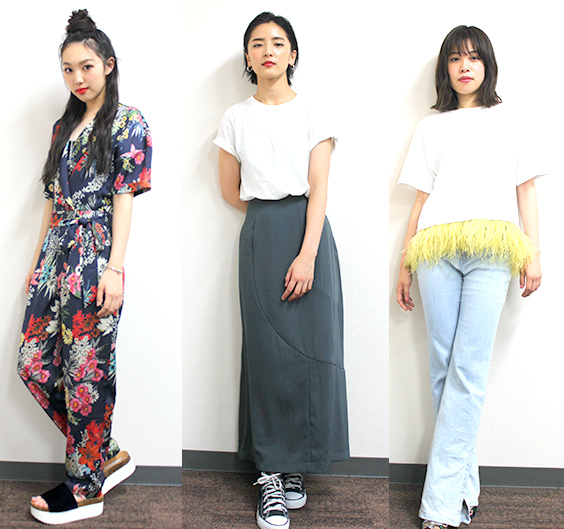 Everyone
: Mentaiko!
Fujii
: Yesterday we ate mizutaki (chicken hot pot).
ab: That sounds great. What about ramen?

Everyone
: We haven't had ramen yet!
Nakajima
: I once went to a food stall and tried fried tonkotsu ramen that was served without soup. It was so tasty! I had it in the evening with some staff when we were in Fukuoka doing some radio work. I tried it with a few drinks and thought it was so delicious! It was a completely different sensation from a standard bow of ramen. I think I may have even liked it more than normal ramen! If I have the time I would love to try it again!
ab: It is quite rare to find ramen served without soup. Is there anything that you're hoping to try during this visit?

Fujii
: I'm looking forward to eating mentaiko. I also want to buy some to take home as a souvenir.
Shigetome
: Sometime last year, or the year before that, we tried mentaiju (mentaiko wrapped in kombu and served on top of rice). I was almost shocked by how good it tasted! Everyone in the group loves mentaiko. We were all so happy when the staff told us that mentaiju is served with an entire piece of mentaiko.
ab: What do you usually eat mentaiko with? How do you eat it?

Shigetome
: I eat mentaiko with white rice! I wonder how many times we've had mentiako when we've been in Fukuoka! We are just crazy about mentaiko (lol)!
Nakajima
: I love it so much that! I always completely clear the plate!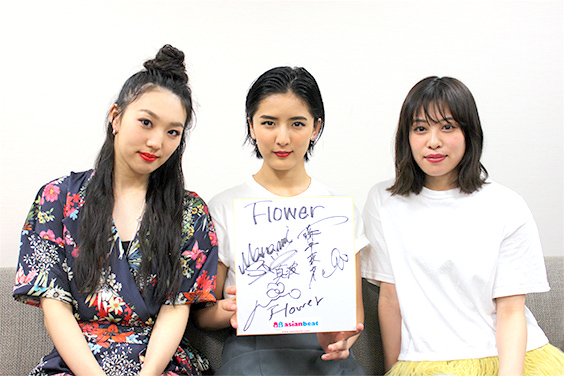 ab: What are your goals for the future? Is there anything you are feeling really enthusiastic about?

Shigetome
: From 5th June "E-girls" have been performing as part of a new organization called "E.G.family." Seeing something come to an end can be a little bit sad, but all the groups involved were positive in making the decision. I think it will be the first step in each of us realizing our dreams and shining even more brightly in our activities.
The newly created "E.G.family" will have 11 members, while "E-girls" had 19, so that will be different, but our activities as part of "Flower" will not change very much. We want to continue delivering even better songs and performances. We will do our best to come back to Fukuoka and put on a live show.
Our single "Taiyou no Aitouka" was released on 23rd August and includes a DVD of last year's tour finale. I hope you will be able to enjoy "Flower" and what we do in a new light after watching it,
ab: Finally, do you have a message or anything you would like to say to the asianbeat readers?

Shigetome
: The management company that we belong to "LDH JAPAN" has been running an overseas office "LDH Asia" since 2016. We want to follow their lead and really think about delivering performances that will expand our horizons to include the Asian region.
We have performed in Bangkok, but still haven't done live show in places like China. Bit by bit we will be doing our best to try to perform everywhere we can. We hope you will be waiting for us!
Prize Giveaway!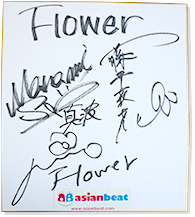 We have got special cards signed by Flower's Manami Shigetome, Shuuka Fujii, and Mio Nakajima to giveaway to three lucky asianbeat readers!
[Application Period]
Monday September 4th to Sunday October 22nd 2017
[Announcement of Winners]
Wednesday October 25th 2017
The application period is now over. Thank you!
The lucky winners are...るったま san张宇彤 san田伊楠 san
(Please note, winners will receive an email directly from asianbeat. If you don not reply with a confirmation message within a week, you application will become invalid and you will not be able to claim your prize.)
Flower
A six-piece dance and vocal group who have expanded the scope of their activities to include modeling for fashion magazines and appearing in television commercials. Released their second album "花時計" (Hanadokei), which went straight in at a career high number two on the Oricon weekly charts. This came one year and two months after their smash hit first album "Flower," which sold more than 150,000 copies. Embarked on their first nationwide tour from June to July 2015. Known as the "Flower LIVE TOUR 2015 "Hanadokei," the set of concerts were a huge success and saw around 20,000 people attend nine shows held across five cities.
The release of their first greatest hits album on 14th September 2016, secured them their first number one record on the Oricon album weekly chart. It proved to be their best-selling release and continues to sell well. In October of the same year they set out on the long awaited tour "Flower Theater 2016 - This is Flower -." Bigger in scale than their first tour, this time round they sold-out 22 venues throughout the country and performed to over 60,000 fans, a figure that includes live viewings.
Released their 13th single "Monochrome / Colorful" on January 11 2017, which went straight in at number two on the Oricon charts. "MOON JELLYFISH" came out in April, followed by "Taiyou no Aitouka" (lit.: Elegy of the Sun) in August. 2017 is expected to be a real break out year for Flower.
* Related links
Official Website:
http://www.flower-ldh.jp/
Official Twitter:
@Flower__LDH
Official YouTube:
Flower Official YouTube Channel
External Links