Interview Now - Flower -(1/3)

In June earlier this year, the six-piece dance and vocal group "Flower" performed live overseas for the first time in Bangkok, Thailand, and their success is sure to take them abroad to more locations around the world in the near future! On 23rd August they released their 15th single "Taiyou no Aitouka" (lit.: Elegy of the Sun). We caught up with three of the band's members Manami Shigetome, Shuuka Fujii, and Mio Nakajima to speak about their experiences overseas and what they get up to on their days off. They also shared a few beauty and fashion tips with us, so be sure to keep reading! We also have some autographed cards to give away! Apply now to be in with a shot of winning!
It's a song that you can listen to when you're dealing with loneliness and suffering fills your heart!
asianbeat (hereafter referred to as ab): Your single "Taiyou no Aitouka" came out on August 23rd. Can you tell us a little bit about the track and what kind of emotion went into making it?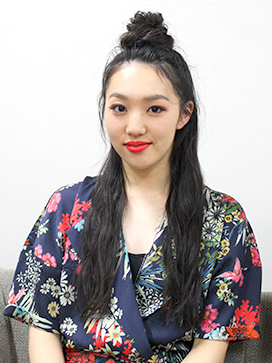 Manami Shigetome (group leader)
(重留真波)
Manami Shigetome (hereafter referred to as Shigetome)
: It is not that different to one of our ballads. But until recently most of the ballads we do perform focus on love itself, whereas this song is about more than just the kind of pain and heartache that you experience through loving another person.
It's a song that you can listen to when you're dealing with loneliness and suffering fills your heart. Given what it is about, I think it is a track that will appeal to both men and women.
Unlike some of our other songs, this is not a gentle, relaxing track. I think the musical composition has quite a grand sound. Hearing Reina Washio's powerful voice is one of the highlights of the track. I think it is a song that can really touch people's hearts, so I really hope they will listen and connect to the lyrics.
ab: "Taiyou no Aitouka" was used on the closing credits for the TV anime "Shokoku no Altair (Altair: A Record of Battles)." Do you have any favorite anime you like to watch?
Mio Nakajima (hereafter referred to as Nakajima)
: I haven't watched much anime recently. But when I was a kid I used to love the characters in "Sailor Moon."
Maybe our generation has been getting back into "Sailor Moon." It recently celebrated its 25th anniversary and it seems to be in fashion right now. There's a lots of cute goods and merchandise going around at the moment.
ab: In June you performed abroad for the first time at the outdoor music festival "VIRAL FEST ASIA 2017" in Bangkok, Thailand. How did it go?

Shuuka Fujii (hereafter referred to as Fujii)
: One of our previous tracks "Nettaigyo no Namida" (lit.: Tears of a Tropical Fish) won an award in Asia. So we had heard that people overseas have been listening to Flower's tracks for the last couple of years. It was a real honor and privilege to be able to perform in Thailand.
ab: Was it the same as performing live in Japan?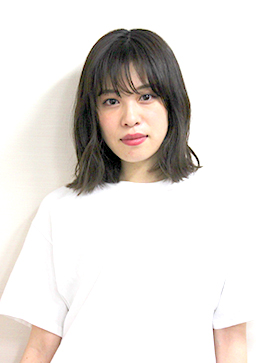 Mio Nakajima
(中島美央)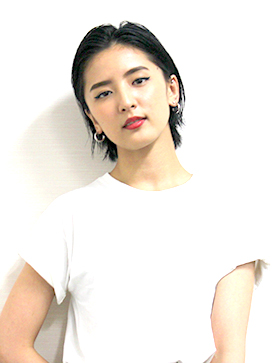 Shuuka Fujii
(藤井萩花)
Fujii
: Well, for example, when we perform tracks like "Shirayukihime (白雪姫)" or "Monochrome" during a live show in Japan, a lot of the audience will listen quietly and really try to immerse themselves in the songs, but in Thailand the crowds got really excited and cheered all the way through. It was quite surprising to see that kind of passionate response even for our ballads, but it was such a warm and welcoming reaction, it totally blew away any anxiety I had about performing live overseas for the first time. I was so happy.
And it rained during our performance. Maybe we brought the weather with us and our presence had something to do with it! Wind and rain suddenly started gushing out of nowhere. That was our first overseas live performance!
ab: Was it exciting to perform in the rain?

Fujii
: Yeah, it really was! It definitely charged us up! I think we have a lot of emotional, heartrending songs, so it almost felt like the rain was part of the performance.
ab: Did you do any sightseeing while you were there?

Fujii
: We arrived in Bangkok at around 5am, then went out to change money and buy some souvenirs from around 7am. It was still pretty early in the morning and there were lots of stands selling all kinds of food. I picked up some flowers and gave some of our stickers to the boy at the stall.
Shigetome
The people in Thailand were so kind. I was also touched by the friendly nature of that boy on the flower stall. And the food was so delicious, particularly the pad thai.
ab: Pad thai is a stir fried noodle dish, right?

Fujii
: Yes, we all ate it, and it was so tasty! I like hot weather, so Thailand was just great for me! It was so much fun just walking around the streets!
ab: Is there anywhere else overseas you want to go in order to perform?

Fujii
: I really want to go to Shanghai, China.
Nakajima
: I want to go to Taipei!
ab: Aren't you studying Chinese at the moment?

Shigetome
: Yes, we are studying it right now. But it's pretty difficult! The same word can have lot of different meanings depending on how you pronounce it. We are struggling with it, but trying our best.
ab: Have you had the chance to speak much Chinese?

Fujii
: All the members in the group are studying, we talk amongst ourselves while we are backstage or in the dressing room, and try to review what we have learnt, but we haven't had the chance to actually try speaking in China. We went to Shanghai before, but when I actually witnessed the way that local people speak, I thought about how long it would take me to get to that kind of level. Everyone was talking so fast. Then there is stuff like the differences in culture and the general atmosphere to consider. So I thought we should go back to Shanghai when we are ready (lol)! I really want to visit again!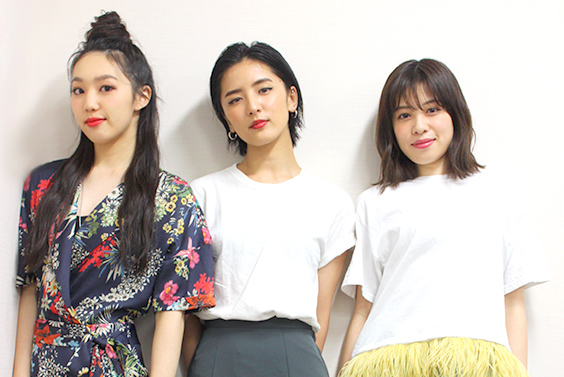 ab: What was it that first got you interested in studying Chinese?

Nakajima
: Originally three of us were studying Chinese at high school. We finished the classes in school, but since we had already started and had made the decision to perform live in other parts of Asia, we decided to keep on studying.
ab: Using a language really gives you the motivation to keep studying it, don't you think?

Shigetome
: Yes, I definitely agree. People in China speak quickly, but it seems normal. When talking in class, the teacher speaks slowly so that it is easy to understand what they are saying. But if you really think that is how people speak, you might not understand a word of what is going on when you get over there. I think I need to study more and get more familiar with it. But since it is a culture and language that uses kanji, the meaning and pronunciation of some words are kind of familiar, which can make some things easier to remember.
ab: It is definitely easier when the languages share some points in common. Good luck with the studies!

Shigetome
: Thanks so much! We will do our best!
ab: What kind of response have you had from abroad?

Fujii
: We get a lot of comments on Twitter and Instagram from people overseas. At some of the events for the album release there were people who had come all the way from Thailand and Taiwan.
This promotional tour has taken us to various locations and at a public radio recording we saw fan(s) from Taiwan, so we were very excited! I get the impression that there are people in China who listen to a lot of Japanese music and ballads, I think they would like our songs. I want to try to approach and talk to people from overseas more in the future.