Interview Now - 九州女子翼 (Kyushu Girls Wing) -(2/2)

I was so happy to see them expand their circle of friends!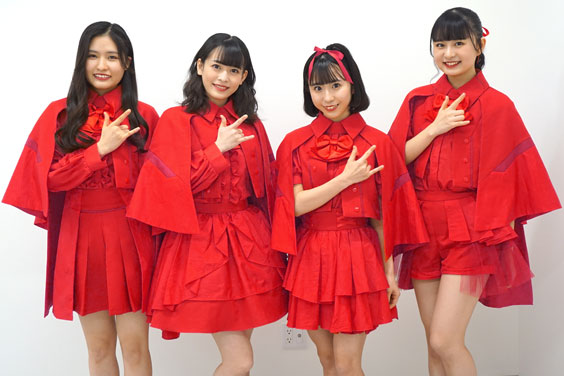 (From left) SHIERI, MIKU. YAMAMOTO AIRI, SUZUKAWA LUNA
ab: Kyushu Girls Wing performed in Thailand and Taiwan in 2019. Are there any experiences that made an impression on you? Do you have any stories from that trip?
AIRI
: I was a bit worried as it was the first time I'd performed at an event in Thailand. It was a lovely surprise to see the audience support us and sing along in Japanese! I was very excited that Japanese fans also went to the events in Taiwan and Thailand. The fans from Japan developed friendships with the local people. I was so happy to see them expand their circle of friends. It was so amazing!
MIKU
: Some people came to see us off at the airport! We were given a banner with supportive messages written on it. I still cherish that to this day.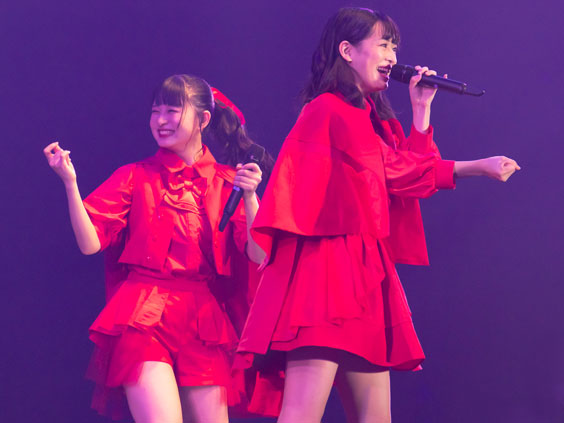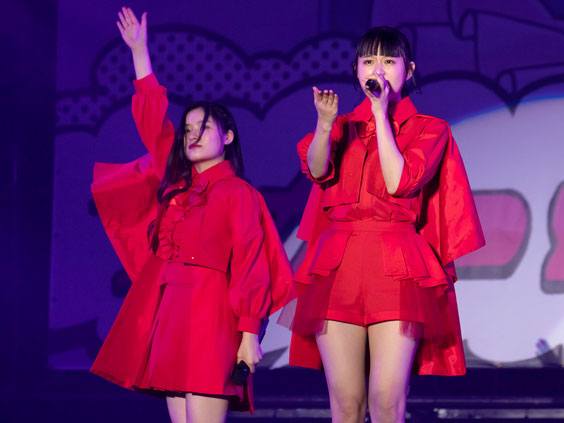 ab: You are all based and active in Fukuoka and Kyushu. Are there any Fukuoka-related things that you are interested in? Can you tell us if there is any Fukuoka thing that you are totally addicted to right now?
LUNA
: Definitely Dazaifu Tenmangu! It's really fun to grab a bite to eat as you walk up the approach to the main shrine. If you follow the path a bit further you'll find
Homangu Kamado Jinja
, a famous shrine that is dedicated to the god of marriage. I was scouted by Kyushu Girls Wing about six months after visiting that shrine! I am so grateful to Kamado Jinja for answering my prayers! It was a miracle!
AIRI
: I've been addicted to tapioca drinks since I was in high school. I still love them now! Recently, I've been going go to
Một trăm
in front of Hakata Station a lot!
MIKU
: I found out about "Menchanko" in Fukuoka! It is a combination of noodles and chanko nabe (a type of hot pot dish traditionally served to sumo wrestlers). I didn't realize that Fukuoka has such delicious food! I would recommend adding some mochi (sticky rice cake) to the dish! When I think about Fukuoka specialties, "Menchanko" immediately comes to mind!
SHIERI
: I'm from Nagasaki, but I love the Hakata dialect. Oh… A phrase that I love is "Suitoyo (I like, I like you)!"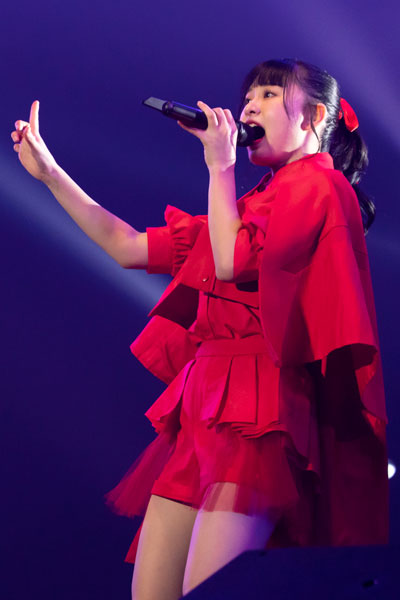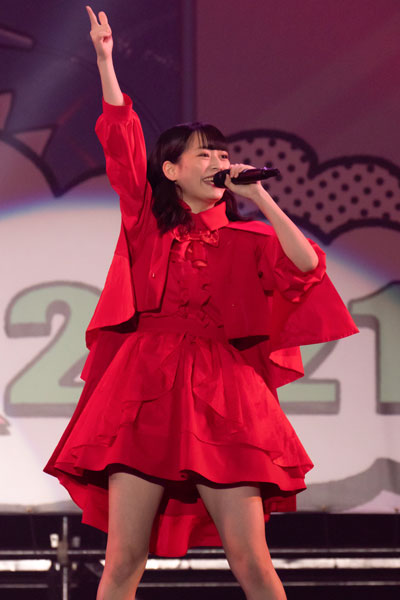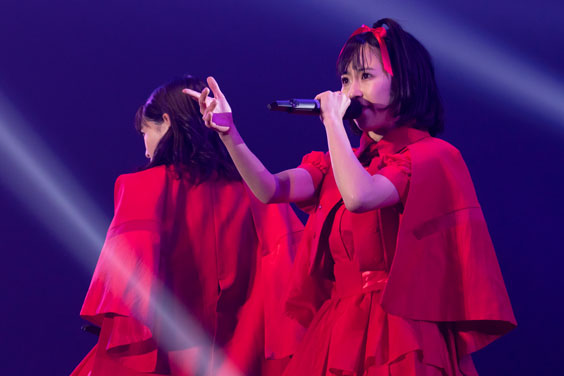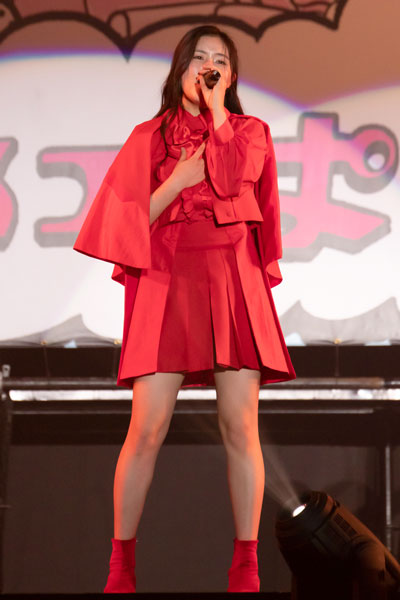 ab: What is your latest obsession? What are you into at the moment?
AIRI
: I've been eating
sumotsu
(offal seasoned with vinegar) since I was in high school! But right now, I'm hooked on candy apples and strawberries. I even make them at home.
SHIERI
: I'm into
mozuku
(brown algae) and vegetable juice! I get a bit anxious if I don't have it. If I'm going somewhere far away, I make sure to have some on standby.
MIKU
: I was given the opportunity to appear in a movie called "
Watashi, Idol Yamemasu
(I'm Leaving the Idol Industry)," which will be coming out in February 2022. I want lots of people to watch this drama, so I am using this month to increase my social media output. I'm doing my best to send out posts!
LUNA
: I like to do some strength training while watching my favorite anime! I find it hard to just to work out and do nothing else. I exercise almost every day to improve my strength while watching anime like "SK∞" and "RE-MAIN!" My goal is to be fit so that I can give good performances.
ab: Thank you all so much! Do you have a final message for your fans in Japan and abroad?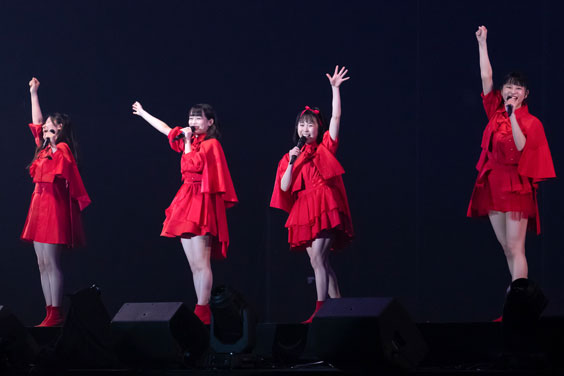 After the performance was over, they smiled and said "We're so glad to be able to perform live at home in Fukuoka! It was so much fun!"
SHIERI
: We are a group who have a lot of confidence in our live performances. I hope that each and every one of you will get the chance to learn more about us at our live shows. It's been such difficult time due to the coronavirus but I hope we can come together through music. It would be wonderful if Kyushu Girls Wing's live performances can help bring people together while we try to navigate the road ahead.
PRESENT!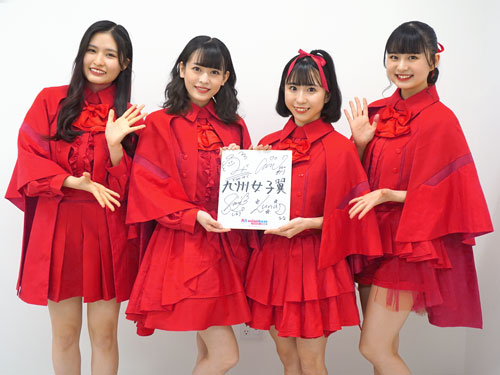 The members of "Kyushu Girls Wing" signed two cards, which we will be giving away to a couple of lucky asianbeat readers! If you are interested in applying, please click the button below and enter all your relevant information. We are looking forward to hearing from you! (*Entrants can not choose which card to apply for.)
[Application Period]
Friday 21 January 2022 - Sunday 27th February 2022 (JST)
[Winner to be announced on]
Wednesday 2nd March 2022 (JST)
The lucky winners are ...知床キッズ san
ちぇほ san
(Please note, winners will receive an email directly from asianbeat. If you don not reply with a confirmation message within a week, you application will become invalid and you will not be able to claim your prize.)
Related Articles