Special asianbeat prize established! The 2nd Kitakyushu International Manga Competition award ceremony and commemorative event!(1/13)

Bigger in scale than the first contest! Outstanding works were selected out of 1,060 entrants!
An award ceremony was held for the "2nd Kitakyushu International Manga Competition" at the Rihga Royal Hotel Kokura on 21st January 2018! A special commemorative event also took place on the day!
The second time that the contest was held saw the establishment of the "asianbeat FUKUOKA, JAPAN Award" as part of the general category. A new junior division was also set-up. An impressive 1,060 works were entered from Japan and overseas, which represented a significant increase compared to the first year the award was held. Both the awards and event proved a big success! Read our report to find-out more about what happened on the day!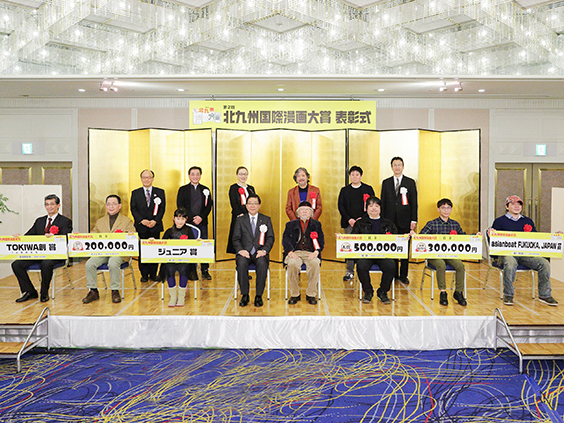 A commemorative photo shoot with Mayor Kitahashi (center left), Leiji Matsumoto (center right), judges, and award winners
The 2nd Kitakyushu International Manga Competition - Results
* 1,060 applications (Breakdown by country / region)
[General Division]
- Applications received from 22 countries / regions
- Japan: 577 works
- Overseas: 419 works

[Junior Division]
- Japan: 50 works
- Overseas: 14 works

* Judges
Chief Judge: Leiji Matsumoto (Manga artist / Honorary Director of the Kitakyushu Manga Museum)
Tochi Ueyama (Manga artist)
Mutsumi Hagiiwa (Manga artist)
Yuma Komatsu (Editorial Department at Kodansha's Weekly Morning)

* Awards
[General Division]
- Grand Prize (Grand Prix)
- Overseas Participant Award (Selected from submissions from abroad.)
- Manga Museum Award
- asianbeat Fukuoka, Japan Award (Newly Established)
- TOKIWA Creator Award: Providing work support under a project to integrate creators in Kitakyushu.
- Judge's Honorable Mention (4 works)

[Junior Division (Newly Established)]
Junior Award
Related Articles
External Links