[Feature] Fukuoka Manhole Guide: Interview with an expert, "Usuge no hige noppo"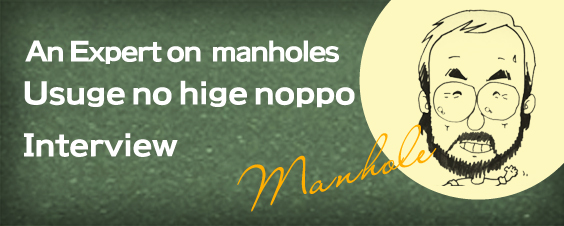 It wouldn't be a special feature article without input from an expert in Japan's manhole scene, so we sought the help of "Usuge no hige noppo" (lit: balding bearded bean-pole), a supporting member of the website "Nippon Manhole-futa Gakkai" (Japan Manhole Cover Association), to enlighten us on the characteristics and charm of Fukuoka manholes, as well as his passion behind this unique hobby.
――When did you first encounter manholes?
One day I was in Yatsushiro city in Kumamoto prefecture visiting the Toyo Sekishokan Musuem, which is dedicated to the region's "ishibashi" (stone bridges), when suddenly it started to rain, so I put up my umbrella and as I was walking along I noticed a manhole cover with "ishibashi" depicted on top and I found it's beauty captivating. That was my first encounter with manholes.
――What got you hooked on manholes?
If you look at the manholes around where you live or in neighboring areas, you begin to see that the designs on manhole covers differ in each region, and when you look into the meaning behind those designs you discover that each cover depicts a story, and before I knew it I was hooked.
――What's unique about the manholes in Fukuoka?
There is no particular difference in design that sets them apart from manhole covers in other regions across Japan, but the covers in Koga city seem to be the only ones in the country to depict an actual sewage plant. (
古賀市のマンホールはコチラ
)
――What's your must-see manhole in Fukuoka?
I recommend the "sake barrel and demon face" colored manhole cover found in Jojima in Kurume city. That combination of locally produced sake and wastewater is rather unique. (
久留米市のマンホールはコチラ
)
――Which manhole sticks in memory for you?
On the manhole covers in Okawa city in Fukuoka prefecture, the number of people who were in charge of sewerage at the time of constructing the city's drainage system is displayed by the number of "Etsu" fish, which are local fish of the nearby Chikugo river. The backstory to these manholes is just so interesting; it makes it hard to forget.(
大川市のマンホールはコチラ
)
――How many different manholes are there around the country?
I don't have an exact figure, but of the design covers alone there are around 3400. That's roughly double the number of municipalities in Japan, which is currently at 1744. This doesn't account for standard pattern manhole covers, though; the number of which is unknown.
――For all the potential manhole fans out there, how does one enjoy manholes?
They may be slip and abrasion-resistant and only 60cm in diameter, but a single glance at the design of these manhole covers can reveal that particular locality or region's specialties (famous spots, historic spots, local products and specialties, customs, history, scenery, etc.), so it's a very simple way of learning about the area and it enhances the feeling of having really travelled that region. It's fun to then go and actually see the places depicted on the covers, too. If you have a look at the Japan Manhole Cover Association website, you will find that the covers have not only been categorized by their respective municipalities, they're divided by their designs as well, so you can look up covers depicting the same subject matter and compare them.
――Are there any manhole-related events throughout the year?
On "Sewerage Day," held on September 10th each year, individual regions all over Japan hold their own
manhole cover design exhibits, design competitions, and various other events, and there is also a "Sewerage Works Exhibition" held at the end of July each year. Check online for more details.
――Do you have a final word for the readers?
Sewerage works is an infrastructure for maintaining a "sanitary lifestyle" and dates back 4000 years to ancient India. It's a business that people try to avert their eyes from, so I admire the thinking and intellect of our predecessors who thought to create designs on manhole covers to bring attention back to this industry. It's also an example of "wonderful Japanese culture" that has no parallel anywhere else in the world. You can also find designs on fire hydrants and waterworks equipment, so it's quite a profound subject matter indeed. I hope you all lift the lid and take a peek into this fascinating world for yourselves.
Usuge no hige noppo (lit: balding bearded bean-pole) – Profile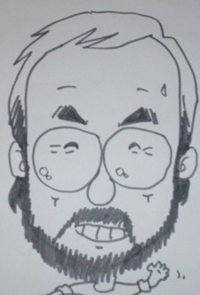 Born in Fukuoka in September 1950, with a tall and lanky 184cm frame and build of 83kg.
After celebrating my 60th birthday in 2011 and retiring from the company I worked at for some 40 years, I decided to go on a 3-month driving tour of Japan, clocking up 20,000km.
I was a smoker since an early age, but in January 2012, after a particularly unpleasant-tasting morning cigarette, I decided to kick the habit cold turkey.
I also come from a family of resilient drinkers, but I have no intention of giving that up anytime soon.
With plenty of free time on my hands every day is Sunday and I hope my fascination in all manner of things never lulls. I will do anything so long as it's fun and go anywhere so long as there is laughter.
I'm also an avid reader, last year finishing three versions of the "Kojiki" (Records of Ancient Matters) and plotting out the genealogy of more than 250 gods, myths and related shrines on one large panel(
http://tabitoroman.blog.bbiq.jp/blog/KJ1.html
)。
I have many hobbies such as traveling, sports (lately mainly golf and mini-volleyball twice a week), and lure fishing, and I also like computers. I've compiled my photos of manhole covers in Fukuoka prefecture and made them into a video on Youtube (http://tabitoroman.blog.bbiq.jp/blog/FKK.html). Photographing manhole covers is my latest obsession.
Japan Manhole Society (日本マンホール蓋学会)
http://sky.geocities.jp/usagigasi1f/