GUNDAM PARK FUKUOKA | GUNDAM SIDE-F

A truly immersive experience! It feels like you have entered a colony in space!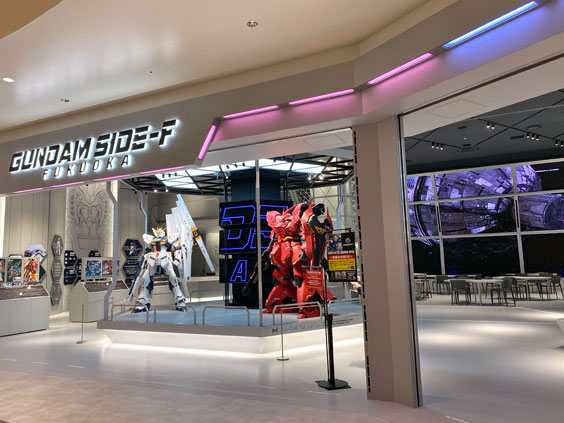 Interested in GUNDAM news and merchandise? Have you heard of "GUNDAM SIDE-F"? It's the name of an area inside the recently opened "GUNDAM PARK FUKUOKA" facility, which is one of the many attractions at the exciting new LaLaport FUKUOKA commercial complex. Two impressive statues inspired by the "Mobile Suit Gundam: Char's Counterattack" movie are located at the entrance to this section of the facility. Visitors are welcomed by one-twelfth size statues of Amuro riding νGUNDAM and Char on SAZABI. The models have been placed in this location to achieve maximum impact! There is also a large-scale "Space Monitor" amidst this futuristic decor. Making your way through this area feels like you are exploring a "Space Colony!! The powerful, striking images that appear on the screen definitely make you feel like you have stepped into world of GUNDAM.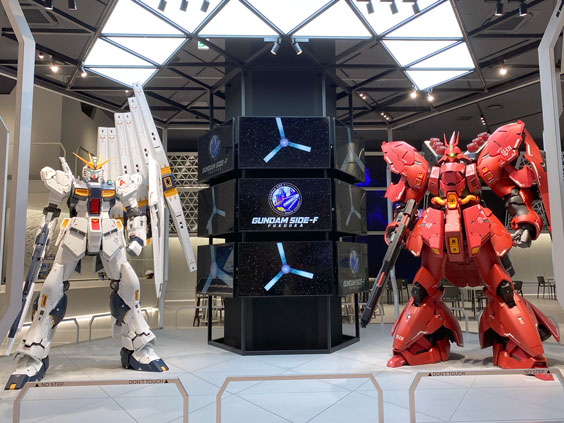 These models were created according to data collected for the "RG (real grade)" Gunpla (plastic model kits) series. The commitment to accuracy is truly remarkable!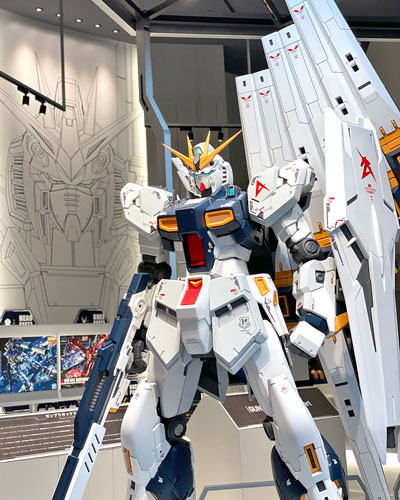 So much detail goes into the production of these models. Everything from the armor around the waist right through to the internal structures of the machines has been carefully thought through. A key issue at the heart of the development process is if the mechanisms would actually facilitate movement. Make sure to take a closer look if you get a chance!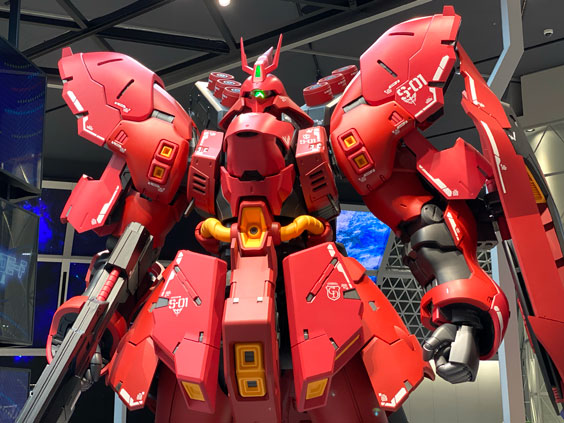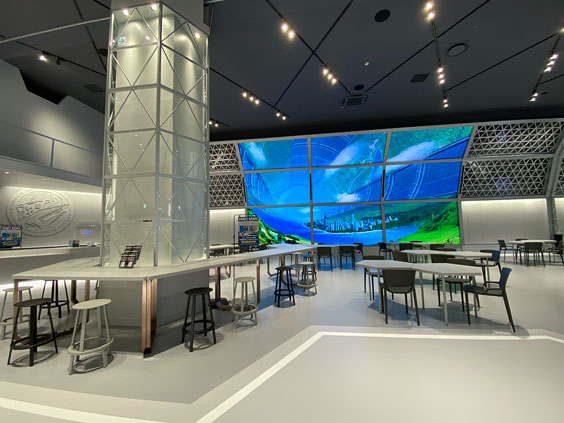 Tables have been set up in the "Craft Space." Visitors can make use of this area to assemble Gunpla from the "GUNDAM Series."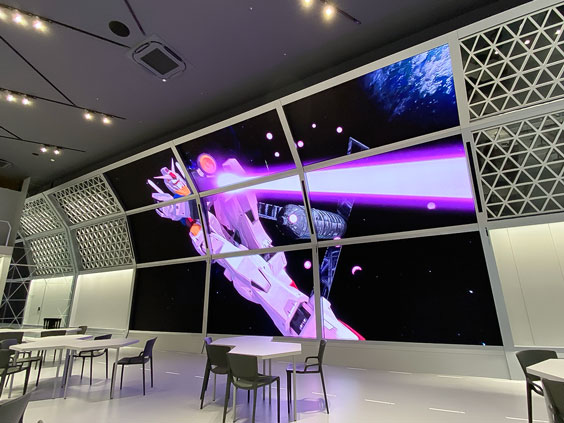 All kinds of eye-catching mobile suits appear on the Space Monitor. There are lots of interesting visuals to enjoy!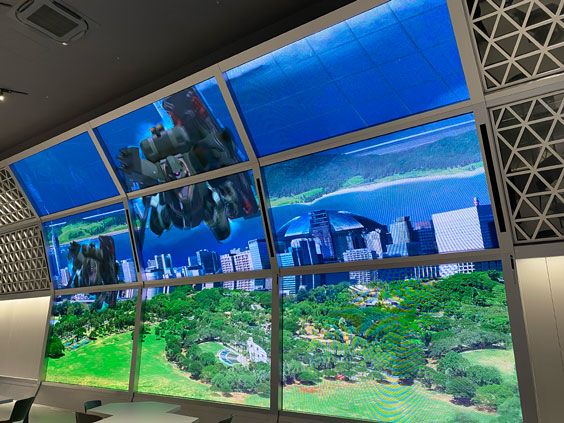 Does this cityscape looks familiar? That's right... it's Fukuoka!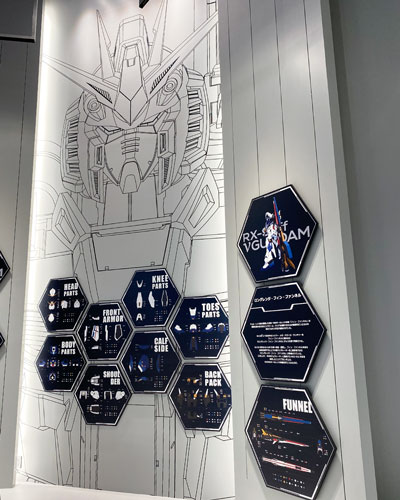 Information about the parts used to construct the full-scale "RX-93ff νGUNDAM" statue can be found on the wall!
Completed "RX-93ff νGUNDAM" figurines produced by brands such as "THE ROBOT SPIRITS" and "CHOGOKIN" are available in the shop area. You will not be able to find some of these limited edition items anywhere else, so be sure to check out all the merchandise in stock. There are also Gunpla versions of the same figurines if you would rather build the models yourself! There is so much to discover!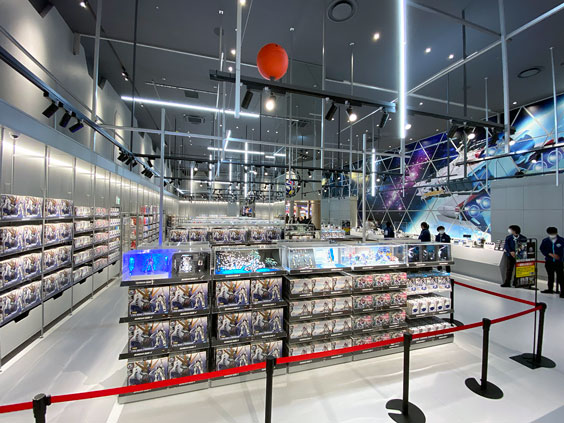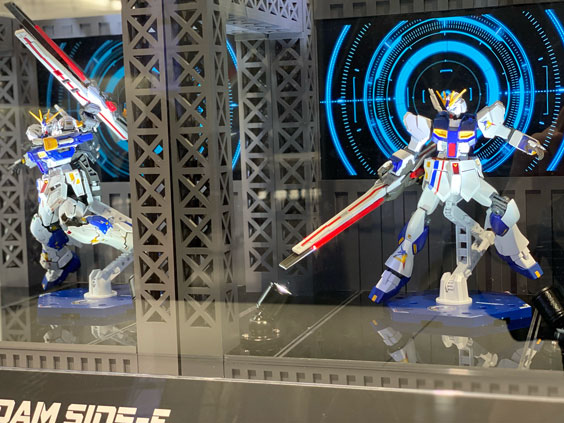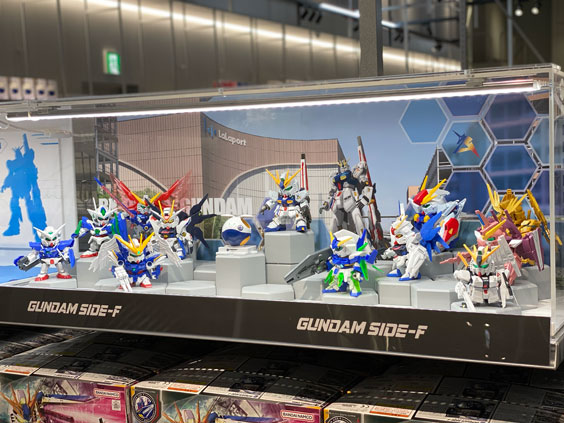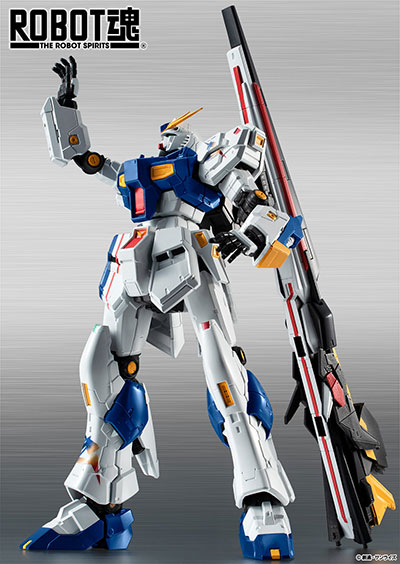 THE ROBOT SPIRITS <SIDE MS> RX-93ff νGUNDAM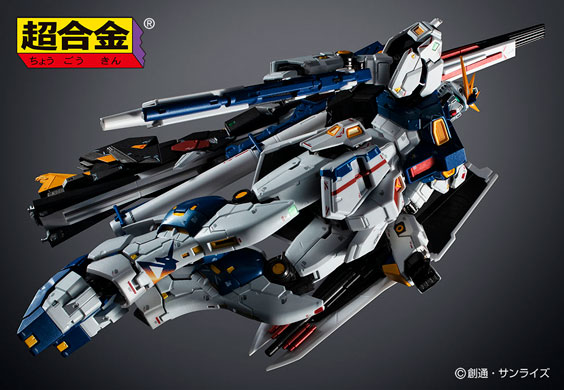 CHOGOKIN RX-93ff νGUNDAM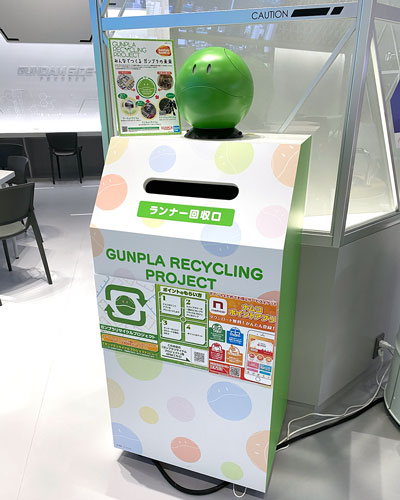 The facility is also operating a "GUNPLA RECYCLING PROJECT." This clever initiative collects used plastic frames from Gunpla kits and then puts them to good use!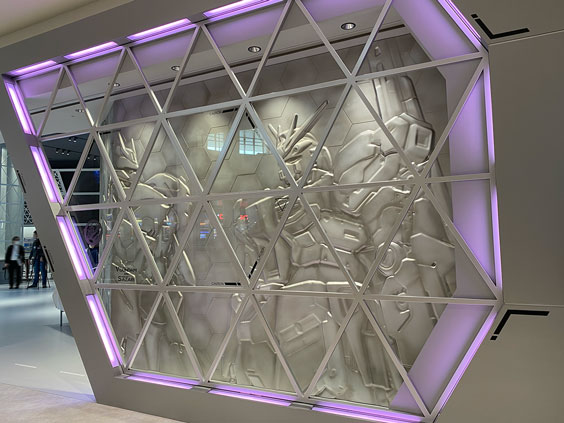 Don't miss this brilliant wall relief near the entrance!
GUNDAM PARK FUKUOKA・GUNDAM SIDE-F is HERE!
INFORMATION
GUNDAM PARK FUKUOKA
- Location: Inside the Mitsui Shopping Park LaLaport Fukuoka 4F (In the vicinity of 6-23-1, Naka, Hakata-ku, Fukuoka-shi, Japan)
- "GUNDAM PARK FUKUOKA" Official Website:
https://www.gundampark.net/
- "GUNDAM SIDE-F" Official Website:
https://www.gundam-side-f.net/
- "GUNDAM SIDE-F" Twitter:
@gundamside_f
---
Mitsui Shopping Park LaLaport FUKUOKA
- Address: In the vicinity of 6-23-1, Naka, Hakata-ku, Fukuoka-shi, Japan
- Official Website:
https://mitsui-shopping-park.com.e.act.hp.transer.com/lalaport/fukuoka/
* All information correct as of April 2022. The information for this article was gathered during a media preview that took place prior to facility's opening. There are occasions when the layout of the store differs from the current.
Related Articles




- Hot spots around this area! -