Fukuoka Otaku Map-ver. 痛 (Two) - Sample RIKI(1/15)

Experience Japanese Plastic Food Sample Art in Fukuoka!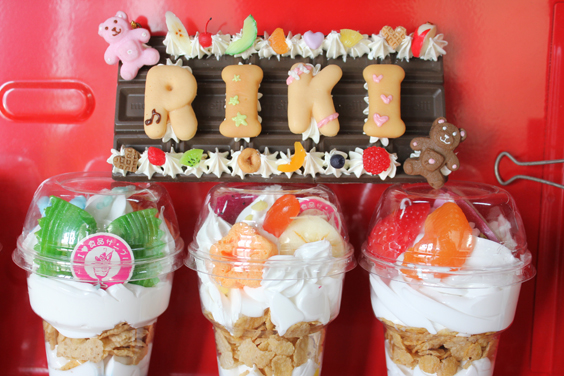 Plastic food samples that look so tasty you might mistake them for the real thing! The technology for creating "shokuhin sample," which is also known as plastic food samples, started in Japan and is now a popular artistic pursuit throughout the world. Indeed, it's no exaggeration to say that these days it's truly a part of Japanese pop culture, like manga and anime! And you can experience how these items are made firsthand with "Sample RIKI," in Minami-ku, Fukuoka. Established in the 1950s, they were one of the first plastic food sample producing companies in Kyushu. Honing their craft over many years, all of their handmade products are still created one-by-one.
Right now Sample RIKI is holding a classroom-style workshop where you can experience the skill and technique that goes into their production process! Customers can create their own original plastic parfait and also decorate their creations with sweets, which both children and adults alike are sure to find totally absorbing! And there's also the chance to experience the traditional manufacturing method, which uses wax.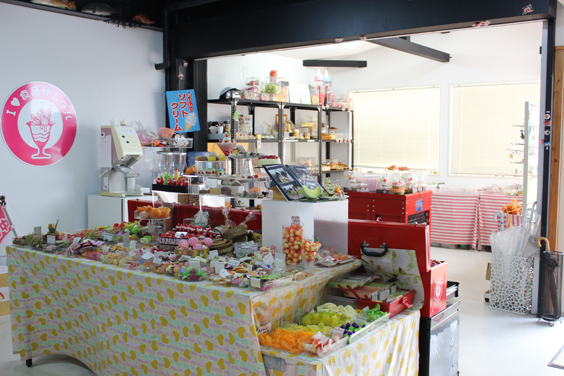 "Sample RIKI" is something of a plastic food theme park and is just a 5-miunte walk from "Furuno" Bus Stop on the Nishitetsu Bus line. And it should be said that a place where you can enjoy a plastic food sample experience is pretty hard to find in Fukuoka!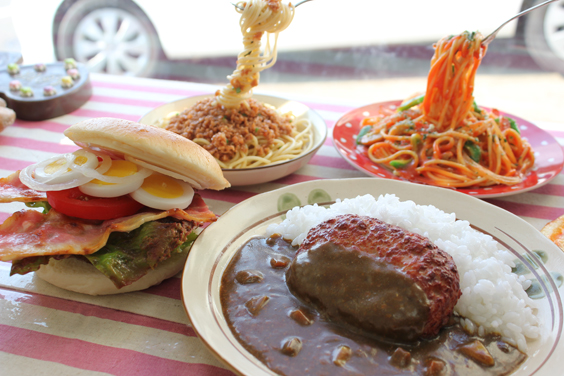 As soon as you enter the store all you can see is a row of plastic food sample! And they all look so real it's easy to mistake them for actual food! The history of plastic sample food stretches back nearly 100 years and used to be known as a "wax work." Now, resin is primarily used, but the products are still made, colored and arranged by the hands of skilled craftspeople.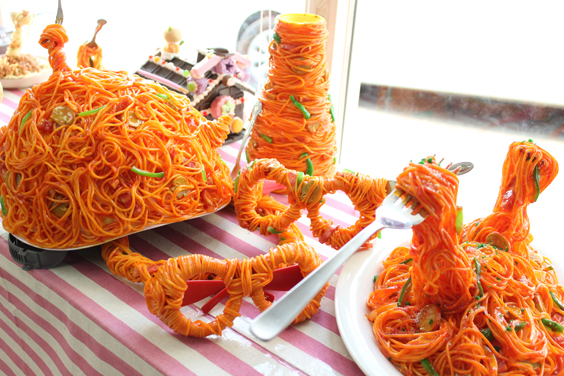 There are some really fun, playful and imaginative pieces inside! Feel free to try on the helmet and glasses made from plastic Napolitan pasta. It's a great place to take photos!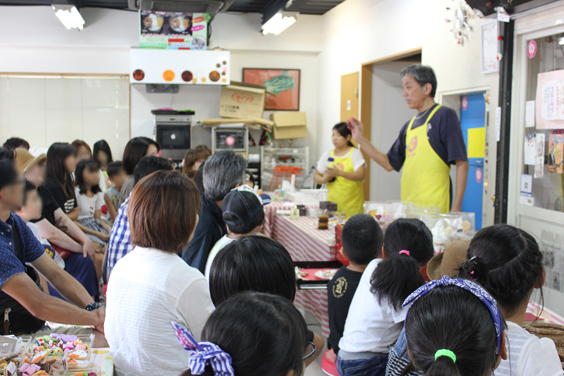 The plastic food sample workshop is usually held around Saturdays, Sundays and national holidays. There are 3 options to choose from, customers can either experience making a parfait, "sweets decoration (use the sweets to decorate their own creations)", or learn about the traditional wax-based production process (in which customers are shown how to make 3 types of tempura and a lettuce).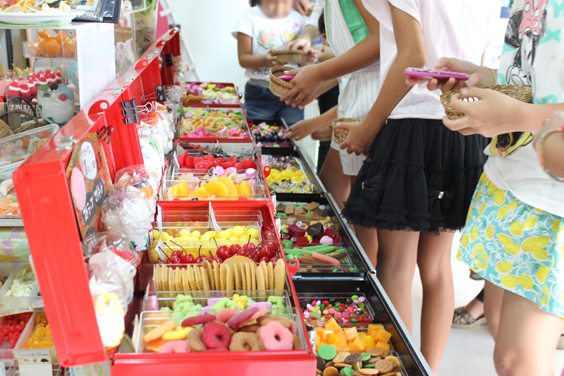 First of all you'll learn about the history of plastic food samples and then about the manufacturing methods. Try your hand at making a parfait or using sweets as decorations, and use all the plastic fruit and candy you feel fit to create your topping!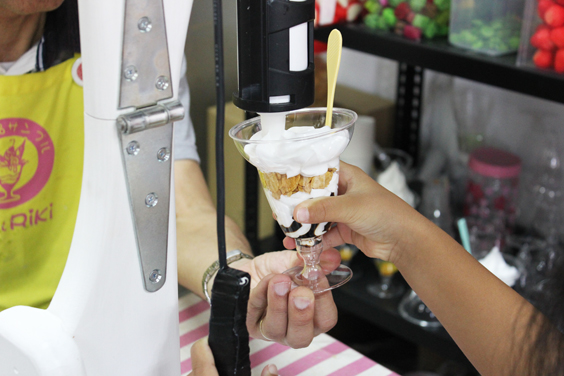 After selecting all the bits and pieces that take your fancy, then comes the challenge of putting the parfait together. Start off by building up the layers; soft cream goes on top of the resin, which usually followed by cornflakes. It's important to get to grips with how the cream shots out of the machine, but even for people trying their hand at it for the first time, there's nothing to worry about as there is staff to lend a helping hand.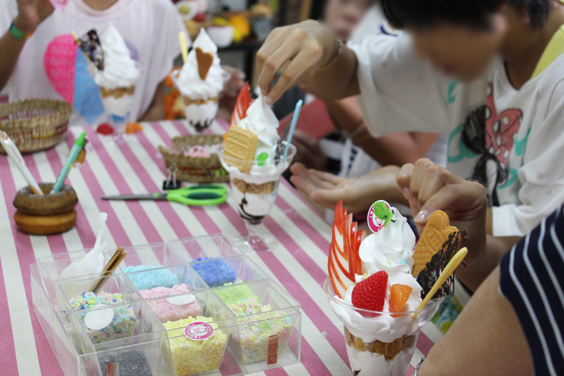 While the parfait cream is setting you can choose what toppings you want to use. And as long as there are decorations in the middle, near the front of your parfait, it seems that the final product will look lovely even if you don't use that many toppings!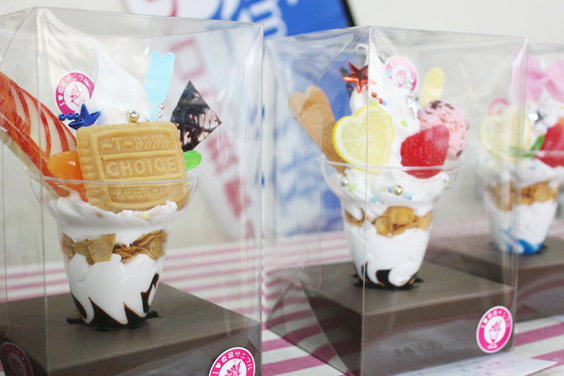 And once its dry you'll have your completed piece! The finished products wouldn't look out of place beside real dishes, don't you think? Recently "Sample RIKI" has been welcoming more and more customers from overseas! A charming concept that Japan can take great pride in developing, why not experience making plastic sample food yourself in Fukuoka!
Sample RIKI is HERE!
Sample RIKI
- Products: Shokuhin sample (food samples)
- Address: 4-20-30 Kashiwara, Minami-ku, Fukuoka-shi, Fukuoka-ken
- Website:
http://www.5670018.com/
*All information correct as of December 2016