Kawaii finger food! Why not try making some decorative sushi rolls!

They are so much fun to make! And it is not too difficult once you get to grips with the basics of rolling sushi!
We recently participated in a workshop called "Making decorative sushi-rolls using shinmai (rice harvested this year) - Halloween style sushi-rolls!" The event was held at Fukuoka Yokamon Hiroba (11F Fukuoka Prefectural Offices)! "飾り巻き寿司" (lit.: decorative sushi-rolls) are a type of cute Japanese snack that usually incorporate motifs of flowers and animals in their presentation. I'm kind of a clumsy person, so I was not sure if I would be able to make them. But all the basics were carefully explained by an expert in decorative sushi-rolls called Kururu Makiko! They were not too difficult to make once I got the hang of it! Halloween is just round the corner, so during the lesson we made sushi-rolls that resembled Jack-o'-lanterns! Keep reading to find-out how to do it!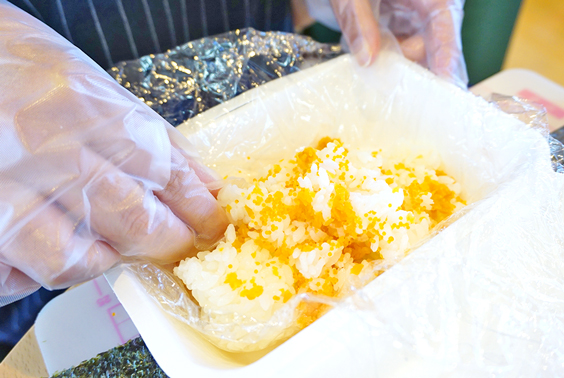 Mix together sumeshi (rice and sushi vinegar), tobiko (flying fish roe) (or white sesame), with finely chopped miso flavored pickles to create an orange color. Make sure everything is mixed thoroughly!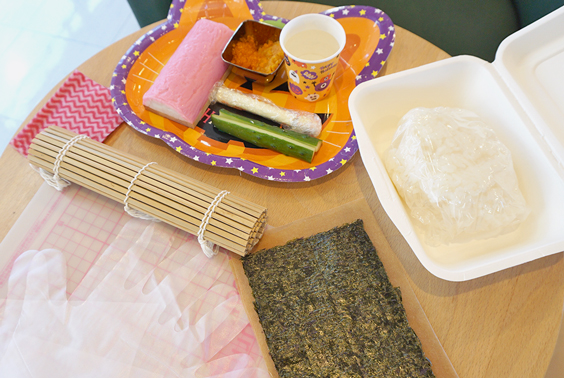 Cut some cucumbers into triangular shapes for the eyes. The nose is made using a cylinder cheese stick and kamaboko (processed mashed fish) is used to create the mouth. Each roll should be about 10cm long.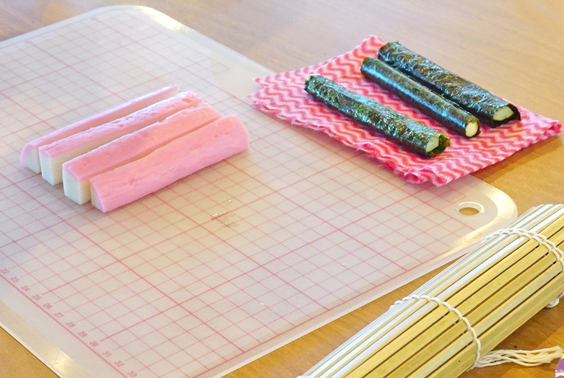 Wrapping nori (dried seaweed) around each ingredient helps ensure that each feature clearly stands out when you slice the roll. Place these rolls on a wet cloth to make sure that the nori does not come off.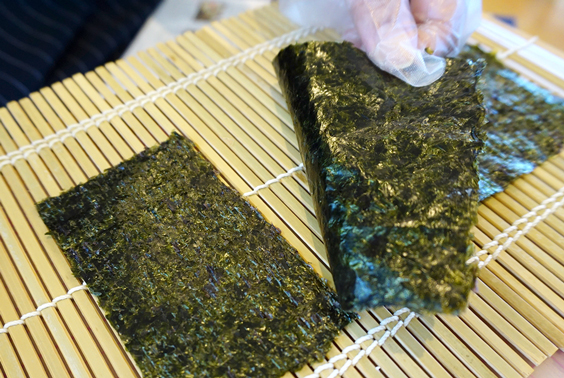 The shiny side is the "top" of the nori. Make sure the shiny side is facing the table, then assemble the rest of the ingredients on top.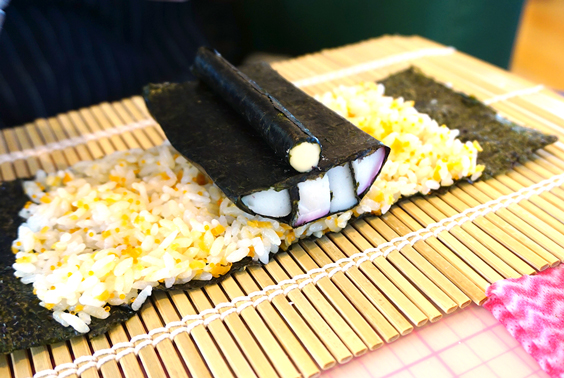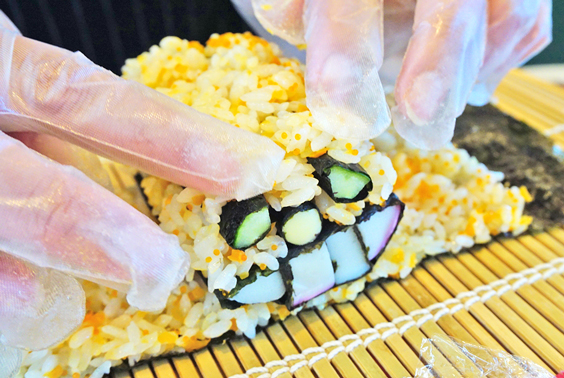 Spread a generous helping of the sumeshi evenly over the nori. Try not to leave a gap between the component parts!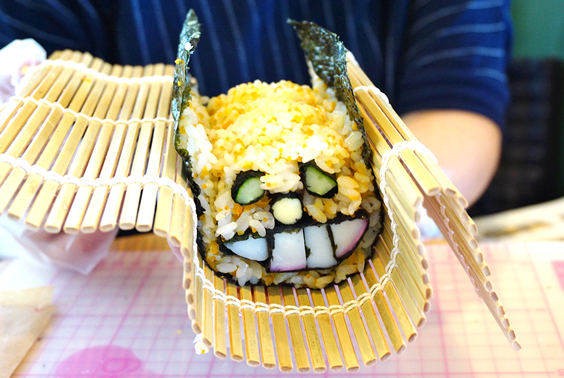 Now it's time to roll! Be sure to check the shape and pattern of all the ingredients before you use the "makisu" (bamboo mat) to roll everything up.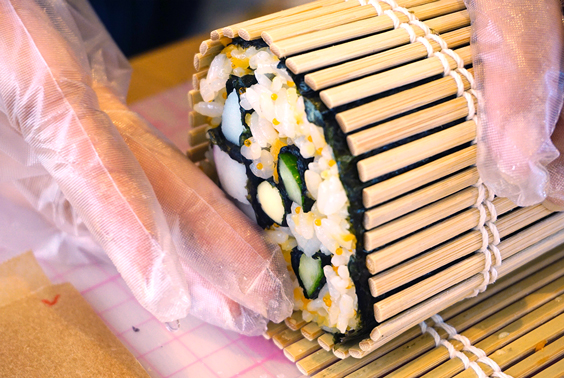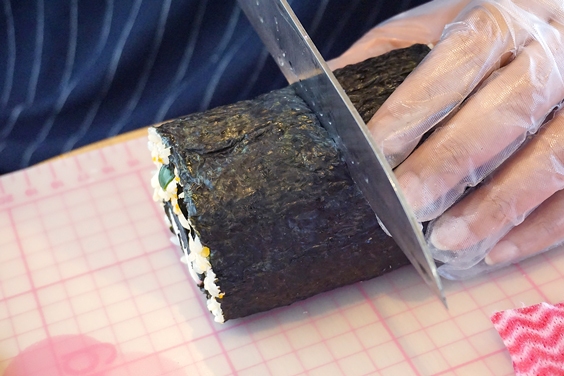 Cutting the rolls is probably the most difficult part of the entire process! Will they be a success? This is when you find-out how it's gone! Wipe the knife with a cloth soaked in vinegar and leave it a little bit wet before you slice the roll into sections. You will need to cut each piece two to three times to make sure you get a clean, beautiful segment!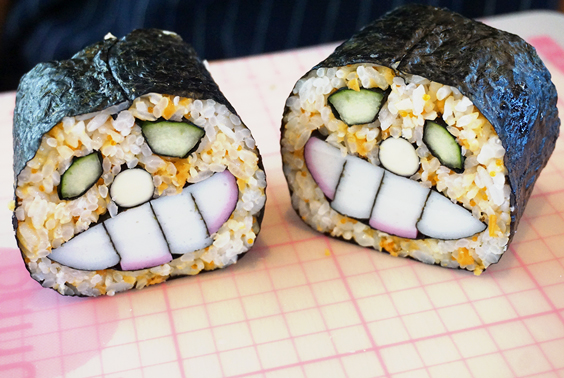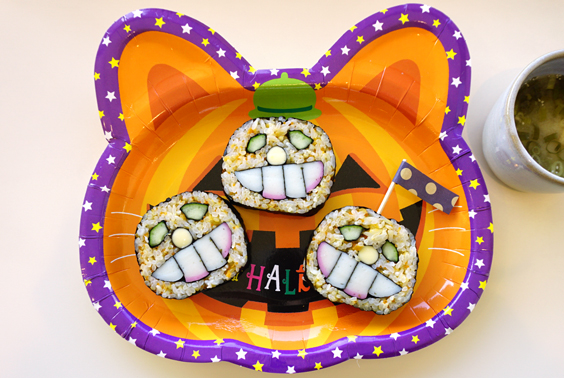 These cute sushi-rolls are sure to get a lot of attention at a Halloween party! Kururu Makiko gave us a useful tip to share with everyone. She said, "if you have trouble finding nori overseas, you can use vegetable sheets instead." They are so much fun to make! Just imagine the happiness these kinds of snacks will bring to your friends and loved ones during Halloween or other special occasions! Why not give them a try?
*Don't forget to add the hashtag #くるるまきこ or #KururuMakiko if you post a photo of any decorative sushi rolls made using the recipe and tips discussed in this article!
PROFILE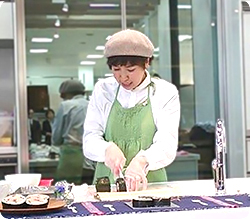 くるるまきこ (Kururu Makiko)
Kazari Makizushi (sushi-rolls) master instructor who shares information about rice (a staple of Japanese food) be focusing on "decorative sushi-rolls." Holds seminars / lessons at various facilities, including cafes and company offices.
- Instagram:
@kururu_makiko
福岡よかもんひろば (Fukuoka Yokamon Hiroba)
"Fukuoka Yokamon Hiroba" shares information about prefectural products and tourist attractions. The facility also holds reasonably priced workshops and classes. Please check the official website to find-out the date, time, and details of their upcoming events.
- Fukuoka Yokamon Hiroba:
https://yokamon-hiroba.jp/foreigners/
- Facebook:
@fukuokayokamon
Artikel Terkait
PRESENTS
All the info. on asianbeat's present campaign!