November 9th is "ramugi" (ラー麦: ramen wheat) day! To celebrate, we sampled "Menbijin," noodles that are made with 100% "ramugi"!

Perfect to prepare for yourself or even to purchase as a souvenir!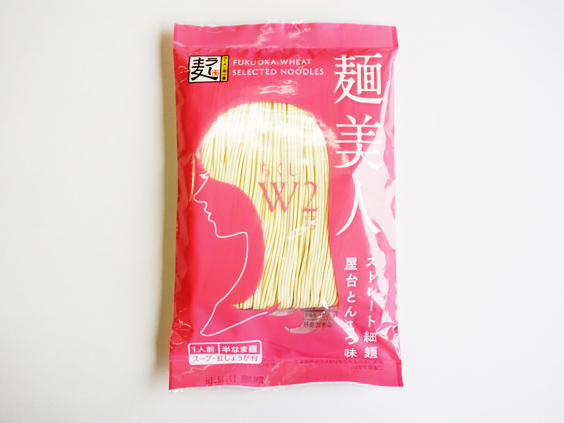 Have you ever heard of "Ramugi?" It is the first type of wheat in Japan that has been specifically grown to make ramen. Fukuoka started cultivating the wheat locally in order to further boost the image of ramen in the area and meet the huge regional demand for the dish. Fukuoka Prefecture has gone on to become the second biggest producer of "ramugi" in the entire country. Noodles that are made from this type of wheat have been praised for their bright color and chewy texture. November 9th is recognized as "ramugi" day, as it was on that date in 2009 that the wheat first went on sale.
A new brand of semi-dry thin, straight noodles called "麺美人 (Menbijin)" was released this September! One special feature of "Menbijin" is that the noodles are made from 100% "ramugi!" We brought a pack to sample how they taste. We prepared the noodles and pretty much ate them straight away!
"Menbijin" is a product that was developed by the JA Zenno Fukuren Koshitsu Mugi Kenkyukai ("JA全農ふくれん硬質麦研究会"| lit.: JAPAN AGRICULTURAL Co-operatives Fukuren Hard Wheat Research Group), which is made up of wheat manufacturers from across Fukuoka Prefecture, and the Kyushu Maruichi Food Co.,Ltd., a company that has its head offices located in Fukuoka City. The design features the profile of a women and the package has a see through section, which makes the "ramugi" noodles actually look like her hair. This new look package will surely catch people's eye!
Let's take a look at what's inside! Each pack comes with a serving of noodles, a soup sachet, and red pickled ginger.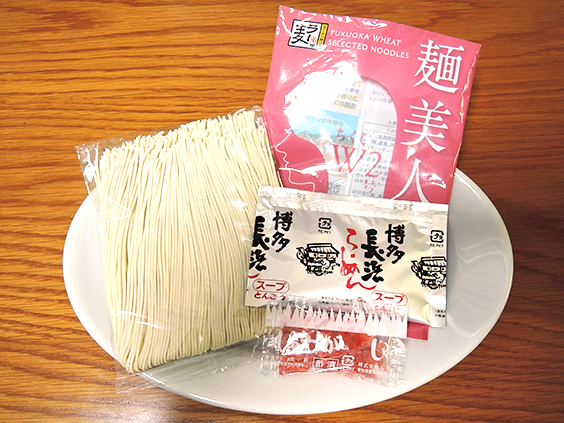 Let's get cooking! Interested in trying "Menbijin" ramen yourself? Fortunately the preparation is pretty straightforward and the instructions are on the back of the packet! Here's what's written:

1. Empty the content of special soup sachet into a bowl then pour in boiling water (approximately 250 ml).
2. Boil the noodles for about 2 minutes in a separate pot of water (approximately 1 liter). Drain thoroughly and then transfer the noodles into the bowl of soup.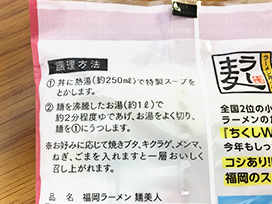 *If there are any extra toppings that you particularly enjoy (such as char siu, wood ear mushrooms, bamboo shoots, spring onions, or sesame), be sure to add them to the dish.

That covers the main information you might need to know!
There are basically only two steps to remember! You will have your bowl of ramen prepared and ready to eat in practically no time! If you like your noodles a little bit harder or more al dente (kata men), a common trend in ramen stores around Fukuoka, just boil them for one minute instead of two! That is what I did!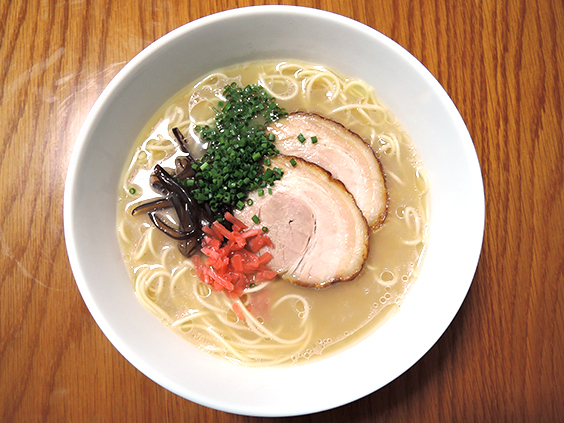 What about the taste? The tonkotsu (pork bone) soup is not too strong, which is just what you want from Nagahama ramen. You will definitely want a second helping of the thin, straight "ramugi" noodles! The taste of the dish is so delicious; there is every chance that you go back for a second bowl! "Menbijin" can be purchased in Hakata Station, Fukuoka Airport, and various highway service stations throughout the prefecture, so make sure to pick-up a packet! (Editorial Dept.: kurocco)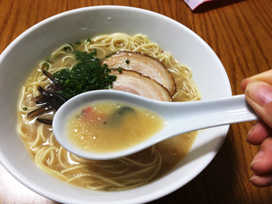 Check-out the authentic cloudy white tonkotsu (pork bone) soup!
The thin chewy noodles have an almost smooth quality! You will have slurped them all up before you even know it!
[Chance to win "Menbijin"!] Take Part in Our Reader Survey and Win a Really Great Prize!
If you have a spare few minutes, please help us out by taking a quick reader survey, which will help us improve our site! Thanks for your time!

SEVEN participants of our survey will be selected at random to win a really great prize!

Application period: Friday, October 20th 2017 to Sunday, December 3rd, 2017 (Japan Standard Time)
Winner announced: Friday, December 8th, 2017

The application period is now over. Thank you! Please wait for a while until the prize winners to be announced.

(Please note, winners will receive an email directly from asianbeat. If you don not reply with a confirmation message within a week, you application will become invalid and you will not be able to claim your prize.)
Related Articles

External Links