Hakata Macaron "iki"

Macarons with beautiful Hatataori patterns!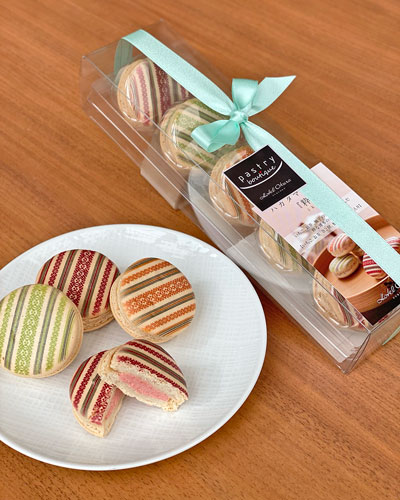 Not only delicious but almost too beautiful to eat! This time we will introduce these stylish Hakata Macaron "iki" (5 pieces/box, must be refrigerated). You can purchase them at the pastry boutique on the first floor of Hotel Okura FUKUOKA in Fukuoka City. These sweets are truly fashionable featuring Fukuoka's traditional Hakataori fabric patterns.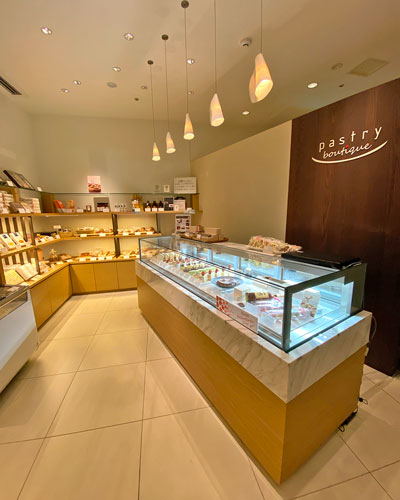 ▲ The store offers a wide variety of high quality sweets, bread, gift items made by the hotel.
There are three different flavors which match the colors of the fabric patterns on offer: 1. Strawberry: These sweets are made with puree of Fukuoka's brand of strawberries, the Amaou strawberry. It has a perfect balance of sweet/sour berries and rich milky cream. 2. Ocha / Tea: Using fragrant cream containing Yame tea paste gives this sweet a slightly bitter taste, which goes perfectly with the gently sweet crunchy meringue, and 3. Yuzu macaron with a delicious tangy Yuzu paste (Yuzu is a kind of citrus fruits familiar to people in Kyushu where Yuzu-kosho (Yuzu pepper) is often used as a condiment for dishes).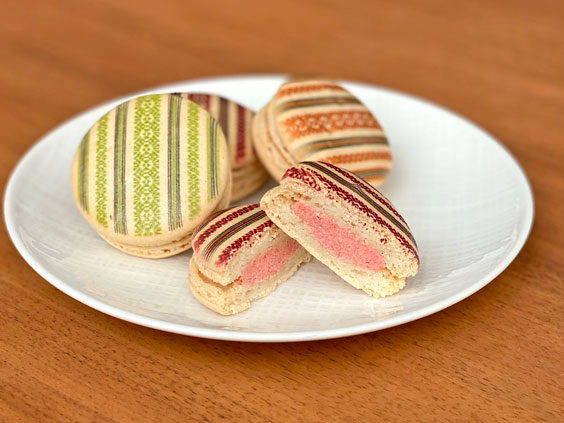 Perfect for souvenirs, special occasions, gifts for hosts or even to reward yourself from time to time: Stylish macarons that are luxurious in taste and looks. Enjoy wonderful moments of bliss while consuming these unique little gems from Fukuoka!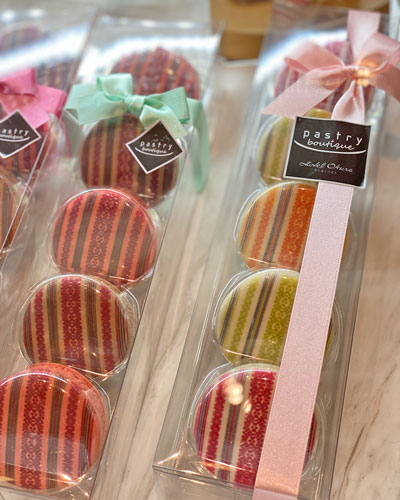 ▲ They also offer a special flavor (on the left hand side of the photo) just for Valentine season: Ruby chocolate mixed with Gianduja chocolate (*sold in limited quantity until February 14th)!
INFORMATION
Hotel Okura FUKUOKA "pastry boutique"
- Address: 1F Hotel Okura FUKUOKA (3-2 Shimokawabata-machi, Hakata-ku, Fukuoka-shi Japan)
- Hotel Okura FUKUOKA Official Website (shop info):
https://www.fuk.hotelokura.co.jp/restaurant/guide/pastry/
* All information correct as of February 2023. Store layout and products may differ from current one.
- Related topics: delicious Fukuoka confectionary!
Related Articles