Mendo Hanamokoshi / 麺道はなもこし
INFORMATION

In order to prevent the spread of COVID-19, some of the restaurants might have taken various measures such as reducing business hours or temporarily closing their doors. For more information, please check the relevant facility's official website or social media account.



You have to go there yourself to understand the enthusiastic fan reviews of this treasured store!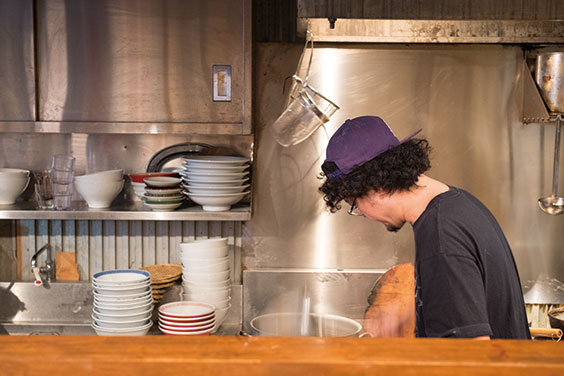 Have you ever tried opening a Tori Paitan (white chicken soup) ramen store in Fukuoka, the mecca of tonkotsu ramen (pork bone broth ramen)? Well, Mendo Hanamokoshi did it and became instantly popular. It is no exaggeration to say that this store has opened up a totally new ramen scene in Fukuoka. The restaurant is a short 3 minute walk from Yakuin-odori station (Fukuoka City Subway Nanakuma Line). There are only 6 counter seats available and the owner does everything by himself, from preparation to noodle making, cooking and serving, so you will inevitably have to wait in line for a while, but it's worth a long wait to get your delicious ramen!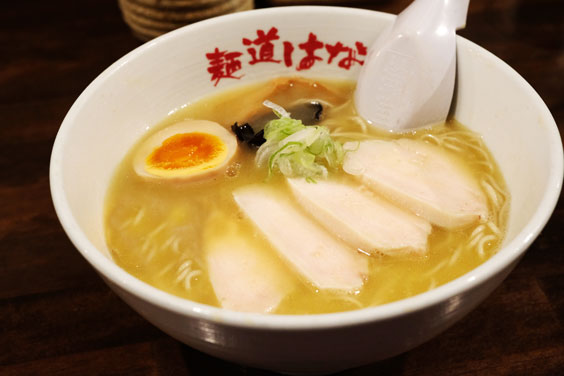 Nōkō Tori Soba (Rich flavoured chicken soba)
I have come here regularly since it opened and the menu has changed constantly. The main signature dish is the Nōkō Tori Soba (Rich flavoured chicken soba) with its staple amazing white chicken broth. Currently, a "Chuka Soba" is also on offer, where the soup has a totally different taste to the "rich flavoured chicken soba". This is a delicious soup made of three kinds of notes giving the soup a different thickness and richness. Or you could try the Tori Soba American (Chicken Soba Americano) which is a lighter version of the "rich flavoured chicken soba" to suit any Ramen fan, depending on what mood you are in and what you feel like on the day. I must admit, it is always difficult for me to choose one! They are all extraordinary.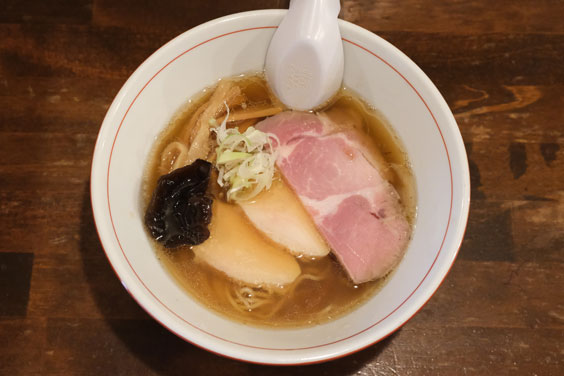 Chuka Soba (Chinese style Soba)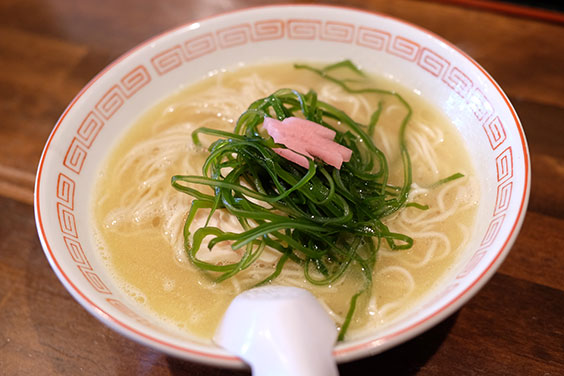 Tori Soba American (Chicken Soba Americano)
The Kaedama in this store are also unique, not an ordinary one. There are two or three more styles on offer. One is called "Akai-tama" (red-ball) which is served with homemade chilli oil and can be eaten even on its own. The other one is called "Tsukimi-tama" (Moon-ball) which is served with egg yolk and a special dashi-stock soy sauce, also can be eaten on its own like Kamatama Udon. They are both a must-try! The Hanamokoshi restaurant has many enthusiastic fans and when you go there and taste their dishes you will surely know why!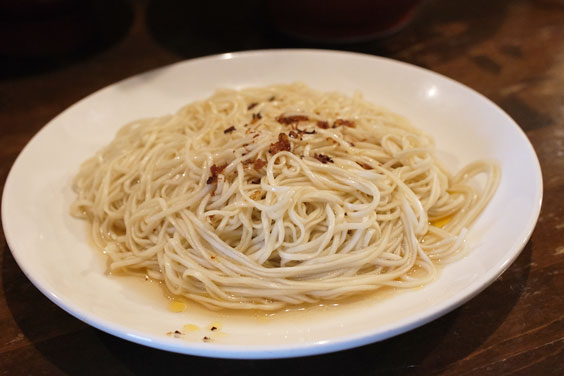 Kaedama "Akai-tama"
TEXT & PHOTO BY: Yuichiro Yamada
INFORMATION


Mendo Hanamokoshi / 麺道はなもこし

- Address: 1F ESTATE MORE CHATEAU YAKUIN, 2-4-35 Yakuin, Chuo-ku, Fukuoka-shi Japan
- Capacity: 6
- Opening Hours: 11:45-13:30
- Closed: Wednesday and Sunday

* Please Note: Business hours and closing days may differ due to the COVID-19 outbreak.

* All information correct as of September 2022.
WRITER PROFILE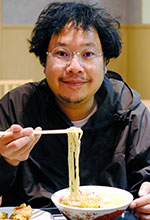 山田祐一郎 (Yuichiro Yamada)
Born in Fukuoka Prefecture 1978. Moved into the Fukuoka-based editing industry in 2003, and then began a career as a writer. Contributes articles for food and drink magazines, as well as informative Fukuoka publications. Established "KIJI" in August 2012. Became a noodle writer and started a web-based series called "Sono Ippai ga Tabetakute (lit. trans: I want to eat that bowl)" in the same year. Yamada uses the online resource to record the various kinds of noodles he samples on an almost daily basis. Also released "Noodle Writer Hizou no Ippai Fukuoka (lit.: Noodle Writer Treasured Bowl Fukuoka)" in March 2019. The book introduces the reader to a wide range of noodles (such as udon, ramen, and champon) and recommends some of the best places to find tasty dishes in Fukuoka City.
In 2020, Yamada took over a noodle factory that has been in operation since his father's generation. The company has changed name and is now known as "Yamada Seimen" He continues to work as a writer specialising in the world of noodles, while maintaining an affiliation with the factory. His motto is "One Day One Noodle." As an involved individual in the noodle-making industry, he remains committed to creating the perfect product. At the same time, his search for delicious dishes have taken him all over Japan and overseas. These activities have gained a lot of attention among noodle enthusiasts.
■ Related sites
- KIJI:
http://ii-kiji.com/
- Web-based noodle magazine "Sono Ippai ga Tabetakute (lit. trans: I want to eat that bowl.)":
http://ii-kiji.com/sonoippai
- App version "KIJI NOODLE SEARCH": http://ii-kiji.com/app
Related Articles

- DISCOVER Fukuoka! Fukuoka Gourmet Guide -