Moguragaorewoyondeiru / 土竜が俺を呼んでいる
INFORMATION

In order to prevent the spread of COVID-19, some of the restaurants might have taken various measures such as reducing business hours or temporarily closing their doors. For more information, please check the relevant facility's official website or social media account.



An izakaya that serves delicious ramen! This establishment is sure to appeal to fans of shochu!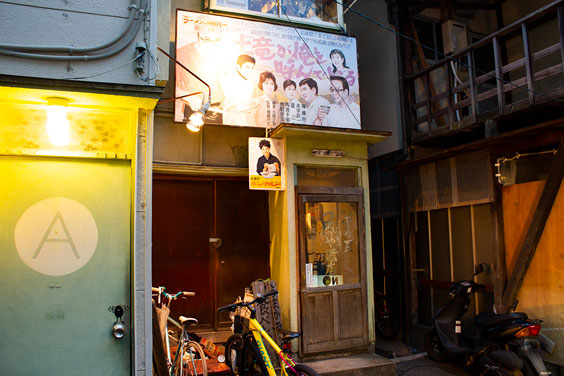 Moguragaorewoyondeiru is an izakaya (bar) that serves tasty ramen. The establishment opened its doors in 2009 and has been a firm favorite with diners ever since. It is located in a back alley of Daimyo, an area that is home to lots of brilliant ramen restaurants. The company's main site, which is located in Shirogane, Fukuoka City, is called "Shochu (distilled alcoholic beverage) Bar Mogura." So it is no wonder that Moguragaorewoyondeiru always stock a great range of shochu. You can expect to find over 100 options to choose from any give time!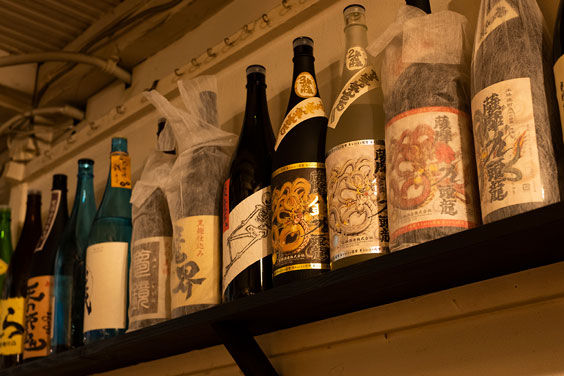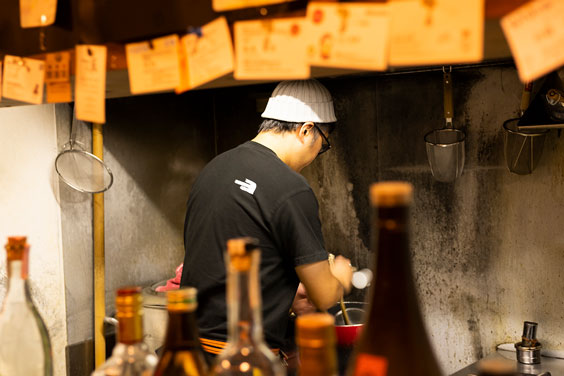 The ramen comes in a delicious soup that is made from just pork bones. It is prepared without using lard or the fatty upper part of roast pork. This process means that the tonkotsu (pork bone) stock is not very greasy and leaves a pleasant aftertaste even if you slurp up every last drop! The owner, who is called Gondo, once stated, "I would never get tired of this soup, even if I had it every day." Hakata's much-loved thin-style noodles are the other key component of this tasty dish. They have a good bite that combines perfectly with the slightly sharp taste of the broth.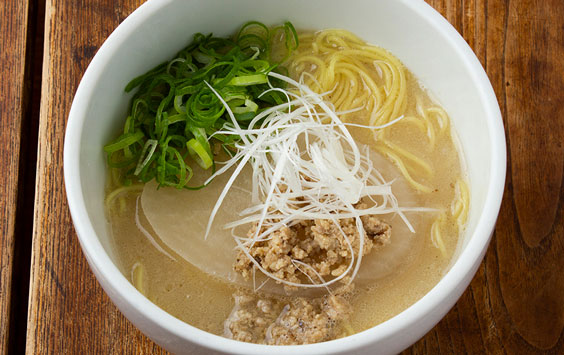 There are no unusual characteristics to report about when it comes to Moguragaorewoyondeiru's tasty soup and noodles but they offer some wonderfully unique toppings. In Fukuoka, a common topping for ramen is char siu pork. However, inside this eatery you can expect to find various options, including soboro (seasoned and fried mince meat) and the type of flaky daikon radish you usually see in oden (various ingredients stewed in dashi stock). The daikon is an excellent match for the soup. This topping helps add a sense of depth to the tonkotsu soup. Don't worry if you like char siu as this is also featured on the menu. Feel free to choose whatever option best fits your mood.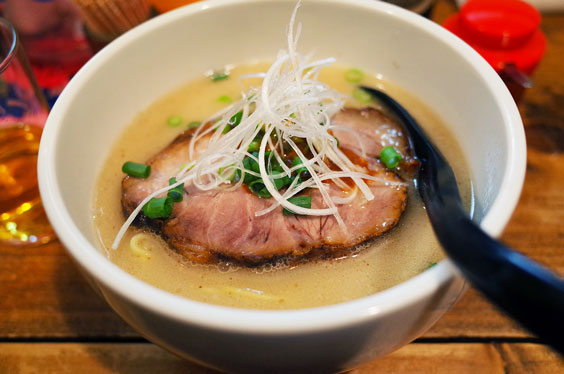 As the establishment is an izakaya, you'll notice a number of single dishes designed to be enjoyed alongside alcohol are available to order. Be sure to sample the tofu stewed in tonkotsu soup, potato salad, fried chicken wings, and other items that go well with shochu. The interior is reminiscent of a renovated apartment that has a cool retro Showa (1920s to 1980s) vibe! The design and decorations have created a nostalgic, homely atmosphere for members of the public.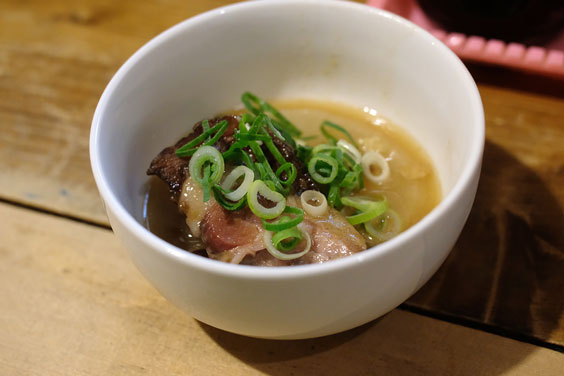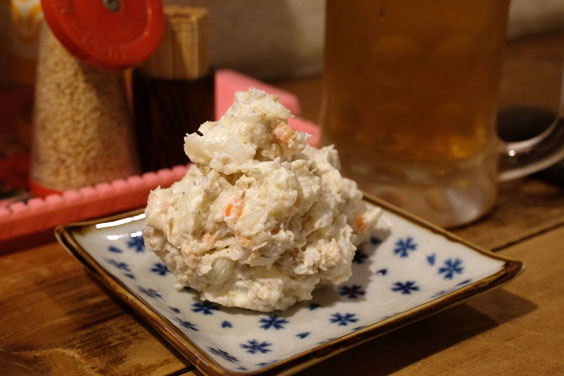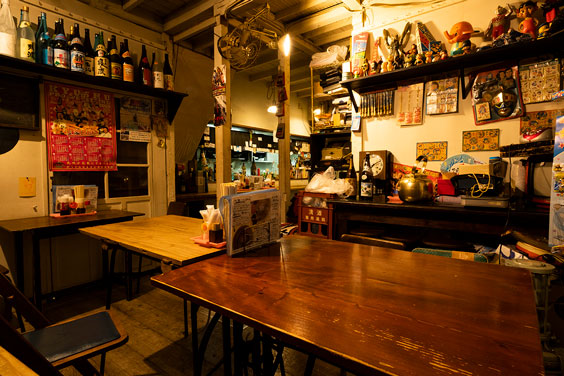 TEXT & PHOTO BY: Yuichiro Yamada
INFORMATION


Moguragaorewoyondeiru / 土竜が俺を呼んでいる

- Address: 1-9-18 Daimyo, Chuo-ku, Fukuoka-shi, Japan
- Tel.:  092-716-3388
- Capacity: 18
- Opening hours: 19: 00 - 02:00 *19: 00 - 24:00 on Sundays, national holidays, and the last day of consecutive holidays
- Holidays: Irregular (primarily Sundays and Mondays)

* All information correct as of May 2022.
WRITER PROFILE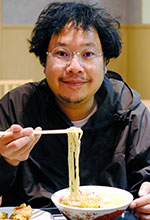 山田祐一郎 (Yuichiro Yamada)
Born in Fukuoka Prefecture 1978. Moved into the Fukuoka-based editing industry in 2003, and then began a career as a writer. Contributes articles for food and drink magazines, as well as informative Fukuoka publications. Established "KIJI" in August 2012. Became a noodle writer and started a web-based series called "Sono Ippai ga Tabetakute (lit. trans: I want to eat that bowl)" in the same year. Yamada uses the online resource to record the various kinds of noodles he samples on an almost daily basis. Also released "Noodle Writer Hizou no Ippai Fukuoka (lit.: Noodle Writer Treasured Bowl Fukuoka)" in March 2019. The book introduces the reader to a wide range of noodles (such as udon, ramen, and champon) and recommends some of the best places to find tasty dishes in Fukuoka City.
In 2020, Yamada took over a noodle factory that has been in operation since his father's generation. The company has changed name and is now known as "Yamada Seimen" He continues to work as a writer specialising in the world of noodles, while maintaining an affiliation with the factory. His motto is "One Day One Noodle." As an involved individual in the noodle-making industry, he remains committed to creating the perfect product. At the same time, his search for delicious dishes have taken him all over Japan and overseas. These activities have gained a lot of attention among noodle enthusiasts.
■ Related sites
- KIJI:
http://ii-kiji.com/
- Web-based noodle magazine "Sono Ippai ga Tabetakute (lit. trans: I want to eat that bowl.)":
http://ii-kiji.com/sonoippai
- App version "KIJI NOODLE SEARCH": http://ii-kiji.com/app
Related Articles