Dohyouudon (土俵うどん)
INFORMATION

In order to prevent the spread of COVID-19, some of the restaurants might have taken various measures such as reducing business hours or temporarily closing their doors. For more information, please check the relevant facility's official website or social media account.



A restaurant famous for delicious kama-age style udon and thick noodles!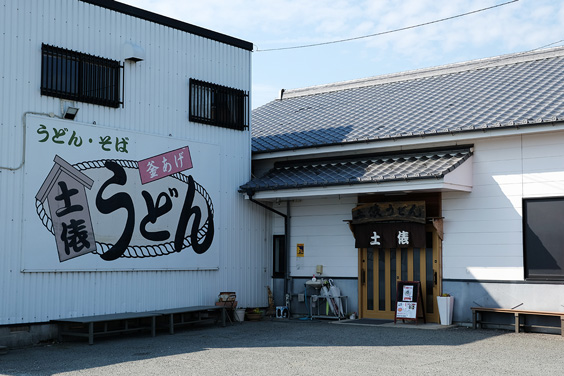 Dohyouudon is about a 20 minute drive from either the Yame or Miyama Yanagawa interchange on the Kyushu Expressway. As you drive past, you will notice their sign that has "Dohyo" (sumo wrestling ring) printed in huge letters! The popular restaurant, which is located on the roadside of Prefectural Route 83, welcomes a wide range of diners. From families to business people... You can find all kinds of individuals enjoying a meal inside the premises.

The eatery serves thick udon noodles made from wheat cultivated in Kyushu. They are boiled for a staggering 30-40 minutes prior to service. You'll notice that they are pretty thick and heavy when you pick them up with your chopsticks. The noodles have a soft exterior and an almost chewy texture. As you bite into them, it feels like you are getting to the best part. And the taste is simply delicious! The tsuyu (broth / dipping sauce) is made with a wonderful selection of ingredients, such as Rausu kombu (kelp from Hokkaido), katsuobushi (dried bonito​ flakes), and niboshi (dried sardines). The various component parts are left to simmer until the sauce becomes a bit cloudy. It is clear that all the flavors have been condensed and fused together before you even start! This provides the perfect match for the elastic quality of the noodles.

Some of the stand out dishes on the menu include kake udon (udon in broth), goboten udon (udon topped with tempura fried burdock), maruten udon (udon topped with a tempura fried fishcake), and niku udon (udon topped with meat). The kinoko-ten udon (udon topped with tempura fried mushrooms) is definitely worth a try! This option gives you the chance to sample Ooki Machi's (Ooki Town's) famous mushrooms. The area is well-known as one of the best producers of mushrooms in the whole of Kyushu, so you know that you're in for a treat! The umami flavor of the mushrooms really enhances the taste of the broth. A lot of customers choose to top their noodles with a combination of meat and kinoko-ten. This has become one of of Dohyouudon's most popular dishes!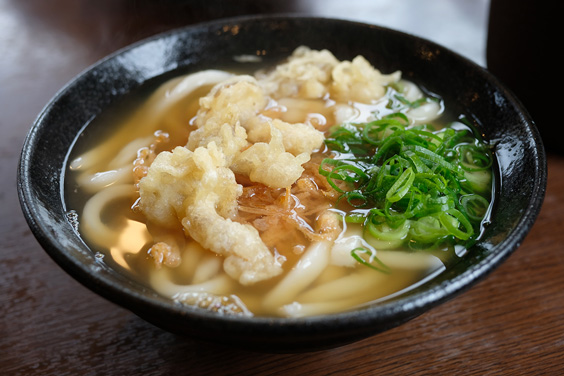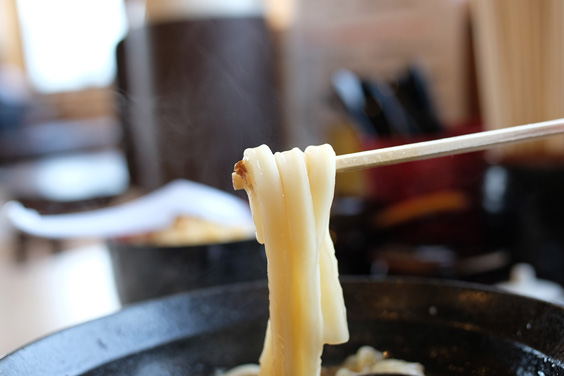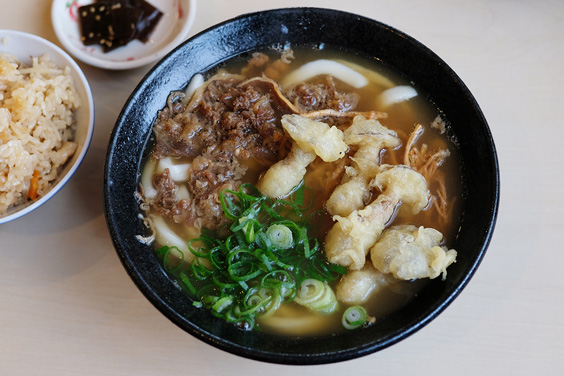 There is a dish called Yokozuna udon if you are feeling adventurous! The noodles are served with a wide range of toppings that include niku (meat), gobo-ten, wakame seaweed, kitsune (fried tofu), and tsukimi (raw or poached egg). It also comes with a plate of tempura as a side dish! There is no doubt that you'll leave feeling satisfied!
TEXT & PHOTO BY: Yuichiro Yamada
INFORMATION


Dohyouudon (土俵うどん)

- Address: 60-46 Okumuta, Oki-machi, Mizuma-gun, Fukuoka-ken Japan
- Tel.: 0944-33-0266
- Capacity: 67
- Opening Hours: 10:30-21:00
- Closed: Thursday (If Thursday falls on a public holiday the store will be open)

* Please Note: Business hours and closing days may differ due to the COVID-19 outbreak.

* All information correct as of March 2022.
WRITER PROFILE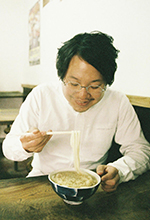 山田祐一郎 (Yuichiro Yamada)
Born in Fukuoka Prefecture 1978. Moved into the Fukuoka-based editing industry in 2003, and then began a career as a writer. Contributes articles for food and drink magazines, as well as informative Fukuoka publications. Established "KIJI" in August 2012. Became a noodle writer and started a web-based series called "Sono Ippai ga Tabetakute (lit. trans: I want to eat that bowl)" in the same year. Yamada uses the online resource to record the various kinds of noodles he samples on an almost daily basis. Published a book titled "Udon no Hanashi Fukuoka (lit.: Udon Noodle Talk Fukuoka)" that delves deeper into Fukuoka's udon culture and the local area's role as a pioneer of the food in July 2015. Also released "Noodle Writer Hizou no Ippai Fukuoka (lit.: Noodle Writer Treasured Bowl Fukuoka)" in March 2019. The book introduces the reader to a wide range of noodles (such as udon, ramen, and champon) and recommends some of the best places to find tasty dishes in Fukuoka city. Has developed the motto "One Day One Noodle a day." Now seeks out delicious noodle dishes both at home and abroad. His work has gained a considerable amount of attention from noodle fans. Currently, Yamada has taken over his father's noodle-making business and works on making noodles as a representative of the noodle factory "Yamada Seimen".
■ Related sites
- KIJI:
http://ii-kiji.com/
- Web-based noodle magazine "Sono Ippai ga Tabetakute (lit. trans: I want to eat that bowl.)":
http://ii-kiji.com/sonoippai
- App version "KIJI NOODLE SEARCH": http://ii-kiji.com/app