Drive in Kawara Tachigui udon (ドライブインかわら 立ち食いうどん)
INFORMATION

In order to prevent the spread of COVID-19, some of the restaurants might have taken various measures such as reducing business hours or temporarily closing their doors. For more information, please check the relevant facility's official website or social media account.



Drivers love this long established drive-in restaurant!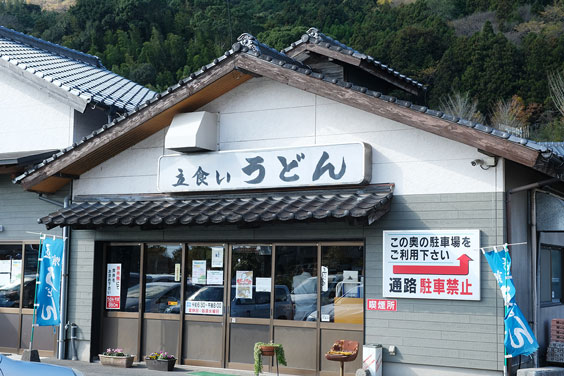 The Drive in Kawara Tachigui udon restaurant is located about 15 minutes walk from Kawara Station on the JR Hitahikosan Line. It is actually very popular with drivers, because this restaurant is in a great location between the national route 201 and 322, near the Kagamiyama East intersection. Not only the local residents love this restaurant but also drivers who happen to travel through this area on this busy road. This well established business was opened more than half a century ago and has been popular ever since.

The menu on the premises ranges from takoyaki to fried chicken and bento boxes, but the busiest part of the restaurant is the udon noodle counter, where you eat your noodles standing up. This part opens early in the morning from 6:30am. Even though the basic style is the udon counter where you can eat udon standing up, the restaurant does provide tables and chairs at the back of the restaurant for families and larger groups if you prefer to sit down to have your Udon noodles.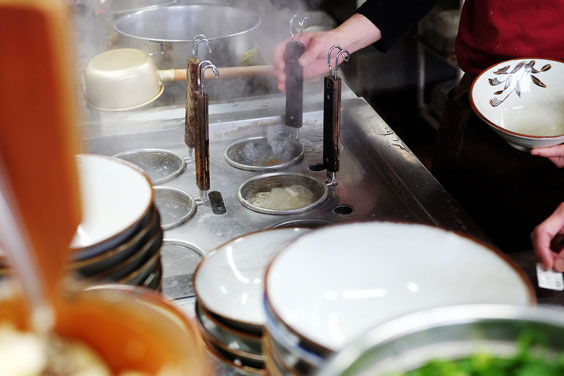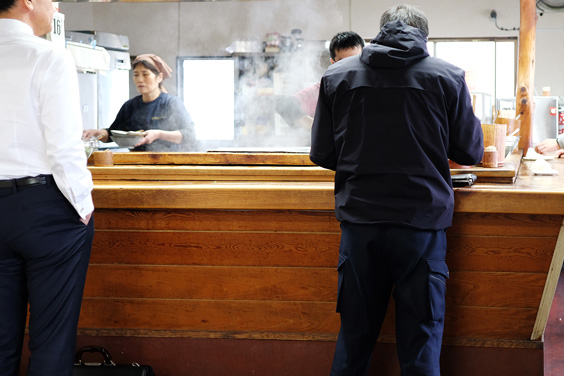 The Udon menu is kept simple: basic kake udon which you can top with round fish cakes (horse mackerel or spicy mentaiko fish roe) or even raw eggs if you like. The restaurant also offers a limited number of burdock or prawn tempura and rice balls. They sell out quickly though because they are popular. The Udon noodles are sourced from a nearby noodle factory and are slightly thicker and lighter than usual. Those noodles go well with the udon soup which is made from fish soup stock. This shop is a good representation of the Kawara area which is famous for old fashioned style food which is appreciated by all: quick, cheap and delicious food.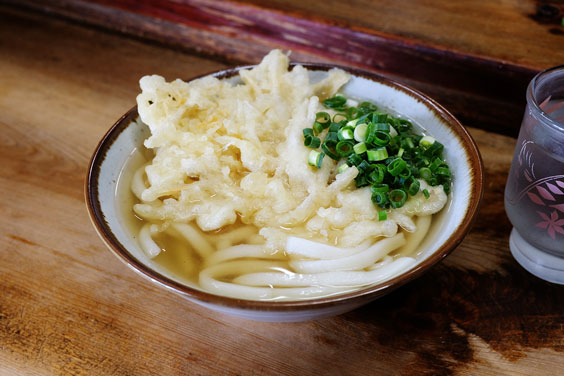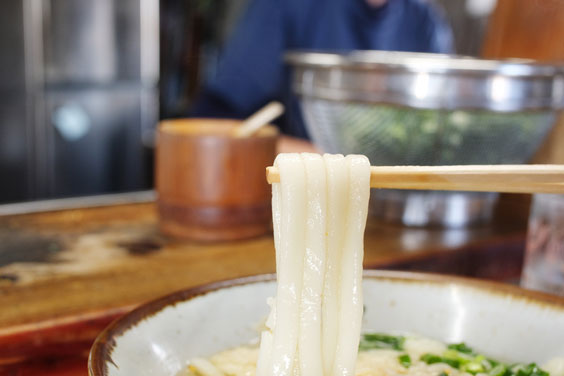 TEXT & PHOTO BY: Yuichiro Yamada
INFORMATION


Drive in Kawara Tachigui udon / ドライブインかわら 立ち食いうどん

- Address: Inside the premises of Drive in Kawara 170-1 Kawara-machi, Tagawa-gun, Fukuoka-ken Japan
- Tel.: 0947-32-2573
- Capacity: approx. 30
- Opening Hours: 6:30-19:00
- Closed: Wednesday

* Please Note: Business hours and closing days may differ due to the COVID-19 outbreak.

* All information correct as of May 2022.
WRITER PROFILE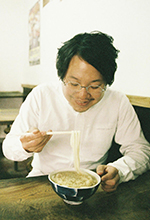 山田祐一郎 (Yuichiro Yamada)
Born in Fukuoka Prefecture 1978. Moved into the Fukuoka-based editing industry in 2003, and then began a career as a writer. Contributes articles for food and drink magazines, as well as informative Fukuoka publications. Established "KIJI" in August 2012. Became a noodle writer and started a web-based series called "Sono Ippai ga Tabetakute (lit. trans: I want to eat that bowl)" in the same year. Yamada uses the online resource to record the various kinds of noodles he samples on an almost daily basis. Published a book titled "Udon no Hanashi Fukuoka (lit.: Udon Noodle Talk Fukuoka)" that delves deeper into Fukuoka's udon culture and the local area's role as a pioneer of the food in July 2015. Also released "Noodle Writer Hizou no Ippai Fukuoka (lit.: Noodle Writer Treasured Bowl Fukuoka)" in March 2019. The book introduces the reader to a wide range of noodles (such as udon, ramen, and champon) and recommends some of the best places to find tasty dishes in Fukuoka city. Has developed the motto "One Day One Noodle a day." Now seeks out delicious noodle dishes both at home and abroad. His work has gained a considerable amount of attention from noodle fans. Currently, Yamada has taken over his father's noodle-making business and works on making noodles as a representative of the noodle factory "Yamada Seimen".
■ Related sites
- KIJI:
http://ii-kiji.com/
- Web-based noodle magazine "Sono Ippai ga Tabetakute (lit. trans: I want to eat that bowl.)":
http://ii-kiji.com/sonoippai
- App version "KIJI NOODLE SEARCH": http://ii-kiji.com/app
Related Articles