ebisuya udon honten (えびすやうどん 本店)

The one and only Galbi Bukkake Udon!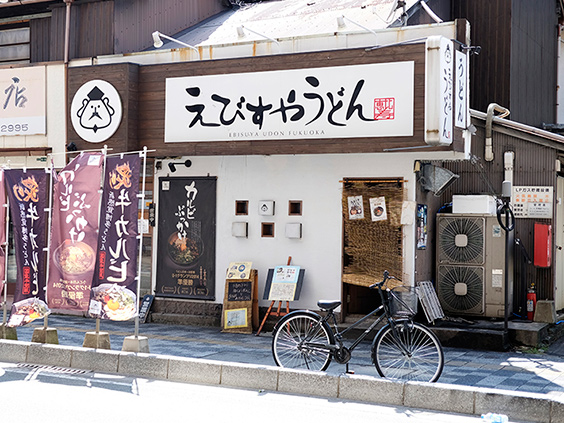 Meat udon is common for restaurants in Fukuoka and most of them are topped with sweet and salty beef. However, there is a restaurant which focuses on the meat itself and serves Galbi beef (boneless short rib) instead - ebisuya udon honten (Main Branch). It is about 10 minutes walk from Hakata Station. Founded in 2013, the restaurant won the second place at "U-1 Grand Prix 2014" (a contest to decide the best Udon in Japan) in the following year and gained its popularity soon after that. To keep up the momentum, they expanded their business to Tokyo since May 2020.

"Galbi Bukkake Udon" is their signature menu which serves a generous portion of beef produced in Kyushu. The Galbi beef is well-seasoned with sweet and salty condiments beforehand, the chef will roast it by blow torch before it is ready to be served. When it is brought to the table, the aroma of the roasted beef immediately stimulate your appetite! The savoury Galbi beef and the rich and mellow Fukuoka-produced egg will surely fulfill) the desire of your taste bud. It will be a bowl of memorable flavour! As for the udon, it is made using only wheat flour from Fukuoka and is made into the flat type, giving a springy texture that makes a fine combination with the Galbi beef. For those who want to enjoy the delicious dashi (soup stock) from Rausu Kombu (a type of kelp), the classic Hakata Udon like "Kake Udon" and "Gobou-ten Udon" are what you should not miss. And for those who prefer simply enjoying the texture of the noodles, their "Tsukimi Tororo Bukkake Udon" (chilled udon served with raw egg and sticky grated yam) is strongly recommended.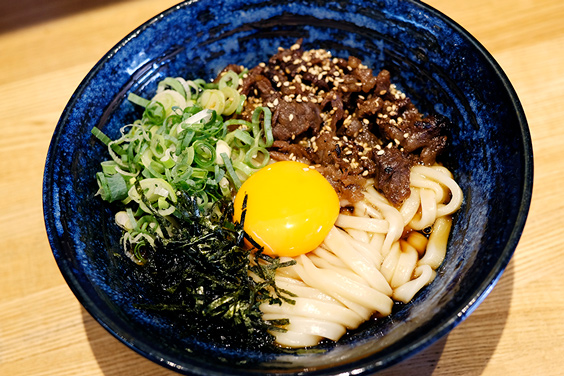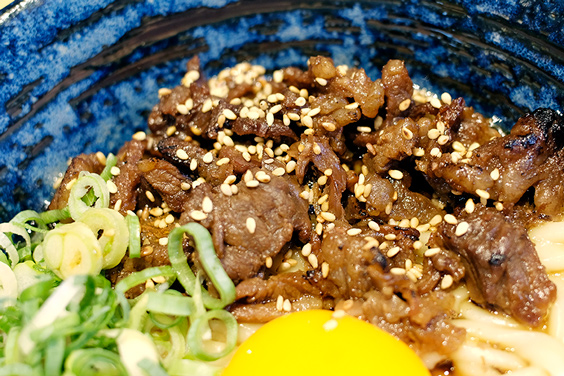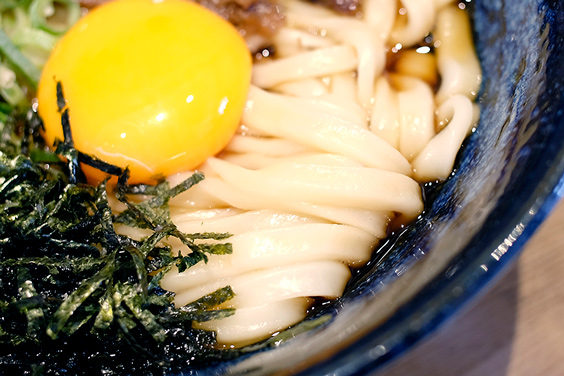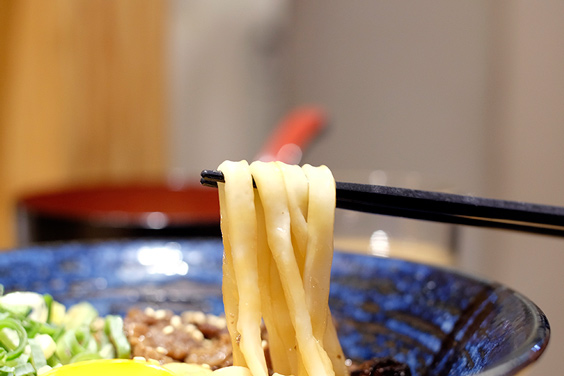 TEXT & PHOTO BY: Yuichiro Yamada
INFORMATION
ebisuya udon Honten (honten) | えびすやうどん 本店
Address: 2-16-8 Sumiyoshi, Hakata-ku, Fukuoka-shi JAPAN
TEL.: 092-262-1165
Capacity: 20
Opening Hours: 11:30-18:00
Closed: Wednesdays
Official Website:
https://ebisuyaudon.com/
Facebook:
@Ebisuyaudon
* All information correct as of July 2020.
WRITER PROFILE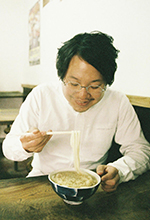 山田祐一郎 (Yuichiro Yamada)
Born in Fukuoka Prefecture 1978. Moved into the Fukuoka-based editing industry in 2003, and then began a career as a writer. Contributes articles for food and drink magazines, as well as informative Fukuoka publications. Established "KIJI" in August 2012. Became a noodle writer and started a web-based series called "Sono Ippai ga Tabetakute (lit. trans: I want to eat that bowl)" in the same year. Yamada uses the online resource to record the various kinds of noodles he samples on an almost daily basis. Published a book titled "Udon no Hanashi Fukuoka (lit.: Udon Noodle Talk Fukuoka)" that delves deeper into Fukuoka's udon culture and the local area's role as a pioneer of the food in July 2015. Also released "Noodle Writer Hizou no Ippai Fukuoka (lit.: Noodle Writer Treasured Bowl Fukuoka)" in March 2019. The book introduces the reader to a wide range of noodles (such as udon, ramen, and champon) and recommends some of the best places to find tasty dishes in Fukuoka city. Has developed the motto "One Day One Noodle a day." Now seeks out delicious noodle dishes both at home and abroad. His work has gained a considerable amount of attention from noodle fans.
■ Related sites
- KIJI:
http://ii-kiji.com/
- Web-based noodle magazine "Sono Ippai ga Tabetakute (lit. trans: I want to eat that bowl.)":
http://ii-kiji.com/sonoippai
- App version "KIJI NOODLE SEARCH": http://ii-kiji.com/app