恵味うどん (EMIUDON)

Noodles that take their inspiration from sanuki udon, but were developed in Hakata!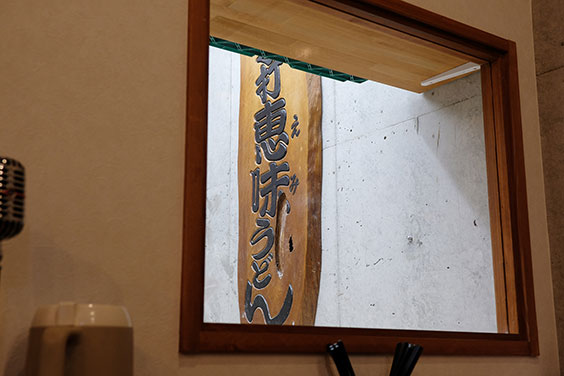 There is a well-known theory that Fukuoka is the "birth place of udon." Hakata-style (soft) udon has been popular amongst locals for quite some time. "恵味うどん (EMIUDON)" was opened in 1969. The restaurant serves noodles that have their root in sanuki (hard) udon, which are quite rare in Fukuoka. The establishment was originally located in Yakuin area before moving to its current location, which is about six-minute walk from Ropponmatsu Station (Fukuoka City Subway Nanakuma Line), in March 2019.

The owner Ichinomiya went to Kagawa Prefecture to learn how to make udon and gain the experience needed to work in his aunt's restaurant. After finishing his training, he began to serve sanuki style udon in Fukuoka, but he soon encountered two challenges. The first one was connected to the texture of noodles. People in Fukuoka do not usually accept noodles with a hard texture. Soft noodles are far more popular. The second problem was tied to speed. Ichinomiya used to boil the noodles as soon as he took an order to ensure that they were fresh. But he began to receive feedback from diners. They started saying, "this is taking so long to boil, I can't wait." He overcame these obstacles by boiling the noodles faster and adjusting the texture of the noodles. He decided to prepare udon that are 4 mm wide and 2 mm thick. These textured, flat noodles are the "Ichinomiya-style" sanuki udon. The "torioroshi udon" is a big hit with visitors. Another dish that goes down well with diners is the "yoridori udon." In keeping with the restaurant's sanuki origins, "yoridori udon" is served bukkake style and is available either hot or cold (the photo below shows the cold broth). These items are well worth sampling!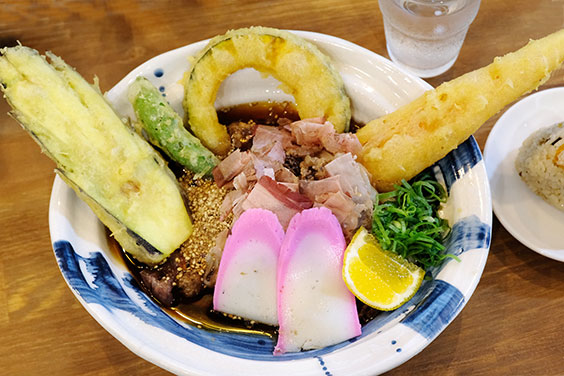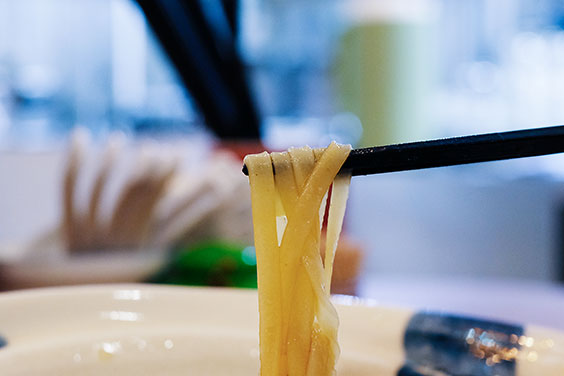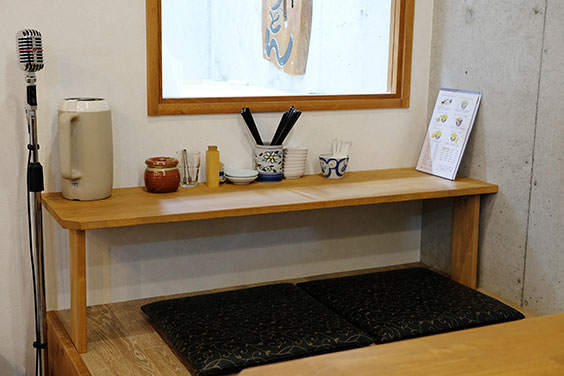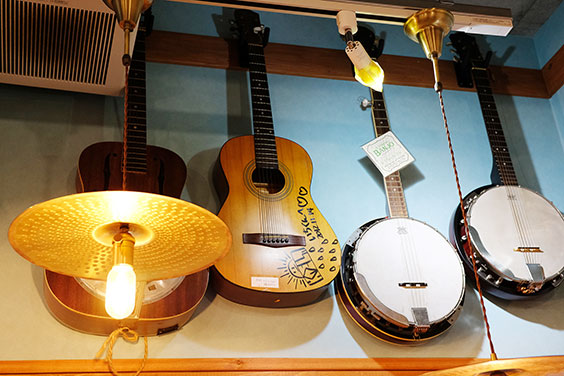 Some of Iminomiya's favorite guitars are on display inside the eatery. EMIUDON even has its own theme tune! The lyrics and music were created by the owner!
TEXT & PHOTO BY: Yuichiro Yamada
INFORMATION
恵味うどん (EMIUDON)
Address: 102 INEIGHT, 4-3-2 Ropponmatsu, Chuo-ku, Fukuoka-shi JAPAN
Tel.: 092-753-8018
Capacuty: 20 
Opening Hours: 11:00-15:00 (Last Order: Approximately 14:30), and 17:00-21:00 (Last Order: Approximately 20:30) (* until they run out of noodles)
Closed: Mondays
Facebook:
@恵味うどん-EMIUDON-
*All information correct as of October 2019.
WRITER PROFILE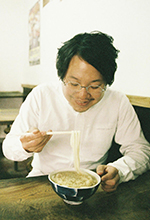 山田祐一郎 (Yuichiro Yamada)
Born in Fukuoka Prefecture 1978. Moved into the Fukuoka-based editing industry in 2003, and then began a career as a writer. Contributes articles for food and drink magazines, as well as informative Fukuoka publications. Established "KIJI" in August 2012. Became a noodle writer and started a web-based series called "Sono Ippai ga Tabetakute (lit. trans: I want to eat that bowl)" in the same year. Yamada uses the online resource to record the various kinds of noodles he samples on an almost daily basis. Published a book titled "Udon no Hanashi Fukuoka (lit.: Udon Noodle Talk Fukuoka)" that delves deeper into Fukuoka's udon culture and the local area's role as a pioneer of the food in July 2015. Also released "Noodle Writer Hizou no Ippai Fukuoka (lit.: Noodle Writer Treasured Bowl Fukuoka)" in March 2019. The book introduces the reader to a wide range of noodles (such as udon, ramen, and champon) and recommends some of the best places to find tasty dishes in Fukuoka city. Has developed the motto "One Day One Noodle a day." Now seeks out delicious noodle dishes both at home and abroad. His work has gained a considerable amount of attention from noodle fans.
■ Related sites
- KIJI:
http://ii-kiji.com/
- Web-based noodle magazine "Sono Ippai ga Tabetakute (lit. trans: I want to eat that bowl.)":
http://ii-kiji.com/sonoippai
- App version "KIJI NOODLE SEARCH": http://ii-kiji.com/app