立花うどん (Tachibana Udon)

The real deal... Experience the essence of Chikugo udon!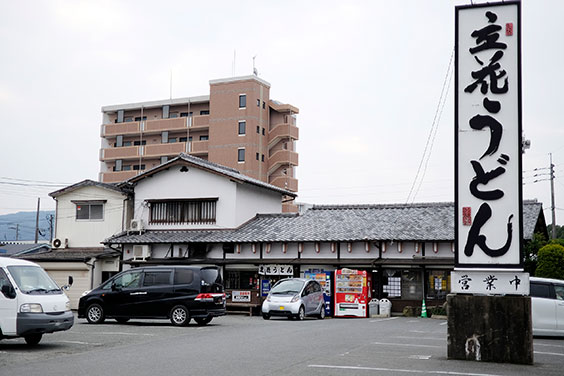 "Tachibana Udon" is located in an area called Chikugo, which is in the southern part of Fukuoka Prefecture. The restaurant opened in 1981 and can be found right next to the Kurume Interchange on the Kyushu Expressway. The number of cars on the road has risen exponentially since the eatery first opened their doors to the public, resulting in a dramatic increase in the amount of people using the Kurume Interchange. This trend had seen the name "Tachibana Udon" gain recognition and their reputation continue to grow.

'Chikugo Udon' has been a popular local dish for quite some time. It is a type of udon that has long been a hit in the Chikugo area. The noodles are known for their "funwari nebari koshi" (fluffy sticky) quality. "Tachibana Udon" also serve udon with this kind of texture. All their noodles are homemade. They're boiled for 27 to 28 minutes and then served straight away without being dropped into cold water. The noodles have a slightly fluffy texture and nestle nicely into the broth. You'll love their chewy texture! "Tachibana Udon"'s udon dishes start from 300 yen. "Niku (meat) udon" is more popular in Chikugo than in other areas. Inside the establishment you might see diners mix toppings. Some people enjoy their noodles served with meat and gobo-ten (tempura fried burdock), which is a very popular topping in Fukuoka. The "niku gobo-ten (meat and tempura fried burdock) udon" has won over a lot of fans! You can also order a combination of dishes if you want to sample more than one item. I would recommend their "gobo-ten udon," which allows you to really savor the clear umami-filled broth, and the gyudon-style "niku-meshi" (meat rice). The flavor of the salty, yet slightly sweet meat is a great match for their noodles. You can choose to eat at a table or on the tatami floor inside the zashiki (traditional Japanese seating) section. Whatever is more comfortable for you is absolutely fine! "Tachibana Udon" has a relaxed, cozy atmosphere, making it the ideal place to enjoy a family meal!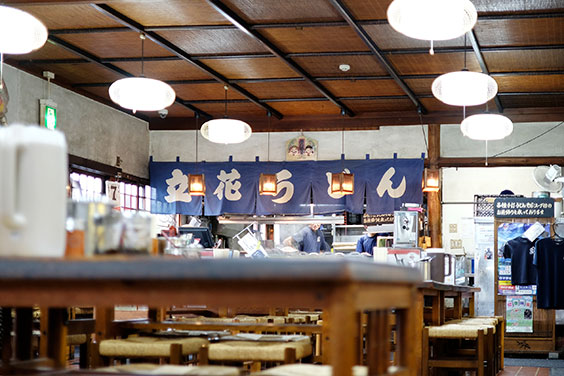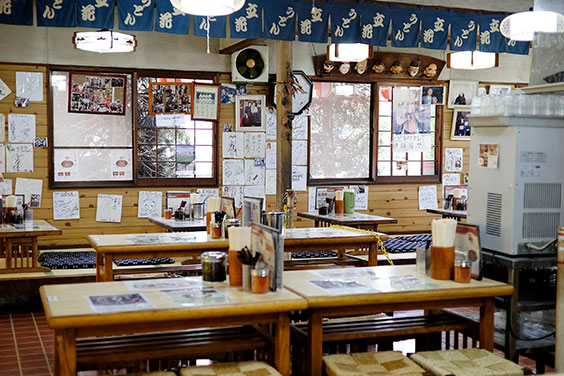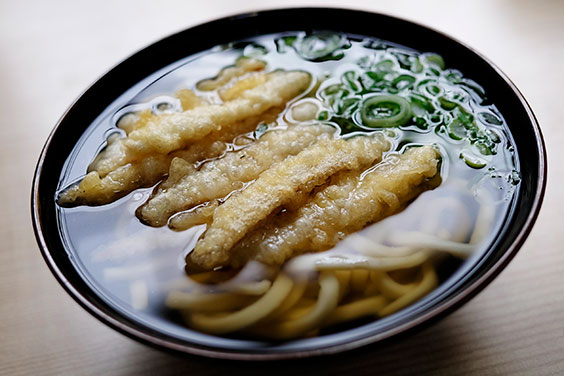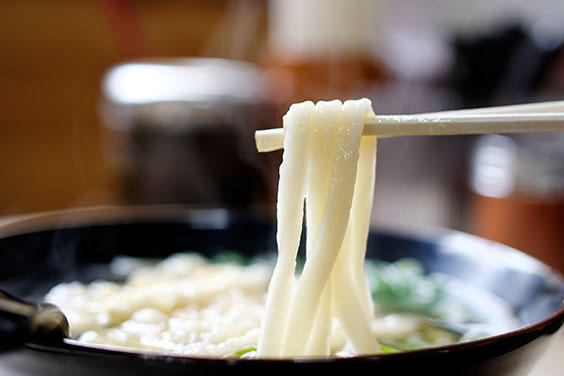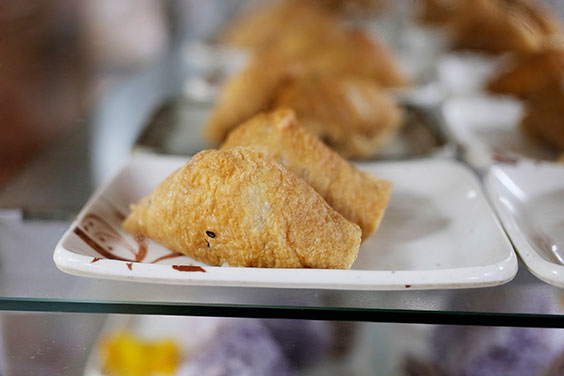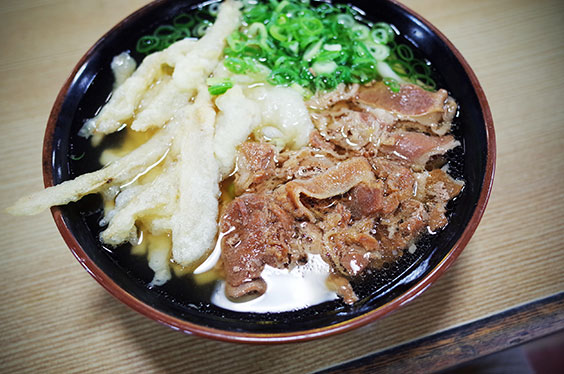 TEXT & PHOTO BY: Yuichiro Yamada
INFORMATION
立花うどん (Tachibana Udon)
Address: 5-6-1 Higashi-aikawa, Kurume-shi, Fukuoka-ken JAPAN * 1 minute from the Kurume Interchange (Kyushu Expressway) by car.
TEL: 0942-44-3939
Capacity: 136
Opening Hours: 9:30 - 21:00 (Last Order) 
Closed: Tuesdays and the third Wednesday of every month
Official Website:
https://www.tachibanaudon.co.jp/
*All information correct as of August 2019.
WRITER PROFILE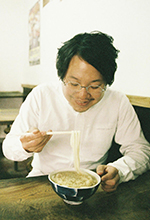 山田祐一郎 (Yuichiro Yamada)
Born in Fukuoka Prefecture 1978. Moved into the Fukuoka-based editing industry in 2003, and then began a career as a writer. Contributes articles for food and drink magazines, as well as informative Fukuoka publications. Established "KIJI" in August 2012. Became a noodle writer and started a web-based series called "Sono Ippai ga Tabetakute (lit. trans: I want to eat that bowl)" in the same year. Yamada uses the online resource to record the various kinds of noodles he samples on an almost daily basis. Published a book titled "Udon no Hanashi Fukuoka (lit.: Udon Noodle Talk Fukuoka)" that delves deeper into Fukuoka's udon culture and the local area's role as a pioneer of the food in July 2015. Also released "Noodle Writer Hizou no Ippai Fukuoka (lit.: Noodle Writer Treasured Bowl Fukuoka)" in March 2019. The book introduces the reader to a wide range of noodles (such as udon, ramen, and champon) and recommends some of the best places to find tasty dishes in Fukuoka city. Has developed the motto "One Day One Noodle a day." Now seeks out delicious noodle dishes both at home and abroad. His work has gained a considerable amount of attention from noodle fans.
■ Related sites
- KIJI:
http://ii-kiji.com/
- Web-based noodle magazine "Sono Ippai ga Tabetakute (lit. trans: I want to eat that bowl.)":
http://ii-kiji.com/sonoippai
- App version "KIJI NOODLE SEARCH": http://ii-kiji.com/app