What's going on inside "Kyuhaku"? Let's go and find-out!(1/9)
Amidst the green landscape of Dazaifu, encounter the dramatic history of Asia!
Located in close proximity to the Dazaifu Tenmangu Shrine, you can find the Kyushu National Museum (hereafter referred to as "Kyuhaku," an abbreviation of its Japanese name, the "Kyushu Kokuritsu Hakubutsukan") amidst a rich, beautiful, natural landscape. There are two routes from Nishitetsu Dazaifu Station to Kyuhaku: you can access the "North (Tenmangu side) Entrance" by following the main path up to the shrine and then hoping on the moving walkway, which leads up to the museum, or you can enter through the "West (Kokuhaku-dori) Entrance" by making your way up the stairs. Each route should take around 10 minutes. Join us below as we take you on a step-by-step guide to the "North (Tenmangu) Entrance," a walk that will give you the chance to take in a bustling thoroughfare that leads up to the Dazaifu Tenmagu Shrine, as well as elegant, refined "taiko bashi (Taiko bridge)."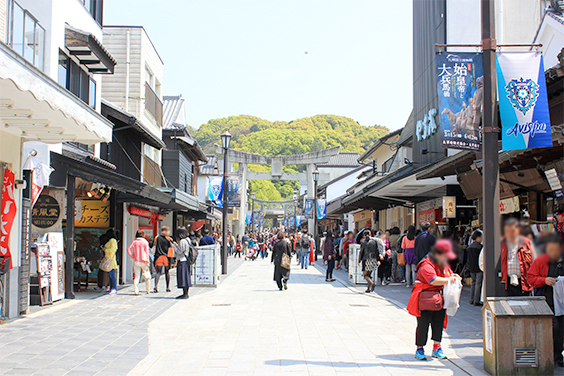 As soon as you hand in your train ticket at Nishitetsu Dazaifu Station, directly to the right is the main road that leads the Dazaifu Tenmagu Shrine. There are a lot of tourists from across Asia!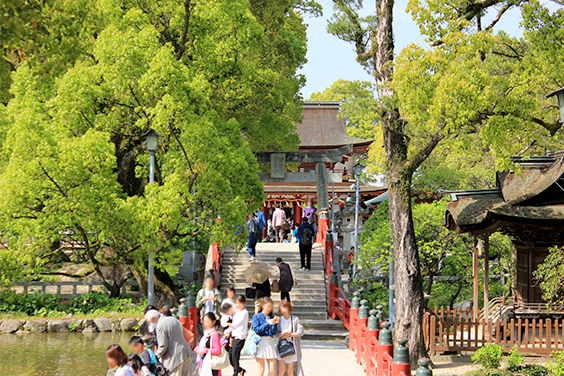 Cross over the Taiko bridge and just before you reach the gate of the Dazaifu Tenmangu Shrine turn right at the Shrine Museum. From there you will be able to see the entrance to Kyuhaku!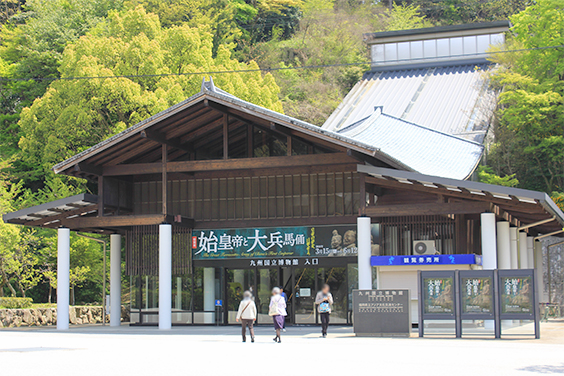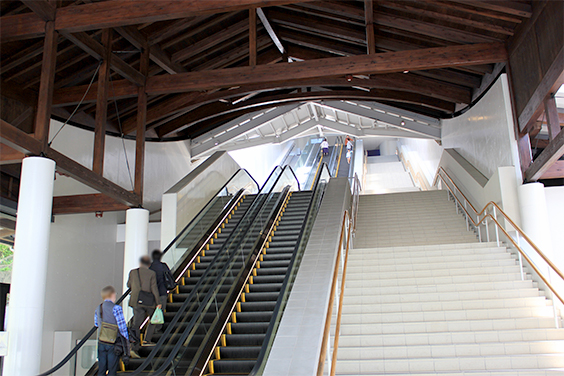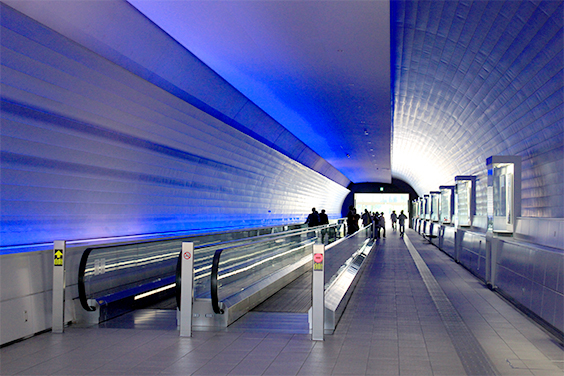 Here is the "Rainbow Tunnel," a special path that leads directly up to Kyuhaku. It's equipped with an escalator, moving walkway and a lift for wheelchair users.