A large-scale idol event "Chikappa-sai 2021" will be held in Fukuoka City on Sunday, December 12th!

12 top idols and next-generation idols will be gathering in Fukuoka!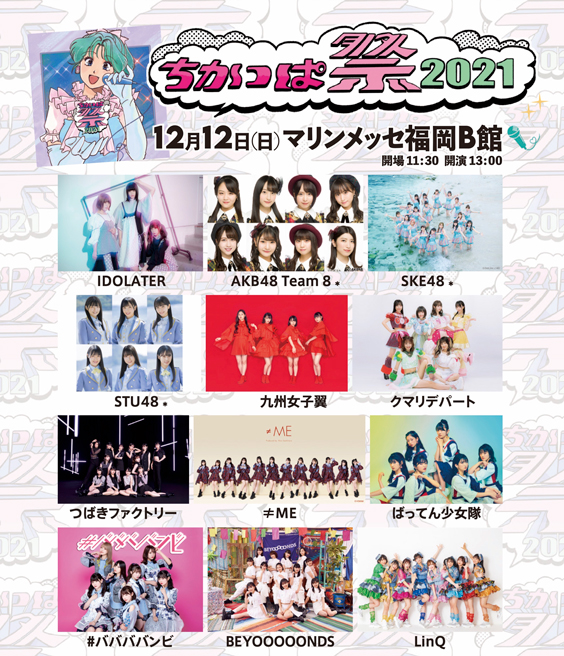 A large-scale idol event "Chikappa-sai 2021" will be held on Sunday, December 12th in a place where it has produced many entertainers ― Fukuoka! The venue is MARINE MESSE FUKUOKA Hall B, which opened in April this year. A total of 12 groups, including top idols as well as next-generation idols, will gather in a brand new hall to make Fukuoka a lot more exciting! From the leading "48 groups" of the idol industry ― AKB48 Team 8 (*), SKE48 (*), and STU48 (*) will be there! In addition, Fukuoka-based idol groups including "Batten Girls," "LinQ," "Kyushu Girls Wing," and "IDOLATER," "Qumali Depart," "CAMELLIA FACTORY," "≠ ME," "#Bababa Bambi," and "BEYOOOOONDS" will also be participating!
Also, don't forget to check out the "Chikappa-sai 2021 Official T-shirt" which is a cute T-shirt with the logos of the performing artists at the back! Front design is created by new retro style illustrator "火曜び~
TUESDAY
~"! The latest information on tickets and live performance is updated from time to time on the official website and official social media account, so be sure to check it out♪ (Editorial Dept: Nika)
*It will be a performance of some of the members.
INFORMATION
ちかっぱ祭2021
Chikappa-sai 2021
- Event Date: Sunday 12 December 2021
- Venue: MARINE MESSE FUKUOKA Hall B (2-1 Okihama-machi, Hakata-ku, Fukuoka-shi Japan)
- Official Website:
https://chicappa.fun/
- Twitter:
@chicappa_sai
- Instagram:
@chicappa_sai
Related Articles


- Hot spots around this area! -