Kurogane Katapan / くろがね堅パン

Toughen up your jaw! Super hard "hard as steel" biscuit originated in a steel mill!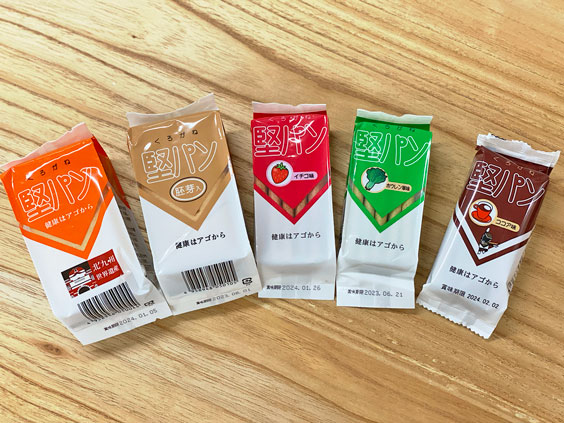 Introducing "Kurogane Katapan" (lit.: iron hard biscuit), the hard as iron biscuit which is known not only among Kitakyushu's citizens in Fukuoka Prefecture but actually nationwide. The production started as early as 1900 by the government-owned Yahata Steel Works as a calorie supplement for their employees. It is made with as little moisture as possible to achieve a long shelf life and is therefore recommended as emergency food or for mountain climbing!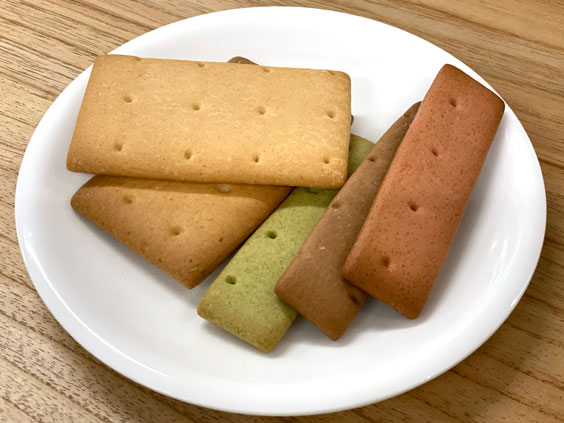 Left to right: plain, grain-germ, spinach, cocoa and strawberry flavors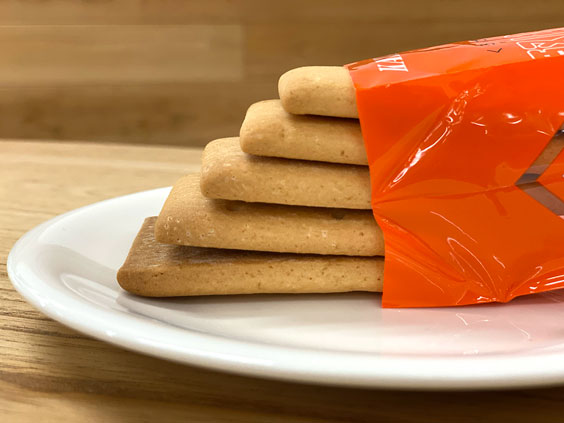 Check out this thickness!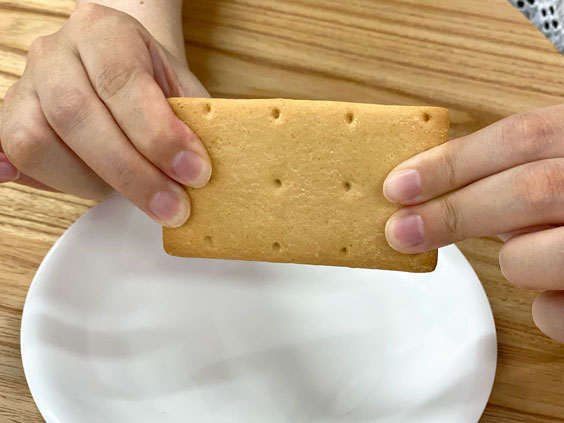 Even if you try breaking it by holding the edges it will not break easily!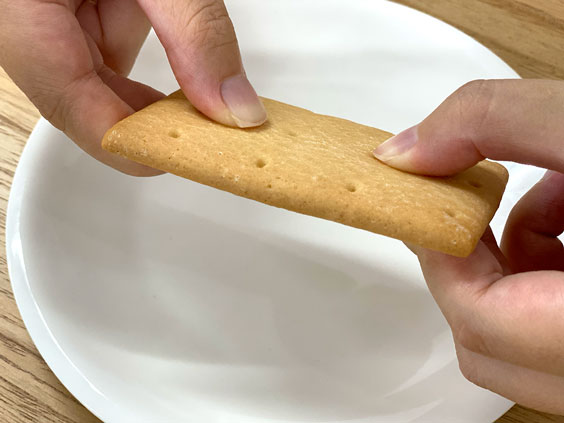 It looks like a normal biscuit with a beautiful colour, achieved by baking it perfectly, but its hardness, which is named "Kurogage = iron ", is nothing like a conventional biscuit. I kept trying to break it but it was just too hard! Finally, when I put all my strength into it, it cracked with a light popping sound.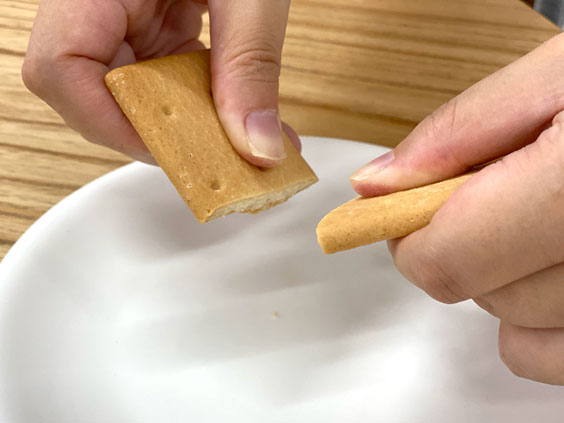 When you apply pressure to the middle of the biscuit and apply enough force to your fingertips you can crack it!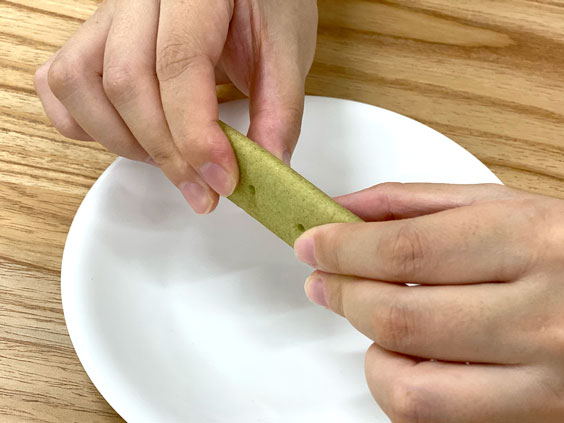 The thinner stick type was much easier to break into two!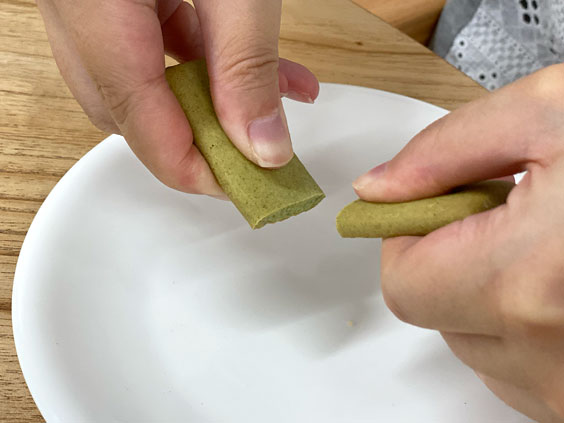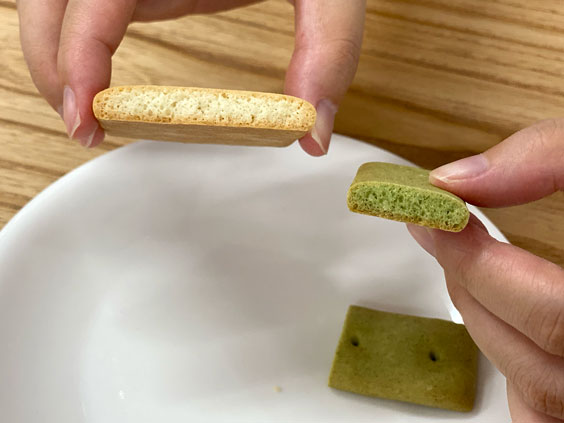 A beautiful clean break!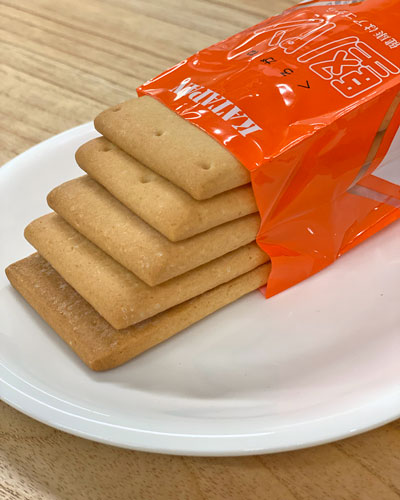 There are two flavors available for the bigger (standard) serving size: plain and wheat-germ. If you purchase the stick-size biscuits, you have a wider range of flavors to choose from: plain, cocoa, spinach and strawberry. Personally, I enjoyed the simple plain flavor with a slight hint of spinach!
If you are complaining about the biscuits being too tough on your teeth, do not give up! You can still enjoy them by dunking them into hot water or milk, that will soften and make them easier to eat! "Kurogane Katapan" can be purchased easily at certain supermarkets and souvenir shops in Fukuoka Prefecture. If you find them, give the "super-hard" firmness of a steel mill a try!
* This product is VERY HARD. Please be careful when you take a bite.
INFORMATION
SPINA Katapan division
- Address: 2142-1 Maeda, Oaza, Yahatahigashi-ku, Kitakyushu-shi, Fukuoka-ken Jepang
- Official Website:
https://www.spina.co.jp/business/food/
* All information correct as of October 2022.
- Hot spots around this area! -