Daikokuya / 大國屋
INFORMATION

In order to prevent the spread of COVID-19, some of the restaurants might have taken various measures such as reducing business hours or temporarily closing their doors. For more information, please check the relevant facility's official website or social media account.



A well-established restaurant that recovered from heavy rain damage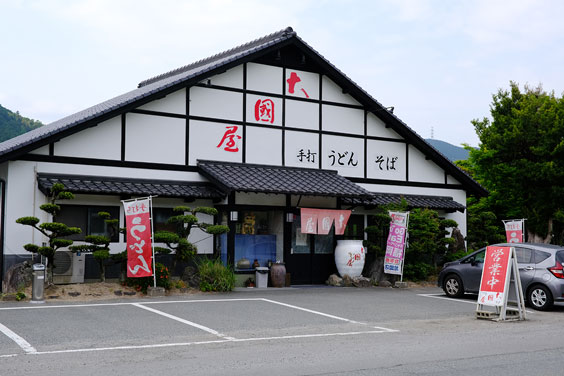 Daikokuya is a famous Chikugo udon restaurant that was originally located near the historic Triple Water Wheel site in Asakura City. However, the establishment encountered difficulties due to damage caused to their premises by the heavy rainfalls that hit northern Kyushu in 2017. The restaurant relocated in 2018 to a stretch of the National Highway (Route) 322 that runs from Asakura City to Akizuki area.

Daikokuya have used their own hand-made method for making noodles since they first opened their doors. A refreshing soup that brings out the flavor of katsuobushi (bonito flakes) is the perfect broth for Chikugo udon and the much-loved fluffy, sticky noodles associated with the dish. The food joint's menu includes kake udon (noodles served in a dashi broth), gobo-ten udon (noodles topped with tempura fried burdock), niku udon (noodles topped with meat), ebi-ten udon (noodles served with tempura fried shrimp), and maruten udon (noodles topped with a round fish cake). If you haven't had a chance to eat in the restaurant, it is well worth sampling their famous daikoku udon during your first visit. The dish is served with a variety of tasty toppings, such as meat, sansai (mountain vegetables), wakame (seaweed), and gobo-ten.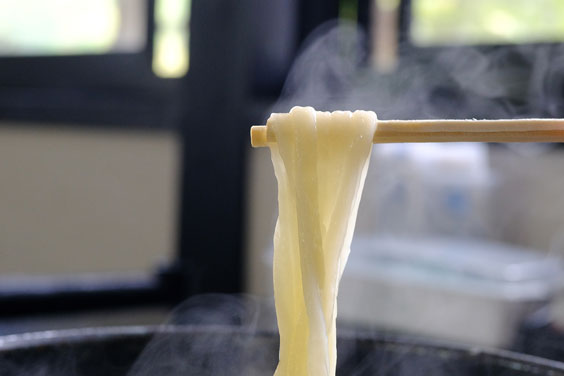 The eatery does not just offer delicious udon... Their menu also includes a variety of set meals (teishoku) that come with rice. Inside the establishment you will find tables and koagari (raised tatami seating). This means that they can welcome solo diners and groups or families.

Please sample Daikokuya's dishes for yourself! The deep resolve that was required to re-open following a challenging time period is truly impressive. And this strength of determination permeates their cooking!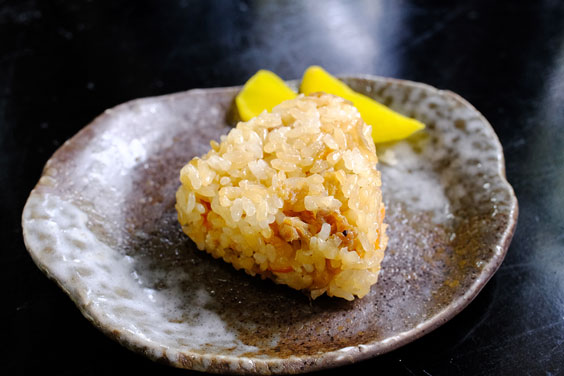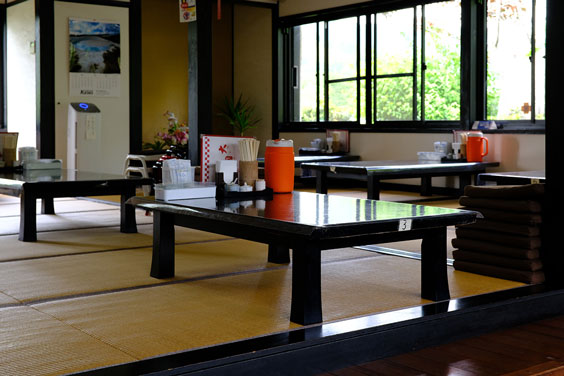 TEXT & PHOTO BY: Yuichiro Yamada
INFORMATION


Daikokuya / 大國屋

- Address: 255-1 Senzu, Asakura-shi, Fukuoka-ken Japan
- Tel.: 0946-25-0661
- Capacity: approx. 50
- Opening Hours: 10:00 - 15:00 (* until they run out of noodles)
- Closed: Tuesday and Thursday

* Please Note: Business hours and closing days may differ due to the COVID-19 outbreak.

* All information correct as of March 2023.
WRITER PROFILE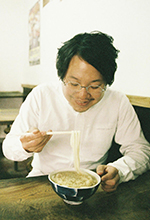 山田祐一郎 (Yuichiro Yamada)
Born in Fukuoka Prefecture 1978. Moved into the Fukuoka-based editing industry in 2003, and then began a career as a writer. Contributes articles for food and drink magazines, as well as informative Fukuoka publications. Established "KIJI" in August 2012. Became a noodle writer and started a web-based series called "Sono Ippai ga Tabetakute (lit. trans: I want to eat that bowl)" in the same year. Yamada uses the online resource to record the various kinds of noodles he samples on an almost daily basis. Published a book titled "Udon no Hanashi Fukuoka (lit.: Udon Noodle Talk Fukuoka)" that delves deeper into Fukuoka's udon culture and the local area's role as a pioneer of the food in July 2015. Also released "Noodle Writer Hizou no Ippai Fukuoka (lit.: Noodle Writer Treasured Bowl Fukuoka)" in March 2019. The book introduces the reader to a wide range of noodles (such as udon, ramen, and champon) and recommends some of the best places to find tasty dishes in Fukuoka city. Has developed the motto "One Day One Noodle a day." Now seeks out delicious noodle dishes both at home and abroad. His work has gained a considerable amount of attention from noodle fans. Currently, Yamada has taken over his father's noodle-making business and works on making noodles as a representative of the noodle factory "Yamada Seimen".
■ Related sites
- KIJI:
http://ii-kiji.com/
- Web-based noodle magazine "Sono Ippai ga Tabetakute (lit. trans: I want to eat that bowl.)":
http://ii-kiji.com/sonoippai
- App version "KIJI NOODLE SEARCH": http://ii-kiji.com/app
Related Articles