Eichan udon Honten / 英ちゃんうどん 本店
INFORMATION

In order to prevent the spread of COVID-19, some of the restaurants might have taken various measures such as reducing business hours or temporarily closing their doors. For more information, please check the relevant facility's official website or social media account.



One of the top eateries on National Highway (Route) 3... The handmade noodles are delightful!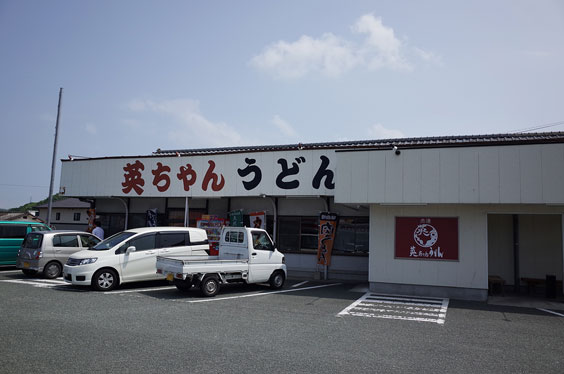 Eichan udon Honten's udon is seen as soul food among Munakata locals. The main branch is about a five minute drive from JR Akama Station or Fukuoka Kyoikudai-mae Station. Residents in the area love this famous restaurant, which is located alongside National Highway (Route) 3. However, the eatery is also popular with drivers making their way from Fukuoka to Kitakyushu or vice versa.

When it comes to udon, the establishment firmly believes in the importance of serving handmade noodles. Diners can expect delicious noodles with a soft and chewy texture. Rausu Kombu (kelp from Rausu, Hokkaido) is used to make the base of the soup. The tasty clear broth helps ensure that regular visitors never get bored of the dishes! The most popular item on the menu is the gobo-ten (burdock tempura) udon. The restaurant also serves a range of classic dishes, such as maruten (fried fish cake) udon, niku (meat) udon, and kitsune (fried tofu) udon. Their zaru (chilled) udon (served with dipping sauce) and bukkake udon (udon served with various toppings) are popular in the Summer, while the nabeyaki (hotpot) udon is a big hit when Winter comes around.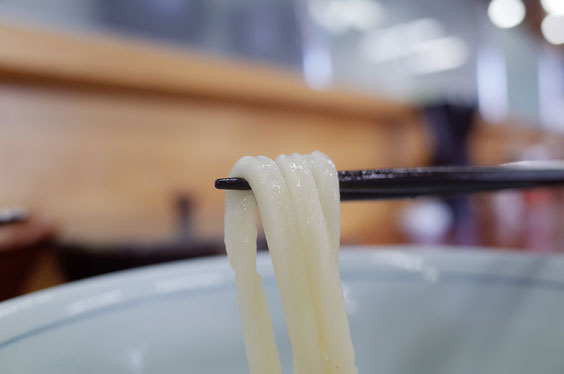 The gobo-ten udon is definitely worth sampling! It is served with really impressive, thick cut pieces of burdock tempura. The contrast between the fluffy texture of the burdock root and the crispy batter helps create a really delightful dish!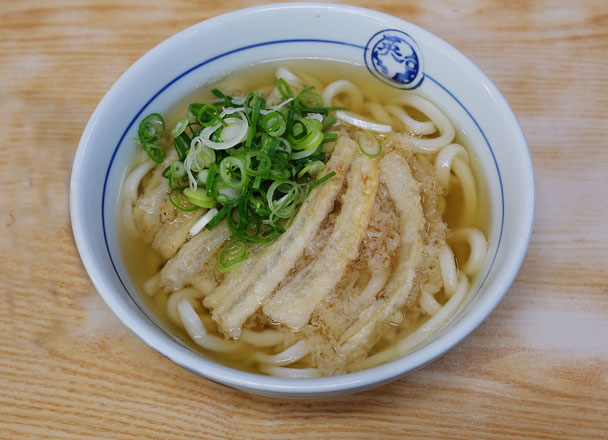 The interior is just what you would expect from a roadside establishment. The majority of seating is either at tables or on raised tatami. This is one of the reasons why lots of families visit. They also serve mini bowls of udon that are great for children. If you stop by, you will notice that they offer delicious handmade soba noodles, too. This famous restaurant has become an indispensable part of the Munakata area. It is easy to see why it is so popular with people from all backgrounds and age groups!
TEXT & PHOTO BY: Yuichiro Yamada
INFORMATION


Eichan udon Honten / 英ちゃんうどん 本店

- Address: 845 Tokushige, Munakata-shi, Fukuoka-ken Japan
- Tel.: 0940-32-6244
- Capacity: 70
- Opening Hours: 11:00-21:00
- Open all year round

* Please Note: Business hours and closing days may differ due to the COVID-19 outbreak.

* All information correct as of November 2022.
WRITER PROFILE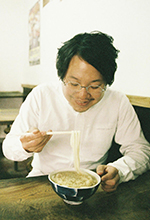 山田祐一郎 (Yuichiro Yamada)
Born in Fukuoka Prefecture 1978. Moved into the Fukuoka-based editing industry in 2003, and then began a career as a writer. Contributes articles for food and drink magazines, as well as informative Fukuoka publications. Established "KIJI" in August 2012. Became a noodle writer and started a web-based series called "Sono Ippai ga Tabetakute (lit. trans: I want to eat that bowl)" in the same year. Yamada uses the online resource to record the various kinds of noodles he samples on an almost daily basis. Published a book titled "Udon no Hanashi Fukuoka (lit.: Udon Noodle Talk Fukuoka)" that delves deeper into Fukuoka's udon culture and the local area's role as a pioneer of the food in July 2015. Also released "Noodle Writer Hizou no Ippai Fukuoka (lit.: Noodle Writer Treasured Bowl Fukuoka)" in March 2019. The book introduces the reader to a wide range of noodles (such as udon, ramen, and champon) and recommends some of the best places to find tasty dishes in Fukuoka city. Has developed the motto "One Day One Noodle a day." Now seeks out delicious noodle dishes both at home and abroad. His work has gained a considerable amount of attention from noodle fans. Currently, Yamada has taken over his father's noodle-making business and works on making noodles as a representative of the noodle factory "Yamada Seimen".
■ Related sites
- KIJI:
http://ii-kiji.com/
- Web-based noodle magazine "Sono Ippai ga Tabetakute (lit. trans: I want to eat that bowl.)":
http://ii-kiji.com/sonoippai
- App version "KIJI NOODLE SEARCH": http://ii-kiji.com/app
Related Articles