Mendokoro Takeya / めん処 たけや
INFORMATION

In order to prevent the spread of COVID-19, some of the restaurants might have taken various measures such as reducing business hours or temporarily closing their doors. For more information, please check the relevant facility's official website or social media account.



One of my personal favorite "Dogidogi Udon" restaurant!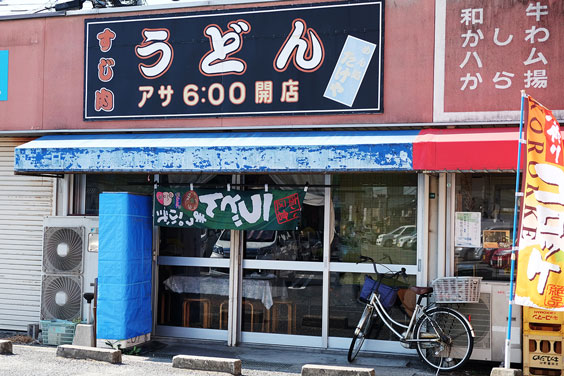 "Dogidogi Udon" is a speciality of Kitakyushu: an Udon dish served with cubes of beef and tasty dark broth. There are many restaurants that offer this dish, but Mendokoro Takeya is my favorite. The restaurant is located about 15 minutes on foot from Ishida station (JR Hitahikosan line). Currently it opens at 8am and closes at around 10am (closes as soon as it is sold out). Even though these business hours are difficult to meet, unless you are a local resident, it is a very popular restaurant. The reason being the noodles that are made freshly every day on the premises, and can only be produced in small batches. Just try it once and you will be hooked just like I am!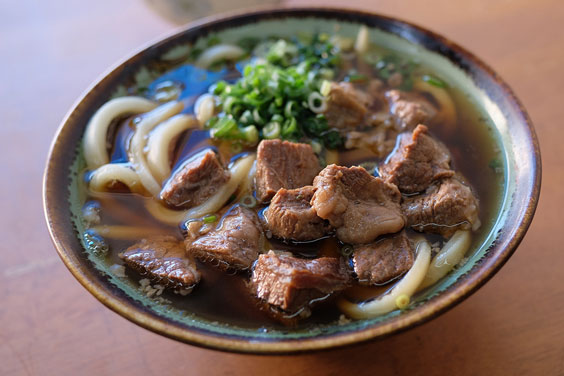 The owner, who originally was an office worker, became fond of "Dogidogi Udon" and used to walk around everywhere tasting all the different kinds of Dogidogi Udon. He eventually started making it himself and created the current flavor of his Udon dish. While smiling he commented, "By referring to the tastes of the restaurants that I liked, I packed all my ideals into my own dish".

The Udon noodles are popular because they are handmade and have random thin strings mixed in and the overall texture of the noodles is chewy. Even though the soup looks dark, you can taste the dashi flavor very well. Another key ingredient is the beef cubes that are large, but deliciously tender. That softness contrasts well with the chewiness of the noodles. This "Niku udon (meat udon)" dish comes in 3 sizes: Small 700 Yen, Medium 750 Yen and Large 800 Yen. Please try adding the complimentary ginger and dried chili pepper on offer. I am sure you will enjoy it and get hooked on "Dogidogi Udon"!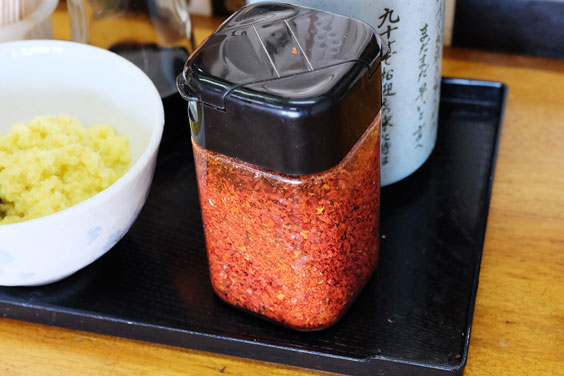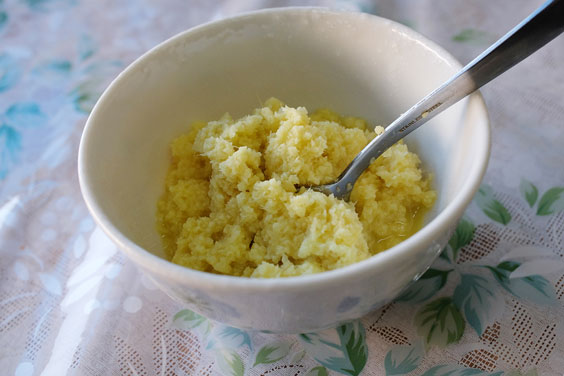 TEXT & PHOTO BY: Yuichiro Yamada
INFORMATION


Mendokoro Takeya / めん処 たけや

- Address: 10-9 Yaesu-machi, Kokuraminami-ku, Kitakyushu-shi, Fukuoka-ken Japan
- Capacity: 12
- Opening Hours: 8:00 - around 10:00 *Close when all is sold out.
- Closed: Monday

* Please Note: Business hours and closing days may differ due to the COVID-19 outbreak.

* All information correct as of August 2022.
WRITER PROFILE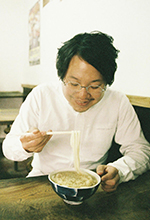 山田祐一郎 (Yuichiro Yamada)
Born in Fukuoka Prefecture 1978. Moved into the Fukuoka-based editing industry in 2003, and then began a career as a writer. Contributes articles for food and drink magazines, as well as informative Fukuoka publications. Established "KIJI" in August 2012. Became a noodle writer and started a web-based series called "Sono Ippai ga Tabetakute (lit. trans: I want to eat that bowl)" in the same year. Yamada uses the online resource to record the various kinds of noodles he samples on an almost daily basis. Published a book titled "Udon no Hanashi Fukuoka (lit.: Udon Noodle Talk Fukuoka)" that delves deeper into Fukuoka's udon culture and the local area's role as a pioneer of the food in July 2015. Also released "Noodle Writer Hizou no Ippai Fukuoka (lit.: Noodle Writer Treasured Bowl Fukuoka)" in March 2019. The book introduces the reader to a wide range of noodles (such as udon, ramen, and champon) and recommends some of the best places to find tasty dishes in Fukuoka city. Has developed the motto "One Day One Noodle a day." Now seeks out delicious noodle dishes both at home and abroad. His work has gained a considerable amount of attention from noodle fans. Currently, Yamada has taken over his father's noodle-making business and works on making noodles as a representative of the noodle factory "Yamada Seimen".
■ Related sites
- KIJI:
http://ii-kiji.com/
- Web-based noodle magazine "Sono Ippai ga Tabetakute (lit. trans: I want to eat that bowl.)":
http://ii-kiji.com/sonoippai
- App version "KIJI NOODLE SEARCH": http://ii-kiji.com/app
Related Articles