Tochikuken Orio Honsha Udon-ten / 東筑軒 折尾本社うどん店
INFORMATION

In order to prevent the spread of COVID-19, some of the restaurants might have taken various measures such as reducing business hours or temporarily closing their doors. For more information, please check the relevant facility's official website or social media account.



The famous Kashiwa Chicken rice in Udon form!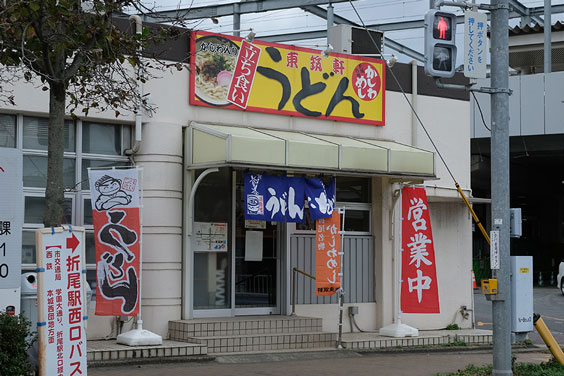 On some train trip to somewhere. At that time what I want most is an Eki-ben (train journey lunch box). Orio's specialty "Kashiwa-meshi" in Kitakyushu City, Fukuoka Prefecture, loved by locals for more than 100 years, is a three-colour lunch box covered with sweet and spicy chicken soboro, golden threads of kinshi egg, and nori seaweed atop a bed of rice cooked in secret broth and ingredients. This famous lunch box is now known not only in Fukuoka Prefecture but also nationwide. If you are from Fukuoka, you've probably eaten this Eki-ben at least once.

"Kashiwa" chicken is the star of Kashiwa-meshi. Kashiwa-Udon, which is made using this star ingredient, is also a specialty of Tochikuken. Tochikuken offers udon noodles at 8 directly managed stores in Fukuoka Prefecture, led by Orio Honsha Udon-ten, which is very close to JR Orio Station. You can enjoy the famous Kashiwa udon in the old-fashioned standing style that was familiar in times past on the platform of the station.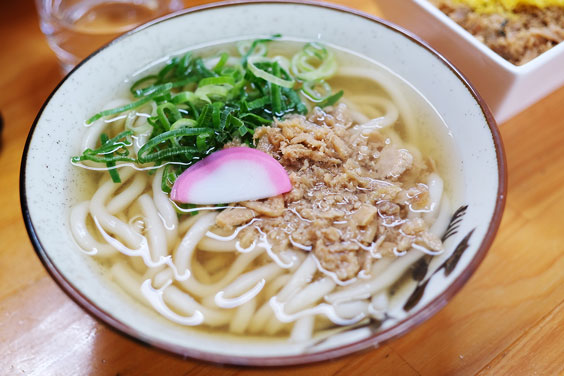 When I entered the shop for the first time, I was surprised to see the menu. There is no option for a plain "Kake-Udon" as Kashiwa is in everything! As long as you are happy with that, no matter which udon you order, it will have the luxurious flavors of Kashiwa! Burdock Tempura Udon is Kashiwa Burdock Tempura Udon, and Maruten Udon is Maruten Kashiwa Udon. Please enjoy it with your favourite toppings such as shrimp tempura, Kitsune deep fried tofu, and Tsukimi moon viewing poached egg.

And because it is a basic stand and eat style restaurant, the service is also quick. I can't help admiring the udon noodles that are made skilfully.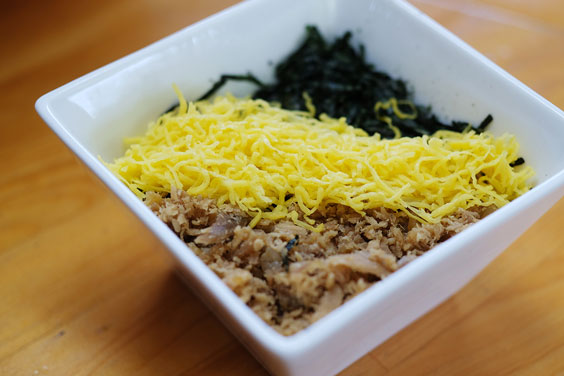 If you want to eat Kashiwa-meshi too, please order a mini size Kashiwa-meshi with your udon!
TEXT & PHOTO BY: Yuichiro Yamada
INFORMATION
Tochikuken Orio Honsha Udon-ten / 東筑軒 折尾本社うどん店
- Address: 4-1 Horikawa-machi, Yahatanishi-ku, Kitakyushu-shi, Fukuoka-ken Japan
- Tel.: 093-601-2345
- Number of seats: None (Stand-up restaurant)
- Opening Hours: 7:00 - 16:00(Last order O15:30)
- Closed: Open every day (closed on January 1)
- Official Website:
https://tochikuken.co.jp/
- Facebook:
@tochikuken
- Twitter:
@tochikuken
* Please Note: Business hours and closing days may differ due to the COVID-19 outbreak.
* All information correct as of February 2023.
WRITER PROFILE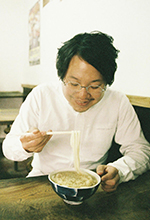 山田祐一郎 (Yuichiro Yamada)
Born in Fukuoka Prefecture 1978. Moved into the Fukuoka-based editing industry in 2003, and then began a career as a writer. Contributes articles for food and drink magazines, as well as informative Fukuoka publications. Established "KIJI" in August 2012. Became a noodle writer and started a web-based series called "Sono Ippai ga Tabetakute (lit. trans: I want to eat that bowl)" in the same year. Yamada uses the online resource to record the various kinds of noodles he samples on an almost daily basis. Published a book titled "Udon no Hanashi Fukuoka (lit.: Udon Noodle Talk Fukuoka)" that delves deeper into Fukuoka's udon culture and the local area's role as a pioneer of the food in July 2015. Also released "Noodle Writer Hizou no Ippai Fukuoka (lit.: Noodle Writer Treasured Bowl Fukuoka)" in March 2019. The book introduces the reader to a wide range of noodles (such as udon, ramen, and champon) and recommends some of the best places to find tasty dishes in Fukuoka city. Has developed the motto "One Day One Noodle a day." Now seeks out delicious noodle dishes both at home and abroad. His work has gained a considerable amount of attention from noodle fans. Currently, Yamada has taken over his father's noodle-making business and works on making noodles as a representative of the noodle factory "Yamada Seimen".
■ Related sites
- KIJI:
http://ii-kiji.com/
- Web-based noodle magazine "Sono Ippai ga Tabetakute (lit. trans: I want to eat that bowl.)":
http://ii-kiji.com/sonoippai
- App version "KIJI NOODLE SEARCH": http://ii-kiji.com/app
Related Articles