Tsudaya Kanbe (津田屋官兵衛)

The headquarters for "Buzen Urauchikai" - A restaurant group that now has establishments all over the country!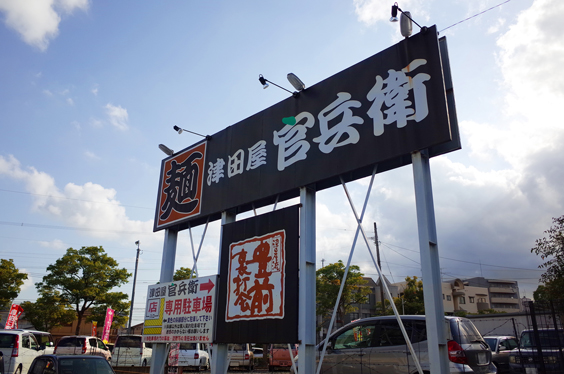 "Buzen Urauchikai" (hereafter referred to as "Urauchikai") first came to prominence about 10 years ago. Urauchikai is an udon restaurant group that originated in Kitakyushu and now has 36 establishments nationwide (as of May 2019).Yokoyama Kazuhiro was a key figure in the establishment of Urauchikai. Yokoyama is the owner of Tsudaya Kanbe, a restaurant located very close to Shimosone Station on the JR Nippo Main Line. Tsudaya Kanbe is seen as the headquarters for the Urauchikai.

Urauchikai is well-known for their springy, thin noodles, which are only 2.5 mm wide. An original mixture of wheats are used to create their "Urauchikai special flour". The restaurant chain blends together domestic and imported wheat to ensure firm noodles. Yokoyama said with a smile on his face, "We serve a unique, special type of udon. There hasn't been anything like it before. Even if you search all over Fukuoka, you won't find a similar dish. Early on there were a lot of people who did not think that what we offered was actually udon. But I thought that was a good thing, so I kept going and we continue to serve them to this day." Yokoyama is now 71 years of age, but is still active and leads from the front. He continues to work in the kitchen and boil udon. Seeing the same person always working hard is really something!

The basic menu and method is pretty much the same at every Urauchikai, but each restaurant owner is allowed to make a few changes to what they serve. For example, some Urauchikai restaurants have a specific preparation process. They pound, cut, and then boil their noodles in quick succession. However, Tsudaya Kanbe cut their noodles in advance, leave them to mature, and then serve them as soon as they have been boiled. Yokoyama has said, "My aim is to produce a smooth texture that is easy on the throat rather than to create a springy texture. Our noodles are prepared with this in mind." Tsudaya Kanbe's udon has evolved through trial and error. One of the best-known items on their menu right now is "Gobo-ten Udon" (520 yen). This dish is something of a specialty and is topped with a large Frisbee-shaped piece of tempura fried gobo (burdock). The "Niku Gobo" (Meat Burdock) (720 yen) is arguably the most popular dish that the restaurant has to offer. During the hot weather, sales of the "Yasai-ten Bukkake" (Chilled Udon served with Vegetable Tempura) (680 yen) skyrocket. Make sure to check-it-out in the Summer. Another big hit with diners is called "Kanbe Kayaku" (Kanbe Gunpowder) (880 yen), a dish that you will not find in any other restaurant! Tsudaya Kanbe also make really high quality donburi (bowls of rice served with various toppings). So their mini donburi set menu are well worth sampling!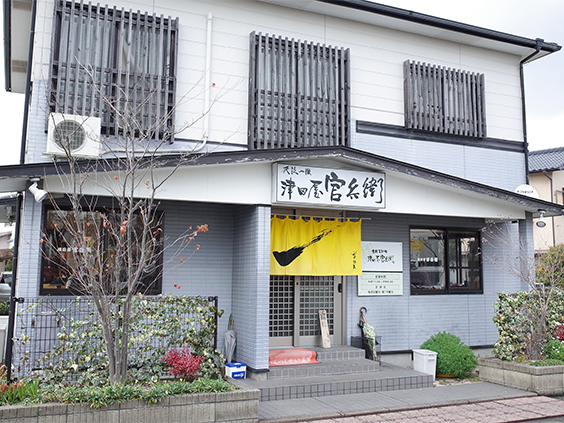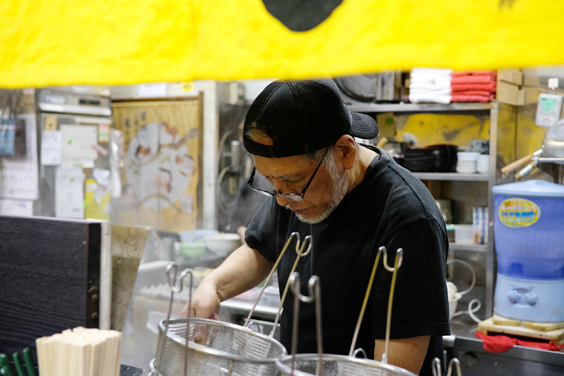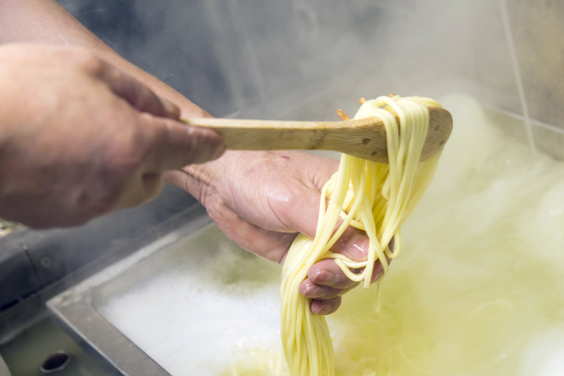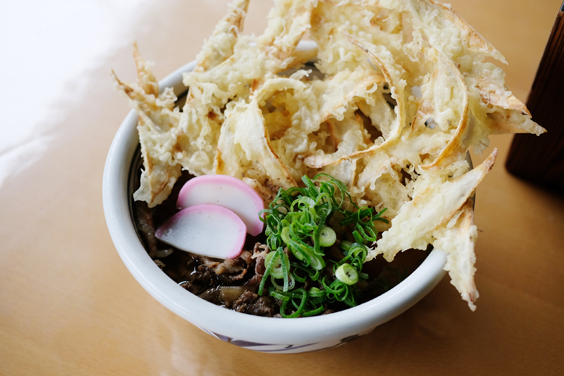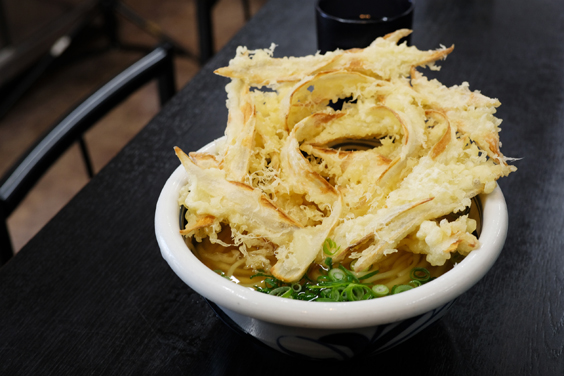 TEXT & PHOTO BY: Yuichiro YAMADA
INFORMATIOIN
Tsudaya Kanbe (津田屋官兵衛)
Address: 3-3-20 Tsudashinmachi, Kokuraminami-ku, Kitakyushu-shi, Fukuoka-ken *About 14 minute walk from Shimosone Station (JR Nippo-Honsen)
Tel: 093-475-7543
Capacity: 20
Opening Hours: 11:00-16:00 (Final Orders: 15:30) *The restaurant closes for the day once they have sold out.
Closed: Sundays and the first Monday of the month
Official Website:
https://www.tsudaya.com/
*All information correct as of May 2019
WRITER PROFILE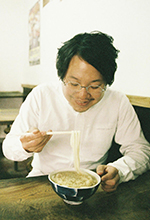 山田祐一郎 (Yuichiro Yamada)
Born in Fukuoka Prefecture 1978. Moved into the Fukuoka-based editing industry in 2003, and then began a career as a writer. Contributes articles for food and drink magazines, as well as informative Fukuoka publications. Established "KIJI" in August 2012. Became a noodle writer and started a web-based series called "Sono Ippai ga Tabetakute (lit. trans: I want to eat that bowl)" in the same year. Yamada uses the online resource to record the various kinds of noodles he samples on an almost daily basis. Published a book titled "Udon no Hanashi Fukuoka (lit.: Udon Noodle Talk Fukuoka)" that delves deeper into Fukuoka's udon culture and the local area's role as a pioneer of the food in July 2015. Also released "Noodle Writer Hizou no Ippai Fukuoka (lit.: Noodle Writer Treasured Bowl Fukuoka)" in March 2019. The book introduces the reader to a wide range of noodles (such as udon, ramen, and champon) and recommends some of the best places to find tasty dishes in Fukuoka city. Has developed the motto "One Day One Noodle a day." Now seeks out delicious noodle dishes both at home and abroad. His work has gained a considerable amount of attention from noodle fans.
■ Related sites
- KIJI:
http://ii-kiji.com/
- Web-based noodle magazine "Sono Ippai ga Tabetakute (lit. trans: I want to eat that bowl.)":
http://ii-kiji.com/sonoippai
- App version "KIJI NOODLE SEARCH": http://ii-kiji.com/app
Related Articles
External Links