Interview Now - Qumali Depart (Sao Niko, Yuu Nako, Nanase Mana) -(2/2)

I collect all kinds of items in my color without even realizing (lol)!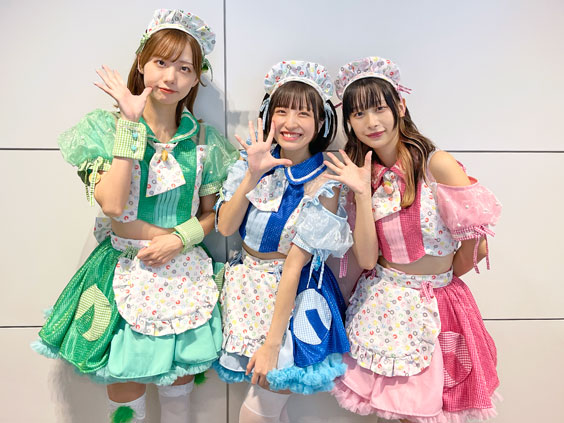 (From left) Nanase Mana, Sao Niko, and Yuu Nako
ab: Each member of the group has their own color... So, Niko is light blue, Nako is pink, and Mana is mint green. Can you tell us about any thing you own that is your color? Do you have any favorite items?
Sao
: I have light blue mirrors, pouches, and other things like that. You know what? I collect them without even noticing the color (lol)!
Yuu
: My place is a mixture of dusky pink and gray. Those are the colors you see in my furniture and in the interior as a whole. But my bath is super pink! I use facial cleanser and shampoo that come in pink packages!
Nanase
: I'm like a monster character myself, so I have a lot of stuffed dinosaurs in my room. I've got some as gifts from fans and others that I bought myself!
ab: Mana, you are really into Sailor Moon, right? Do the rest of you have any favorite manga, anime or games?
Nanase
: I've been into Sailor Moon since I was little. I automatically became a fan of Sailor Uranus!
Yuu
: I often read manga using the "Shonen Jump+" app. If we are talking about manga... I would say "THE PROMISED NEVERLAND" and "Shitsuren Chocolatier (Un chocolatier de l'amour perdu)." When it comes anime, I really like "Kaguya-sama: Love Is War"!
Sao
: I'm really into the "PRECURE" series! My favorite character is Cure Milky from "STAR☆TWNIKLE PRECURE"!
ab: You will be performing live in Fukuoka this September! What are you going to get up to during your visit? What are you most excited about?
Sao
&
Yuu
&
Nanase
: Definitely the food!
Sao
: I went to
Motsunabe Ooyama
today. The motsunabe (offal hot pout) was so delicious!
Yuu
: When we were in Fukuoka last December, we went to eat ramen at the Ichiran Flagship Restaurant.
Sao
: Menbei (pollock roe-flavored crackers) are great souvenirs!
Yuu
:
Torimon
(sweet buns filled with white bean paste) are delicious, too!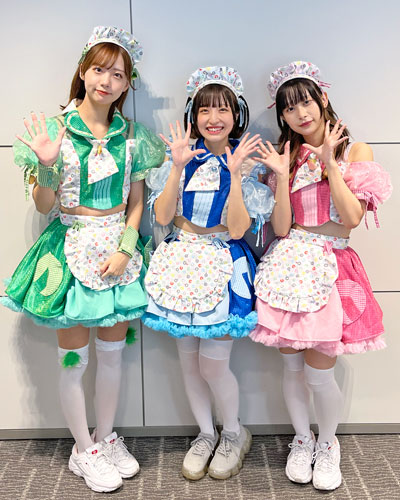 ab: Wow, you know so much about Fukuoka treats! Thank you for taking the time to speak with us today! Before we wrap up, do you have a message for your fans at home and abroad?
Sao
: I think we are a lot of fun. We have a good mixture of cute and cool songs. I hope you come to see us! We'll do our best to meet everyone!
Yuu
: Our songs are available on iTunes and other streaming platforms. You can check out our live performances on YouTube and other video sharing sites. I would love to perform overseas someday!
Nanase
: Don't forget to check out our Twitter feed as well. We post messages every day! We might be separated by millions of kilometers
(!?) but that doesn't mean we can't communicate with one another. It would be great to interact with all of you! And please come to see us live in September!
PRESENT!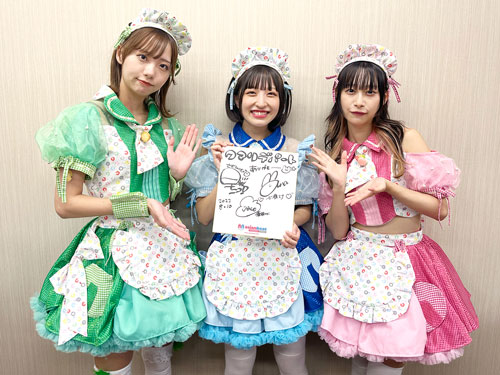 The members of "Qumali Depart" Sao Niko, Yuu Nako, and Nanase Mana signed a card, which we will be giving away to a lucky asianbeat reader! If you are interested in applying, please click the button below and enter all your relevant information. We are looking forward to hearing from you!
[Application Period]
Tuesday 6th September 2022 - Sunday 2nd October 2022 (JST)
[Winner to be announced on]
Wednesday 5th October 2021 (JST)
The application period is now over. Thank you!The lucky winner is ...rizky san
(Please note, winners will receive an email directly from asianbeat. If you do not reply with a confirmation message within a week, you application will become invalid and you will not be able to claim your prize.)
*All photos provided by: Qumali Depart
More idol group interviews!