Vol.14 hitomi - Being a Maid is My Favorite Thing! -

To make others smile, you have to be able to smile yourself first!
Okaerinasaimase, goshujin-sama / ojo-sama!
(Welcome home, Master / Mistress!)
I'm maid and owner of @homecafe, hitomi.

As the theme of this series is "favorite things," I've had to really think hard about what my favorite thing is. Is it shopping? Looking at cute knickknacks? Watching movies? Nail art? Playing with my pet, Clair? Eating pancakes at fancy cafes and restaurants? I do love to do all these things, but my "most favorite thing" of all would have to be working as a maid ♡

Before I became a maid at @homecafe I didn't really have one specific thing that I particularly liked doing; I was just a regular girl who didn't know about Akihabara or popculture or otaku culture. I happened to see a late night TV show about the maid profession one day by chance and that's when my life as a maid began. So today I want to share with everyone just how great being a maid, which I'm proud to profess is "my favorite thing," is.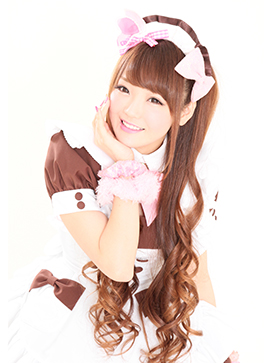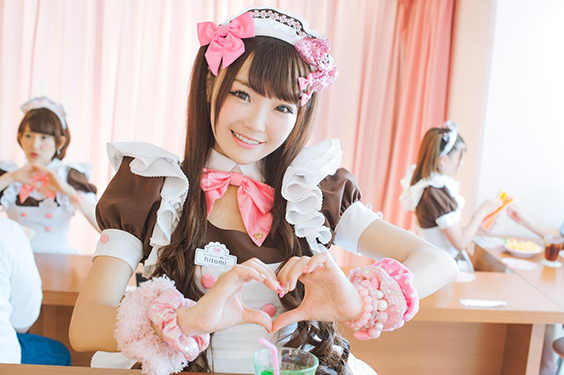 I'm sure there will be a lot of
goshujin-sama
(Masters) and
ojo-sama
(Mistresses) (*1) out there who don't know what Maid Café terms like "
gokitaku
" and "
odekake
" mean, so I've attached a few footnotes at the end to help you follow along.
@homecafe is more than just a regular café, it's an entertainment café. At a regular café, how good the food and drinks taste, the level of service and the overall comfort of the store are the most important factors. For the maids at @homecafe, however, the most important thing is making the Masters and Mistresses happy and having them truly enjoy themselves from the bottom of their hearts ♡ At @homecafe we offer services that you won't find at regular cafés, like the pictures that the maids will hand-draw on top of your
omuraisu
(rice omelet) (*2) in ketchup, mixing up the
mikkusu-juusu
(mixed juice) (*3) together with the Masters/Mistresses, and various "actions" that we all take part in and enjoy together. When Masters and Mistresses "
gokitaku
" (return home) (*4) for the first time and they "
odekake
" (step out) (*5) with big beaming faces saying "This was fun! I'll be back again!" it makes me incredibly happy to see. To make other people smile, you have to be able to smile yourself first! It might sound a bit clichéd, but smiles breed smiles! So that's why through good times and bad, I'm determined to always smile and enjoy my profession as a maid.
We also have a lot of Masters and Mistresses visit us from overseas, even though at @homecafe we don't hand out flyers on the street like some other places. Which means that most of these visitors will have either looked us up online or read about us in guidebooks or on travel sites. They've accepted maid cafés as a part of Japanese culture and it really feels like they don't just come to our café because they think it's odd or novel, but because they know about maid cafés and they want to experience maid culture firsthand for themselves.
In recent years, I've received more and more offers to attend events overseas and I now get quite a lot of opportunities to interact with all the Masters and Mistresses outside of Japan. Most of my work overseas will include waiting tables at the local maid cafés, giving lectures on maid culture, and stage performances. I travel quite a lot now so I know now that there are maid cafés all over the world! You can find them in the United States, Mexico, China, Malaysia, Thailand, Chile…basically every country that I've been to so far has had maid cafés, and they all seem to know who I am and they're all so kind.
In Chinese, maid is written with the characters "
onna
" (woman) and "
boku
" (me – used by males), and when I went to Taiwan they added to this the character "
ou
" (king/queen), calling me the "maid queen." And when I went to Chile, all the maids from maid cafés across South America that came to see me were calling me "hitomi
sempai
" (mentor), so I've become somewhat of a role model to them (lol).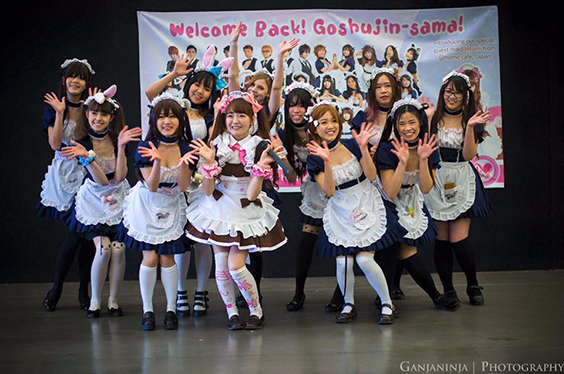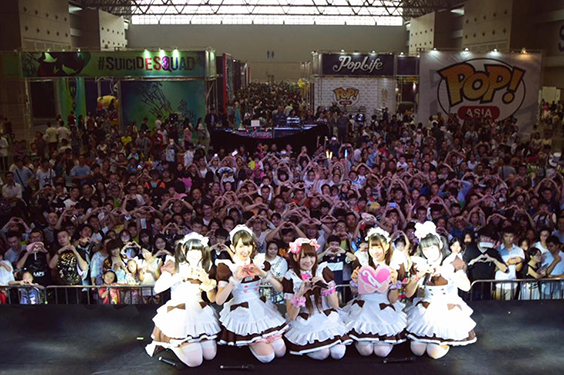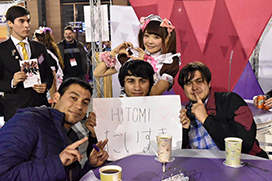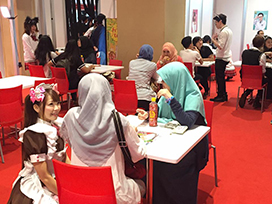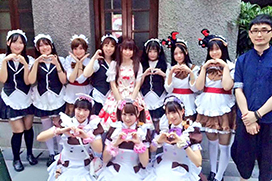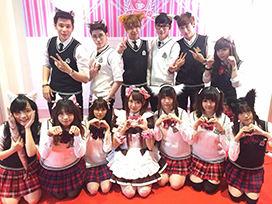 No matter what country, maids are ready to welcome Masters and Mistresses all over the world ♡

I don't think that maid cafés exist all over the world because of @homecafe or my influence – not in the slightest. But it makes me truly happy that people know about @homecafe and they know about me as a maid. It makes me feel like people everywhere are acknowledging this profession that I take such pride in and feel fulfillment in, and it makes me happy that I chose to become a maid and have come this far.
As I wrote at the start, I didn't have anything in life that I particularly liked until one late-night TV show changed it all and gave me my "favorite thing." To the people out there who are just like I was, who don't have something they like doing or something they want to be in life yet, the time will come when you realize what that "something" is. If my being a maid can somehow motivate such people and help them discover what their "favorite thing" is, I couldn't be happier.
Notes:
1: The customers who visit @homecafe are all referred to as "
goshujin-sama
" or Masters (for men) and "
ojo-sama
" or Mistresses (for women).
2: The proper name for
omuraisu
served at @homecafe is "Pipiyo-piyo-piyo♪ Hiyoko-san Rice"! Don't be embarrassed to order using the proper name!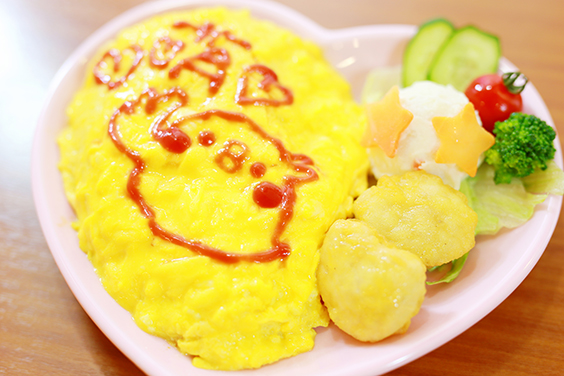 3: The proper name for this item is "Furifuri Shakashaka ♪ Mikkusu Juuchu." It's quite a popular one for first time Masters and Mistresses.
4: We see @homecafe as the house that our Masters and Mistresses grew up in ♡ So when a customer comes to the store we call it "
gokitaku
" (returning home). And upon "returning home" we say "
okaerinasaimase, goshujin-sama/ojo-sama
" (Welcome home, Master/Mistress).
5: The opposite of "
gokitaku
" is "
odekake
" (stepping out). When a Master or Mistress leaves @homecafe we call it "
odekake
." When they leave, we love for them to say, "
Ittekimasu!
" (I'm stepping out now but I'll be back) ♡
PROFILE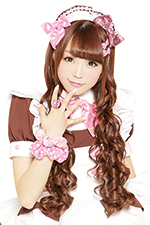 hitomi(ひとみ)
Currently holds the title of President at the Akihabara maid café "@home café," which is celebrating its 12 year anniversary. Has also served as a waitress since its opening. Working in the TV and magazine industries, is also engaged in various media related fields. With a charming, fun approach to work, not only brings a smile to the face of whoever is being served, but as a dancer, singer and talented all-rounder, also treats customers to a wonderfully varied performance. Released a debut CD in 2005 as a member of "Kanzen Maid Sengen," an idol unit made up of maids affiliated to the @home café. Full-debut as an artist was in 2009 as a member of the dance unit "TEAM Junjo." Appointed as Managing Director of INFINIA CO., Ltd. in 2013.
Twitter:
https://twitter.com/jjhitomin
Blog:
http://www.cafe-athome.com/blog/hitomi/
Facebook:
https://www.facebook.com/hitomi.hitomi.353
PRESENT!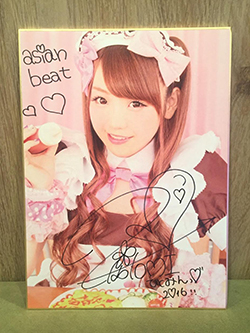 2 lucky readers
of asianbeat have the chance to win a card autographed by hitomi! Don't miss this chance to win!
[Application Period]
Friday September 30th to Sunday October 30th 2016 (Japan Standard Time)
Announcement of Winners
Wednesday 2nd November 2016
The application period is now over. Thank you!
The lucky winners are...
くるみん san
Wan Kam Lok san
(Please note, winners will receive an email directly from asianbeat. If you don not reply with a confirmation message within a week, you application will become invalid and you will not be able to claim your prize.)
Related Articles
This comment section is for readers to leave opinions and comments. Inappropriate comments may be deleted, so please remember to be respectful. Thank you!